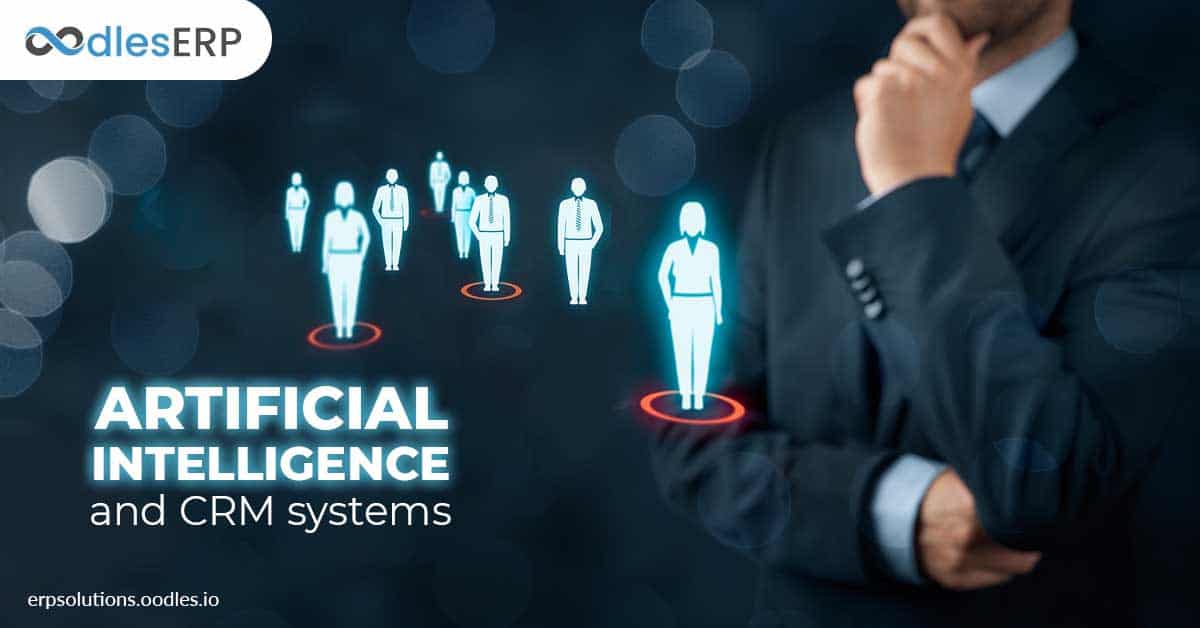 Artificial intelligence is transforming the way most businesses work and operate. From manufacturing to supply chain and logistics, the impact of AI is apparent in all major industries worldwide. An increasing number of businesses use AI-driven techniques and analytics methods to capitalize on their valuable business data and customer insights. Having said that, it's evident that artificial intelligence has become an integral part of the present-day CRM systems. As a matter of fact, several retail, eCommerce, and manufacturing companies use business intelligence tools to strengthen their CRM systems and augment their sales efforts. Consequently, they are able to run effective marketing campaigns to target the right segment of customers and drive more conversions. 
At Oodles ERP, we help you develop AI-driven CRM solutions with custom features to capitalize on your customer data. We use an advanced tech stack and agile methodologies to develop performance-driven CRM systems that improve customer services and sales strategies. 
Let's move ahead and discuss the significance of AI integration for CRM software development. Here, we'll mainly focus on the benefits of AI-driven CRM software development for small-to-medium enterprises.
The Importance of Customer Relationship Management
Having CRM software at your disposal is essential to streamline complex and arduous tasks of customer relationship management with reduced manual strain. As a company grows and expands, it becomes more critical to develop a software system to cope up with the intricacies of CRM operations. CRM software development caters to the diverse business requirements of cross-industry enterprises. It enables them to significantly improve their customer service, gain customer loyalty, and augment their sales efforts to drive more conversions. Besides, you can easily integrate your CRM module with other enterprise systems such as finance/invoicing, accounting, and HRM systems. 
Benefits of AI Integration For CRM Software Development
The modern-day CRM systems are equipped with AI features like business intelligence tools, data analytics, and predictive analytics. These features enable organizations to capitalize on their data sources and extract maximum value from their customer data. Gaining valuable insights into customer data helps them to optimize their marketing campaigns and improve their customer services to deliver maximum customer satisfaction. Let's dig further and discuss the benefits of AI integration for Custom CRM development services. 
Customer Segmentation
AI algorithms simplify customer segmentation by automatically grouping customers based on the most crucial parameters including gender, age group, geographical location, and more. It lets you gain easy access to customer data whenever you require with minimal hiccups. Besides, you don't have to manually enter data, create groups, and reach out to your customers. AI-based algorithms automate customer segmentation lets you effectively target them with personalized offers, discounts, and loyalty programs. 
Bots and Virtual Assistants
The advent of chatbots and virtual assistants is a pivotal endowment of AI to the modern-day CRM systems. A large number of businesses have implemented chatbots on their company websites or mobile apps to enhance customer experiences. It enables them to become available for their customers 24/7. AI-powered chatbots are capable of handling hundreds of customer interactions in parallel and are effective at addressing trivial customer queries. For high-level queries, chatbots can connect the customer with a human execute for better assistance. 
Virtual assistants are not as common as chatbots but their use cases are becoming more apparent every passing year. Nevertheless, a majority of enterprises are using virtual assistants to streamline their internal CRM operations rather than improving their customer service. However, there are a few exceptions like several medical consulting apps that provide AI-driven voice assistants to their users. 
Data Analytics or Customer Behavior Analysis
Customer behavior analysis enables organizations to process and analyze their structured/unstructured data in an attempt to extract meaningful information. It includes their customers' browsing history, past purchases, mode of payment, and other transactional details. Analyzing this data aids in extracting valuable information about their customers' likes, preferences, and buying patterns. Accordingly, enterprises can take steps to improve their products, services, and website user experience to drive maximum customer engagement. At the same time, they can optimize their marketing campaigns for effective targeting to boost sales and conversions. 
Personalized Customer Experiences
Having the right information about your customers' likes and buying habits at your disposal aids in delivering personalized customer experiences. Besides, it's a crucial step to gain your customers' loyalty and build healthy customer relationships that go a long way towards improving your brand's online presence. AI integration for Custom CRM software development unlocks new opportunities to engage your customers by delivering personalized experiences across devices. 
Conclusion
Evidently, artificial intelligence has come a long way from its conventional use cases to transform cross-industry business processes. The advent of business intelligence has changed the very definition of business process management. Using data-driven methods and AI algorithms have enabled many businesses to grow, expand, and upscale their profits to unprecedented proportions. 
Although CRM systems can be expensive for small-scale enterprises, they can stay on the budget by using open-source tools. There are several ERP vendors like Odoo, ERPNext, and Opentaps that provide open-source tools for CRM software development. By using these platforms, SMBs can significantly reduce their overall project costs while also reaping the benefits of CRM.
Nevertheless, with the fourth industrial revolution rising beyond the gamut of the manufacturing industry, AI is poised to alter the business landscape like never before.
Why Choose Oodles ERP For CRM Software Development?
We are an Custom ERP Application Development company  that provides complete enterprise solutions for diverse business use cases. Our team of seasoned developers specializes in providing AI integration for CRM software development to maximize the CRM benefits. We have worked with startups, SMBs, and large-scale enterprises on diverse software projects to unlock the benefits of CRM, HRM, and other types of ERP systems. Our proven expertise and track record in providing full-scale enterprise solutions make us your go-to experts for CRM software development. For more information, visit erpsolutions.oodles.io or drop us a line at [email protected].