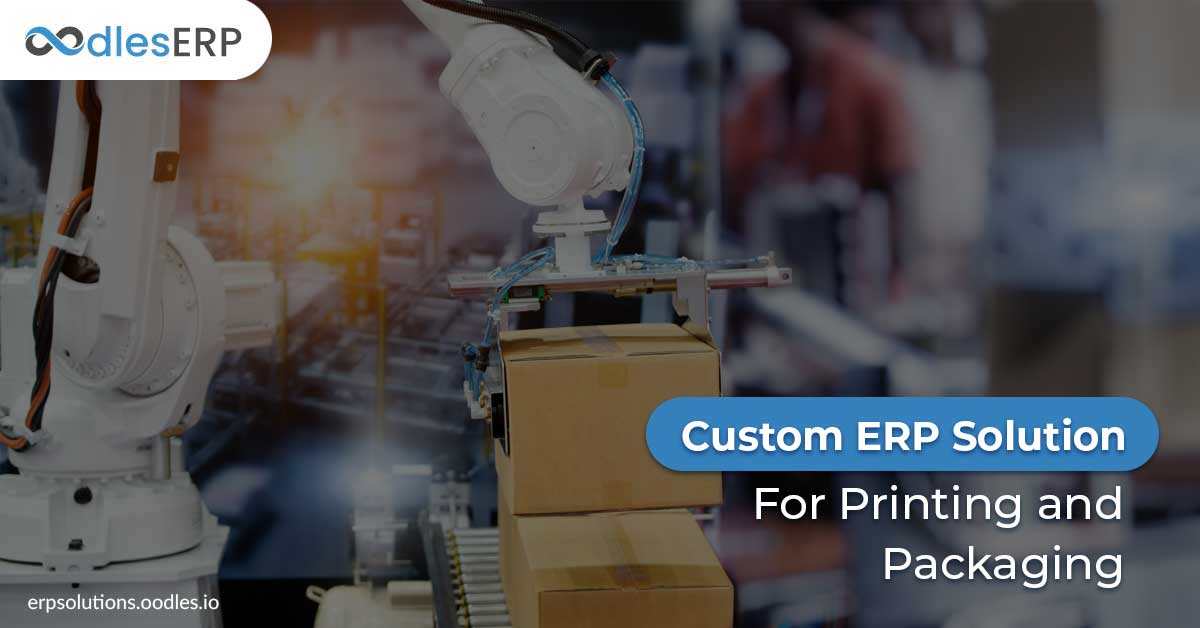 To address the ever-increasing consumer needs, the printing and packaging industry is continuously at the edge to operate quickly and more efficiently. At the same time, adhering to the industry standards, guidelines, and local regulatory requirements is equally important. Therefore, it has become essential for manufacturing and shipping companies to adopt tech-driven methodologies to streamline and expedite their operations. 
ERP software development for printing and packaging has proven effective for manufacturers as it gives them the flexibility to manage their processes with ease. A custom ERP solution enables cross-industry businesses to improve their packaging processes through effective tracking, analytics, and inventory control. Besides, it significantly reduces packaging costs and enables organizations to track the bill of materials, and accelerates the printing and packaging process. 
At Oodles ERP, we specialize in developing custom ERP solutions tailored to address the needs of diverse business use cases. Our seasoned developers have years of industry experience in custom ERP software development with a focus on Industry 4.0 technologies. We use open-source software platforms like Odoo, Apache OFBiz, Opentaps, and ERPNext to develop performance-driven enterprise solutions at cost-effective pricing. 
In this blog post, we highlight the significance of ERP software development for printing and packaging services. At the same time, you'll learn about the ERP modules that companies can use to accelerate and streamline their packaging processes.
ERP Software Development For Printing and Packaging
All major industries including manufacturing, eCommerce, shipping, apparel, and F&B require printing and packaging services. While traditional printing and packaging techniques require strenuous efforts and extensive manpower, ERP provides a completely different approach. ERP solutions enable automation at every stage of the packaging cycle. An ERP app provides a centrally-managed software interface to efficiently track and manage printing and packaging processes, not to mention the reduced packaging costs and manual effort. In addition, it provides better control over the inventory and increased flexibility to manage diverse enterprise processes. 
Given below are the main ERP modules/components that are extremely useful for streamlining printing and packaging operations:
Production Planning
The planning module is responsible for handling the following tasks:
– Production planning

– Resource scheduling

– Material and capacity planning

– Process routing

– Routine availability checks
Material Management
Below are the key features of the ERP module for material planning and management:
– Inventory/warehouse management

– Procurement management

– BOM management

– Material call-offs

– Contract scheduling

– Barcode tracking and handling

– Batch management
Finance and Accounting
The account module offers the following features to streamline printing and packaging services:
– Financial management

– Asset-related accounting 

– Managing accounts payables/receivables

– Multi-currency management

– Double-entry accounting and bookkeeping

– Profit analysis
Quality Control
Quality control is extremely important for enterprises operating in all major industries as it directly impacts the end-user experiences. Several ERP systems have a dedicated module for quality control that incorporates the following features:
– Routine quality assessment

– Quality auditing

– Defect analysis and reporting

– Compliance management
Billing and Invoicing
ERP software development for printing and packaging also gives you access to billing and invoicing features to automatically generate customer invoices with custom templates. The features include:
– Logistical invoicing

– Customer invoicing

– Customs processing

– Returns management
In addition to these few, there are many other ERP modules that might be useful for the printing and packaging industry. It includes Sales, CRM, Logistics, and Supply Chain Management. 
Avail Our ERP Software Development Services To Strengthen Your Enterprise Processes
We are an ERP software development company having years of experience in custom ERP software development for diverse enterprise use cases. Our end-to-end ERP software development services enable enterprises to solve complex business problems, boost productivity, and achieve higher operational efficiency. We have worked with startups, SMBs, and large-scale enterprises on different software projects to deliver value for money. To know more about our ERP development services, visit erpsolutions.oodles.io. Share your project-related queries at [email protected].