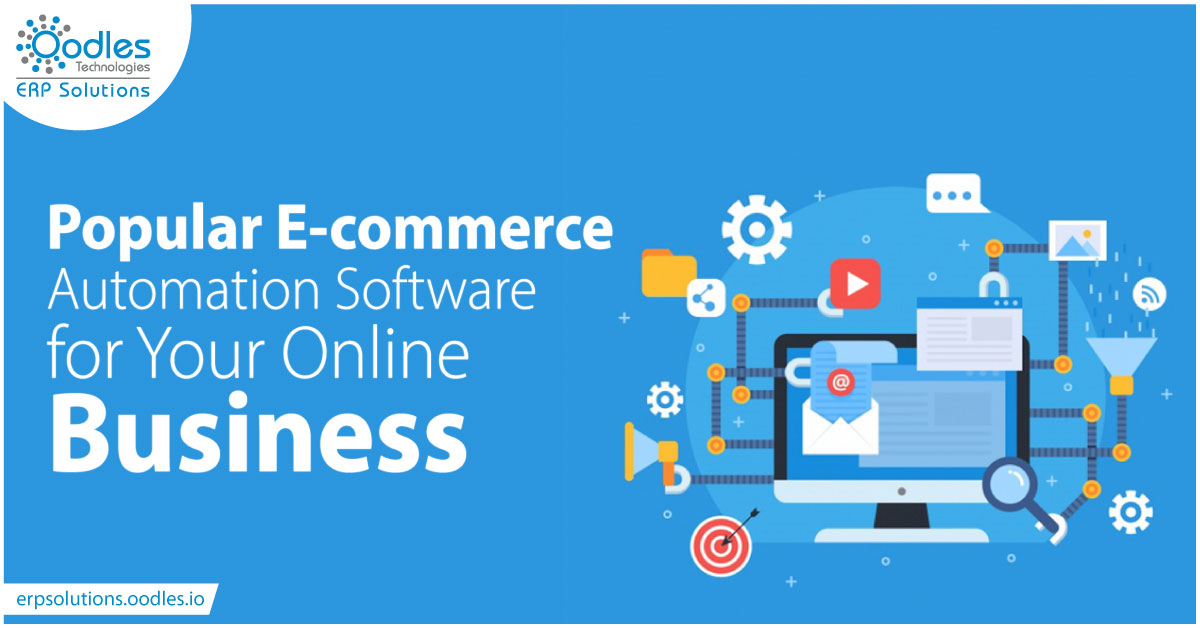 E-commerce Automation Software: An Overview
Information technology and business are becoming inextricably interwoven. If you want to grow your business, you need to use the latest technology. The Internet is the ultimate hub for the global market as it has bridged the distance between different countries. Moreover, E-commerce has made the life of people a lot easier. Now, with just a simple click you can advertise, purchase, or make payments while sitting in any corner of the world. Latest developments have further strengthened e-commerce in every aspect. From marketing to purchasing and payments to delivery, everything has got automated. With an increasing demand for e-commerce, service providers sometimes are overwhelmed by the number of orders, sales, and payments. Now, to maintain the efficiency and manage the situation, automation is necessary. Read our blog to discover some of the popular e-commerce automation software for your online business.
E-commerce Automation
It is a combination of the right people, software and processes that enable multiple roles within an e-commerce organization to reduce manual workloads and simplify front and backend workflows.
Some of the benefits of e-commerce automation are:
Removes the need for manual data entry

Enhanced product information

Improved customer satisfaction

Increases average order value

Recovers lost revenue
Best E-commerce Automation Software for Your Online Business
1.) Morbirise
This is one of the most popular site building software. The functions of Morbirise can also be modified to design an e-commerce site. It has a user-friendly interface that uses simple 'drop and drag' feature to create websites. It requires no coding. This e-commerce automation software is compatible with Windows Desktop services. It is also a mobile-friendly desktop app, which can be used to build a marketing, promotional or shopping site. Now, this can be done by adding 'Add to Cart' and 'Buy Now' links to your website. Thus, orders and purchases will be automatically processed.
Features of Morbirise:
E-commerce links

Unlimited web blocks

Paypal Cart

Content slider

Video background

Code editor
2.) Corel
One of the leading global digital service providers in the world is Corel. It is very much popular for its graphic design products. It hosts an inbuilt website creator that can be employed to create simple e-commerce sites. Corel offers a plethora of products such as CorelDraw Graphics Suite, ParticleShop, Painter and so on.
Features of Corel:
Content organizer

Project Timer

Page layout tools

Templates

SDK automation support

Pontilizers

4k display
3.) Volusion
It is one of the best and leading e-commerce automation software in the world. More than 200,000 business owners worldwide choose this software. This software automates key processes such as online store creation, payment facilitation, marketing, and purchase. It ensures that business owners save their money and time so that they can give more time to other productive endeavors.
Features of Volusion:
Product pages

Marketing tools

CRM tools

Site builder

Barcode generator

Inventory manager

ROI tracker

CSS editors

Customized product display
4.) Website X5
This is one of the excellent online store builders that enables business owners to create online shopping stores for marketing, advertising and selling their products. It has a variety of templates to create a website from scratch.
Features of Website X5:
Templates

Graphics editor

Contact forms

DPR complaint security system

Mobile apps

Customer account

Control panel

Multilingual support
5.) Shopify
This is one of the most prominent e-commerce automation software in the market. In fact, it will not be wrong to say 'best rated'. It has one of the largest client-base in this industry with more than 500,000 users. From placing orders to receiving payments, this software has automated everything, giving users matchless online shopping experience.
Features of Shopify:
Personalized domain name

Customer profiles

Multilingual support

Mobile support

Dropshipping
Final Analysis
"If your business is not online, soon you will be out of business"
Bill Gates.
E-commerce automation software is surely going to help you kickstart your online business. So, try this automation software and save your time, money and efforts to process the purchase, product delivery, and payments.
Also Read: Why Prefer Acumatica For E-commerce Software Solutions