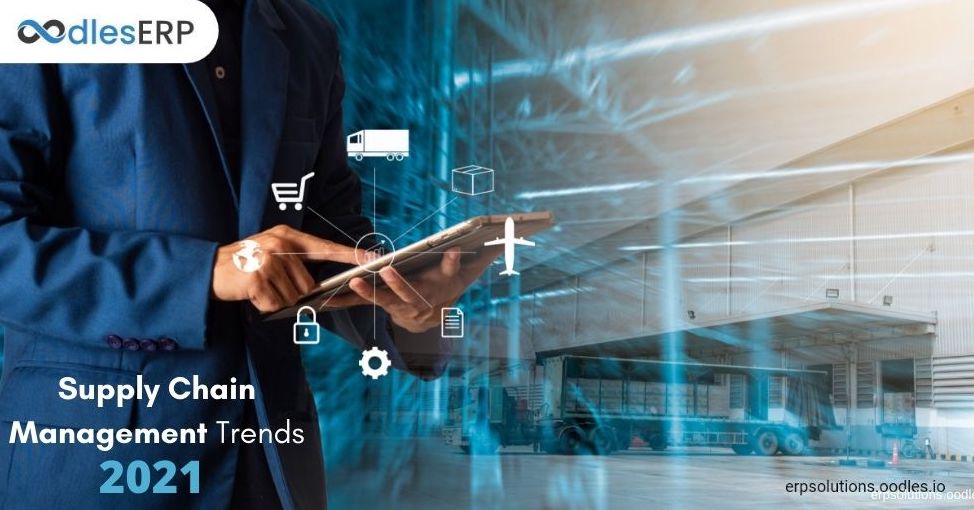 The year 2020 has been full of continuous ebb and flow for the supply chain industry as the COVID-19 outbreak disrupted the SCM operations. The pandemic decelerated the movement of goods in many regions of the world and majorly affected the supply chain, exposing vulnerabilities in the existing supply chain systems. Therefore, it calls for greater resilience in the coming years to overcome the challenges in traditional supply chain management solutions. 
While the SCM technologies continue to evolve, we need more advanced solutions to overturn the impact of the pandemic. Nevertheless, it's quite evident that the novel coronavirus will continue to disrupt the supply chain operations in the coming months as well. Taking that into account, several companies are already working on future-proofing their manufacturing and supply chain processes. 
It indicates that we're going to witness many unprecedented changes and technological advancements in supply chain management solutions in 2021. Having said that, let's move ahead and discuss the top supply chain management trends to watch out for in 2021. 
Also read Robotic Process Automation To Strengthen Supply Chain Management
Demand-driven Supply Chains
Demand is the most crucial element that must drive the supply chain operations. A demand-driven supply chain enables manufacturers to extrapolate the capital requirements and determine their operational capacity. Subsequently, they can align their supply chain processes to match the production capacity and market demand to reduce the overall expenses. 
At Oodles ERP, we use next-gen technologies to digitally transform your supply chain management solutions to boost productivity. We use AI-driven development methodologies to intelligently drive supply chain processes with accurate demand forecasting. 
Robotic Process Automation (RPA)
Robotic process automation (RPA) has been making continuous strides in the supply chain industry for the past several years. While the term can be a bit confusing to some, RPA is all about using software mechanisms to automate the supply chain processes. The ultimate goal is to reach higher levels of production at reduced overhead costs. At the same time, it accelerates the production cycle and reduces time-to-market. In 2021, we are going to see increased adoption of RPA in supply chain processes. Here, the key reasons are increased demand, limited production, and social distancing norms imposed by many countries. 
Our development team has considerable experience in implementing RPA techniques to automate supply chain processes and streamline business workflows. We use an advanced tech stack to enhance supply chain efficiency through robotic process automation. 
Dynamic Synchronization
An increasing number of manufacturing companies are moving towards dynamically synchronized supply chains to boost their overall productivity. It involves breaking down a complex supply chain into several groupings and combining different types of supply chain strategies. In doing so, enterprises can dynamically synchronize their supply chain data and centrally manage diverse processes through continuous planning, analysis, and software simulation. At the same time, dynamic synchronization enables them to make changes in SCM strategies as per the products' market demand. In 2021, we'll see more manufacturing companies inclining towards dynamic synchronization of the supply chain. 
Increased Supply Chain Security
Supply chain security has been a point of contention for many business enthusiasts who have been continuously warning us about the potential repercussions of data breaches. In the past few years, however, we saw many companies taking supply chain security more seriously. As a result, we saw an increasing number of manufacturers investing in data security and advanced tracking systems. 
In 2020, supply chain security has become more critical due to growing instances of data breaches and cyber-attacks. Besides, taking appropriate security measures is also important for protecting consumers' personal data and sensitive information. According to a report by Bloomberg, Chinese spy agencies had recently installed microchip sensors on many products belonging to companies like Amazon and Apple that are manufactured in China. In the coming year, we are likely to see some significant developments in the field of supply chain security. 
The Rise of VR and AR
The use cases of immersive technologies like augmented reality and virtual reality are already on the rise. Several eCommerce companies have introduced AR/VR features in their web and mobile apps to enhance their shoppers' online experiences. Similarly, many retail brands have been providing virtual tours of their different stores to customers using VR headsets. In 2021, we are going to see the widespread adoption of AR/VR/MR technologies in supply chain management solutions. Manufacturers can use AR/VR technologies to create mixed-reality apps that will help them gain better visibility into supply chain processes. 
You may also be interested in reading Hybrid Mobile App Development For Logistics Management
The Road Ahead
The supply chain industry is yet to face many obstacles in the coming months as the whole bears the brunt of a pandemic. While it might be a difficult period for most, many companies see it as an opportunity in disguise. For instance, the eCommerce industry has progressed tremendously over recent years due to the increased demand for home delivery. Several eCommerce companies doubled up their profits by offering home delivery of essential items in adherence to social distancing protocols. Similarly, manufacturing and supply chain companies can overturn the effects of COVID-19 by incorporating the aforementioned practices into their operations. 
Why Choose Oodles ERP For Supply Chain Management Solutions?
We are a 360-degree ERP software development company having years of industry experience in supply chain software development. Our development team carefully analyzes your business requirements and formulates effective solutions for digital supply chain management to boost productivity and profitability. We use open-source platforms like Odoo, OfBiz, Opentaps, and ERPNext to build custom supply chain management solutions to address your project requirements. We have successfully completed several full-scale supply chain management projects for startups and small-to-medium sized businesses from across the globe. For technical assistance, drop us a line at [email protected].