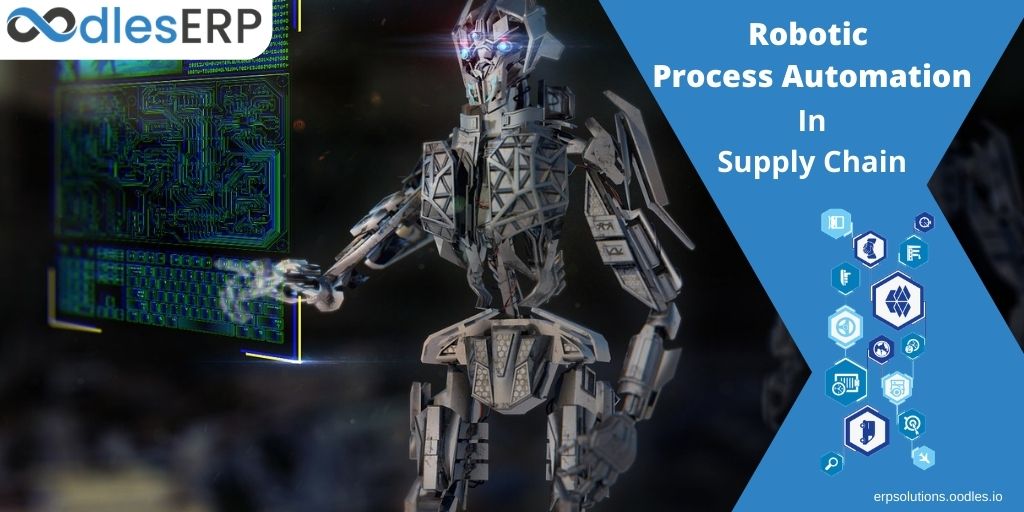 Enterprises invest millions of dollars in building their supply chain infrastructure. While most businesses use different types of supply chain management solutions, complete process automation and data integration remains a challenge.
Besides, digital transformation is playing a crucial role in SCM and changing the way enterprises conduct operations, fulfill orders, and deliver products. The rapidly evolving RPA technology can boost an enterprise's overall supply chain efficiency with significant cost reduction. It automates processes that are carried out manually, thereby reducing errors and anomalies.
How RPA Fastens Decision-Making In The Supply Chain?
Robotic Process Automation (RPA) techniques use specialized computer programs to standardize and automate repeatable mundane tasks and business processes with rule-based software. It incorporates the existing user-interface and runs on several platforms including web-based applications, ERP systems, and mainframes. RPA enables organizations to make faster decisions by automating tasks that are usually delayed due to excessive process time. 
While automating workflows using traditional methods, the programmers produce a sequence of actions to perform various tasks. Afterward, they integrate them with back-end systems such as ERP or CRM, using application programming interfaces (API) and scripting languages. However, RPA implementation generates action lists by recording user-performed tasks in the application UI. Those recorded tasks are then performed directly and repeatedly on the UI, in an automated manner.
You may also be interested in reading Mobile ERP for Supply Chain Management
Elements To Be Addressed For Implementing RPA
Below is the list of elements that need to be addressed for a successful implementation of RPA in the supply chain:
– Bots for the movement of product through the facility
– Sensors for collecting data about product quality
– Cognitive learning software systems
– Implementation of artificial intelligence to make the process flexible and lucid
Use Cases of RPA In Supply Chain Management Solutions
Demand and Supply Planning
Planning is an important component of the supply chain, especially for predicting the future requirements of demand and supply. However, prior to its automation, the supply chain stakeholders faced several challenges. They had to look out and collate the necessary data from market intelligence reports, vendors, sales teams, and represent this data in a standardized format. RPA along with machine learning and artificial intelligence can enable organizations to predict demands. It enables organizations to be in a state of readiness and cater to unexpected spikes in demand. Intelligent RPA bots make operations efficient, smart, and self-driven to eliminate manual errors through automation.
Email Automation
In a supply chain environment, it is of utmost importance to maintain effective communication between suppliers, manufacturers, logistics, and customers. With RPA, businesses can easily automate the entire communication process, which not only frees human resources but reduces errors as well. It also enables businesses to automate email replies when an order is requested, dispatched, received, or delayed. As such, email automation ensures that the parties involved in the supply chain get real-time notifications.
Vendor Selection
Vendor selection is an important, but time-consuming process in supply chain management solutions that requires manual efforts such as:
– Request for quotations
– Communication with vendors
– Performing a preliminary analysis of vendor documents
– Evaluation of the vendor's credit
– Finalizing vendor selection
After successfully implementing RPA, organizations can automate most vendor selection processes. However, human intervention is essential during the initial stages to specify the projects, generate vendor lists, and engage in face-to-face negotiations.
Order Processing and Payments
In supply chain management solutions, order placement and processing typically consist of the following three phases:
– Selection of product
– Processing of payment
– Order placement confirmation
Most businesses rely on manual paperwork to process these transactions. However, it leads to inaccuracy and excessive time consumption. Implementing RPA in the supply chain can automate these back-office functions to reduce manual efforts.
Automating Inventory Management
Inventory management is an integral part of supply chain management solutions. Manufacturers and suppliers need to be aware of their inventory levels at all times. Besides, it is essential to ensure that they have enough spares and products to fulfill their supply chain requirements. RPA keeps close tabs on inventory levels, notifies managers when stock levels are low, and automatically reorders them. 
Besides, an RPA system enables stakeholders to predict optimal inventory levels by taking historical data into account. It can make the inventory management process more efficient and up-to-date to accommodate spikes in demand.
Customer Service
Businesses strive to deliver great customer experiences as it is a major aspect of supply chain processes. By integrating RPA into the supply chain, businesses can focus on solving their customers' problems and building healthy customer relationships rather than spending time in mundane routine processes. It enables them to streamline support operations by automating processes like data entry, searching, scheduling, data sorting, downloading attachments, form processing, etc. Hence, it reduces the scope of errors along with the time required to resolve a complaint.
Thus, with RPA, supply chains meet enhanced cycle time and agility, increased capacity and asset efficiency, improved receivables, reduced lead-time as well as high levels of the supplier, customer, and employee satisfaction. New issues may arise in the service delivery process, and entire operations may be re-engineered, all for better productivity and efficiency at the end of the day.
Conclusion
The use of RPA in supply chain management solutions enables enterprises to significantly improve their order quantities and order fulfillment accuracy. At the same time, it reduces shipment delays to enhance productivity and customer satisfaction levels. It is, therefore, evident that enterprises can use RPA implementation to boost their supply chain productivity and deliver improved customer experiences. 
Avail Our 360-degree SCM Development Services To Efficiently Manage Supply Chain Processes
We are a seasoned ERP software development company that builds custom enterprise solutions for the supply chain.  Our supply chain software development services are conducive to increasing process efficiency with effective planning and execution. We provide supply chain management solutions to track and monitor logistics, inventory, and warehouse data through a centrally-managed software interface. We have successfully completed several full-scale supply chain software development projects for clients from across the globe.