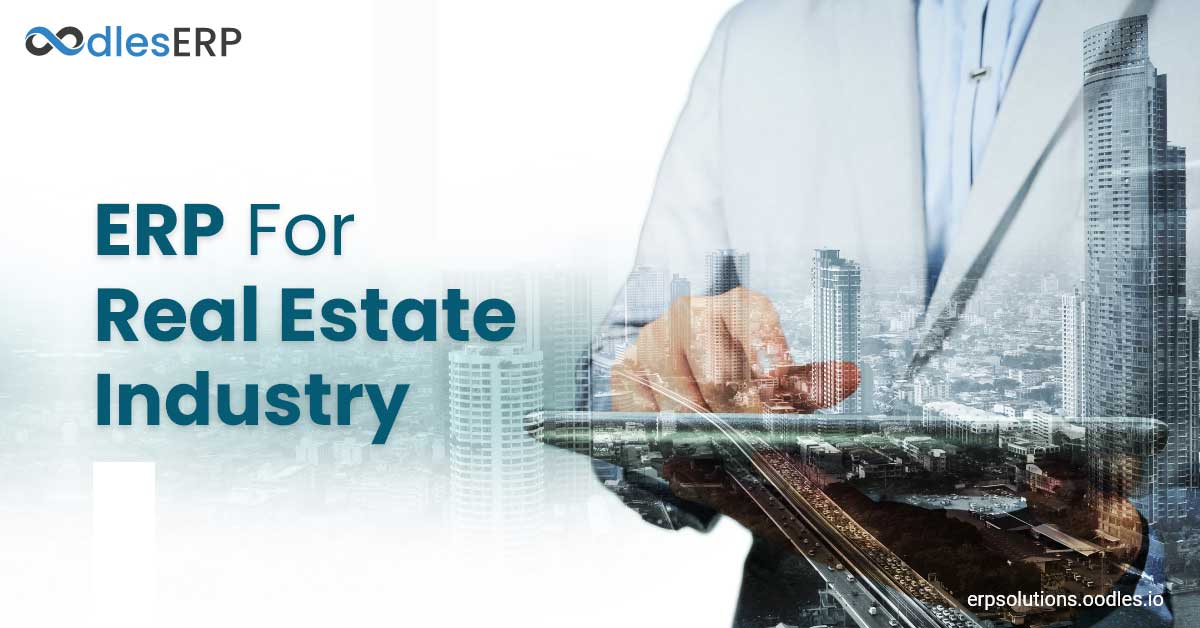 The following blog post sheds light on the significance of ERP software development for real estate projects. Subsequently, you will learn the benefits of implementing ERP in the real estate business.
The real-estate industry operates in an increasingly complex and disruptive ecosystem that is more prone to ebb and flow. A majority of construction and real-estate companies often have to deal with volatile market conditions, price fluctuations, and demand spikes. In addition, they have to face several challenges like budget planning, regulatory compliance, dynamic pricing, and unorganized cash flow. All these factors may have a bad impact on the project timeline and lead to poor management of resources. 
Developing an ERP software for real estate is an effective way to overcome the aforementioned challenges and gain better control over the project. Besides, it also streamlines property management and provides a closer view of capital expenditures throughout the project across various locations.  
We, at Oodles ERP, provide end-to-end ERP development services to fulfill varied enterprise needs and industry-specific requirements. With considerable industry experience, we specialize in ERP software development for real estate projects. 
Based on our experience in ERP software development for real estate, we share useful insights that delineate the importance of ERP in real estate.  
Also read eCommerce-POS Integration: Making Your Retail Business Omnichannel-Ready
The Inevitable Need For ERP In Real Estate
In the wake of the COVID-19 pandemic, volatile global economies and vigorous market fluctuations are taking their toll on the real estate industry. With the property rates nearing an all-time low, several real estate companies are also facing liquidity challenges inflicted by the global health crisis. Above all, maintaining health safety measures and regular sanitization of sites has imposed additional burden, resulting in increased expenses. 
Therefore, developing ERP software has become more important to keep their operations up and running during these trying times. Besides, ERP application development in real estate guarantees long-term benefits to agents and property managers even after the pandemic. Given below are the main benefits of ERP software development for real estate. 
Property Infrastructure Management
An ERP software provides a comprehensive property management solution to real estate companies. They get a centralized system to manage all properties associated with their firm in one place. Real estate companies can also build an ERP-based mobile solution to monitor their infrastructure growth and oversee on-site staff activities. ERP software development for real estate also aids in handling lease prerequisites associated with the landlord and tenants. 
At Oodles ERP, we build data-driven ERP software solutions to strengthen and streamline various property management tasks to boost productivity. We develop cloud-hosted and mobile-ready software applications that provide a comprehensive view of the property infrastructure and on-site activities. Our custom ERP software development services for real estate render a scalable business application to manage property data with real-time analytics features. 
Reduced Leasing Complexities
A real estate firm may have to deal with different types of lease agreements having varying terms and conditions. Real estate ERP software development provides a straightforward way to manage all kinds of lease agreements. As a result, property managers can easily handle lease-related documentation, complex legislation procedures, and administration tasks. 
We develop centrally-managed business software to facilitate fair deals based on the predetermined norms and terms of agreement. 
Secure Transactions
ERP application development for real estate is a sure-shot way to conduct secure transactions and streamline financial data. Using ERP software, real estate firms can gain departmental access to project-related data to generate valuable financial reports. It also facilitates real-time processing of customer invoices and intelligently handles property sales with advanced analytics features. Besides, it improves cash flow management and provides real-time updates about the company's financial situation. 
We, at Oodles ERP, use advanced finance and accounting modules to build high-quality finance management systems for real estate transactions.
Better Marketing Support
Real estate ERP software development provides powerful marketing tools to run successful online marketing campaigns and drive more conversions. Businesses can opt for an AI-based ERP solution to optimize their marketing campaigns based on the preferences of their potential customers. It is an effective way to promote a property and seek the attention of potential buyers or tenants. A real estate ERP software offers advanced features like automated lead follow-ups and customer behavior analysis. At the same time, it gives you the ability to effectively handle SMS and email marketing data with real-time analytics features.
We build data-driven ERP software for real estate projects that offer extensive marketing support to gain traction on the internet and attract potential investors. 
You may also be interested in reading Significance of a Cloud-based ERP for Education
Closing Thoughts
ERP software development can be increasingly beneficial for real estate companies that aim to accelerate their marketing efforts, boost sales, and drive business growth. ERP provides a simplified approach to manage properties, reduce expenses, improve cash flow visibility, and provide sales growth analysis. As compared to traditional marketing practices, ERP software offers powerful marketing tools to reach the target audience and attract potential investors. It is, therefore, a great way to enhance productivity, boost sales, drive growth, and business expansion. 
Why Choose Oodles ERP For ERP Software Development?
We are a seasoned ERP development company that specializes in building custom enterprise software to manage real estate business processes. Our ERP development services enable real-estate companies to efficiently manage their properties, sales data, and track on-site activities with ease. We have successfully completed several full-scale ERP projects for cross-industry enterprises. For more information, send us your queries at [email protected].