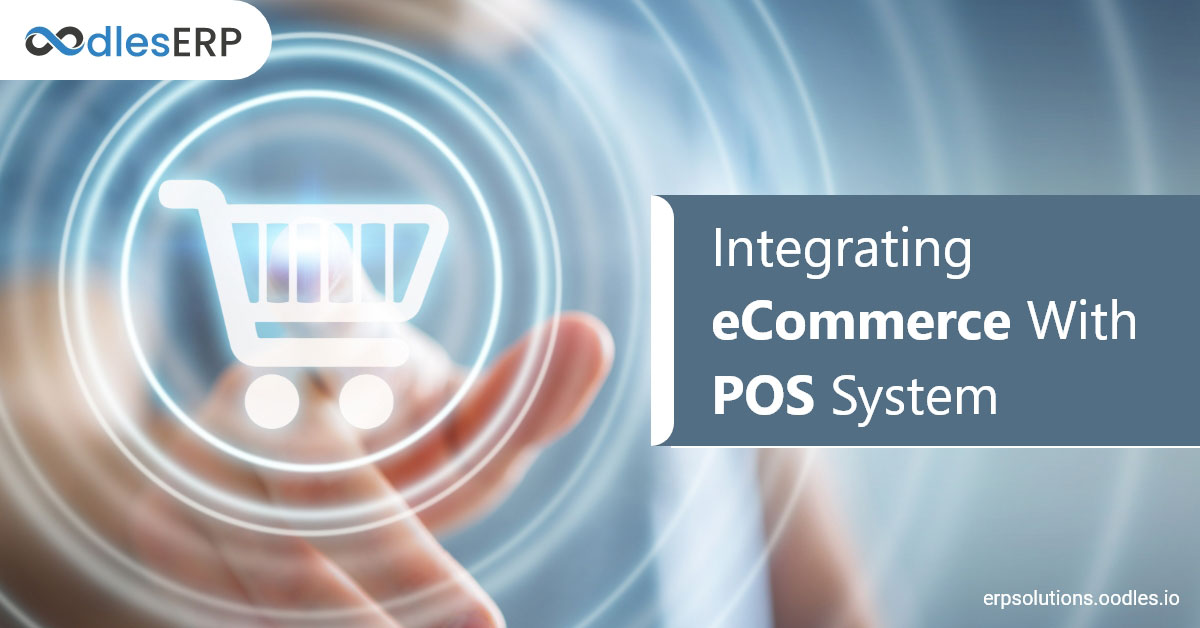 Discover the significance of eCommerce-POS integration in the retail business to deliver omnichannel shopping experiences.
Successfully running an eCommerce business requires hours of hard work and a proactive approach to monitoring sales and process orders on time. Adopting an omnichannel approach enables store owners to boost their online sales and significantly improve customer shopping experiences. Having said that, the first step to set up an omnichannel strategy is to integrate an online store with a POS system. 
The brick-and-mortar stores that have recently switched to eCommerce are mindful of the importance of a POS system. A majority of online stores and eCommerce platforms are already using POS systems to process orders and efficiently track their sales data. However, several mom-and-pop retailers didn't give much thought to it while going digital. Yet it's quite evident that eCommerce-POS integration is a sure-shot way to boost sales and revenue. 
We, at Oodles ERP, provide end-to-end eCommerce app development and POS integration solutions to boost sales and improve customer experiences. Our eCommerce-POS integration services enable retailers, merchants, and store owners to deliver omnichannel shopping experiences across devices. 
Also read Developing ERP Software For Restaurant Franchise Management
Benefits of eCommerce-POS Integration
Integrating an eCommerce website with POS may seem like a complex, expensive, and time-consuming process. However, it can be surprisingly simple if you have the right team to assist you with the process. Besides, it's a one-time investment and may have a profound impact on your eCommerce business. 
Elimination of Manual Data Entry
Integrating POS software with an eCommerce website enables retailers to manage their online and offline stores synchronously through a single terminal. Doing that significantly reduces manual workloads and thus eliminates errors due to manual data entry processes. POS-eCommerce integration also lets you set up automated purchase orders with all vendors that ultimately reduces the overall restocking time and costs. 
At Oodles, we use a comprehensive eCommerce software suite to develop full-fledged eCommerce websites that enhance customer shopping experiences across devices. Our eCommerce development services include POS integration to efficiently track orders and sales data through a single terminal with minimal data-handling complexities. 
Real-Time Inventory Data
With an integrated POS and eCommerce solution, retailers can accurately manage their inventory data and track inventory movements in real-time. Having access to real-time inventory data gives them the ability to quickly transfer goods from one location to another. It further aids in accelerating shipments and deliveries to facilitate faster order fulfillment. An integrated POS system is conducive to prevent stock outages at both online and offline stores. At the same time, retailers can set up auto-replenishment of stocks by setting up minimum and maximum stock values in their POS. In doing so, they eliminate the manual complexities of contacting vendors and merchants for stock replenishment. 
At Oodles ERP, we have considerable experience in building data-driven inventory tracking systems with advanced features like RFID tracking, auto-replenishment, AI-based analytics, and IoT support. We also provide multi-level authentication and authorization to render top-notch security features to your enterprise-grade software system.
Omnichannel Shopping Experiences
Adopting an omnichannel eCommerce strategy is a tried-and-tested way to improve customer shopping experiences across different platforms. According to Harvard Business Review, at least 73 percent of the customers use multiple channels throughout their purchase cycle. A Harvard study conducted on 46,000 shoppers reveals that omnichannel customers are more likely to make a purchase rather than single-channel customers. It is, therefore, evident that offering omnichannel shopping experiences significantly increases sales by attracting more customers. That being said, POS software integration with eCommerce is the first step to go omnichannel. ECommerce-POS integration provides a central system to manage all types of online/offline stores and deliver personalized shopping experiences. 
We, at Oodles ERP, make your retail business omnichannel-ready to gain online traction and attract customers for increased sales and revenue growth.
Insights Into Customer Data
An eCommerce website can be a treasure trove of customer data as it lets you track customers' likes and preferences. With the availability of the right tools, retailers can extract invaluable information about customer behavior from their eCommerce website. They can use this data to enhance their customer shopping experiences through personalized recommendations and optimized marketing strategies. Understandably, the POS software integration with eCommerce provides insights into customer behavior analysis that goes a long way towards building customer relationships. 
You may also be interested in reading The Future of eCommerce: Omnichannel ERP Software Solutions
The Bottom Line
Despite the many benefits of eCommerce-POS integration, several retailers are running their eCommerce website separate from their POS system. However, it only leads to increased complexities, system errors, and delays in shipment or order processing. On the contrary, the availability of a POS-integrated eCommerce store enables retailers to efficiently manage their orders, sales, and inventory data from a single interface. As a result, eliminates data-entry errors, accelerates order processing, provides real-time inventory data and ultimately leads to increased sales and satisfied customers. 
Why Choose Oodles ERP For eCommerce-POS Integration?
We are a seasoned ERP software development company that specializes in building full-scale eCommerce solutions for web and mobile platforms. We have experienced developers that are skilled at using open-source platforms like Shopify, Odoo, Magento, Prestashop, and WooCommerce to build a high-quality eCommerce store. Our eCommerce development services enable businesses to enhance their web presence and gain online traction to boost sales and revenue. We also provide custom eCommerce integration services to scale your existing online store with new features and upgrades.