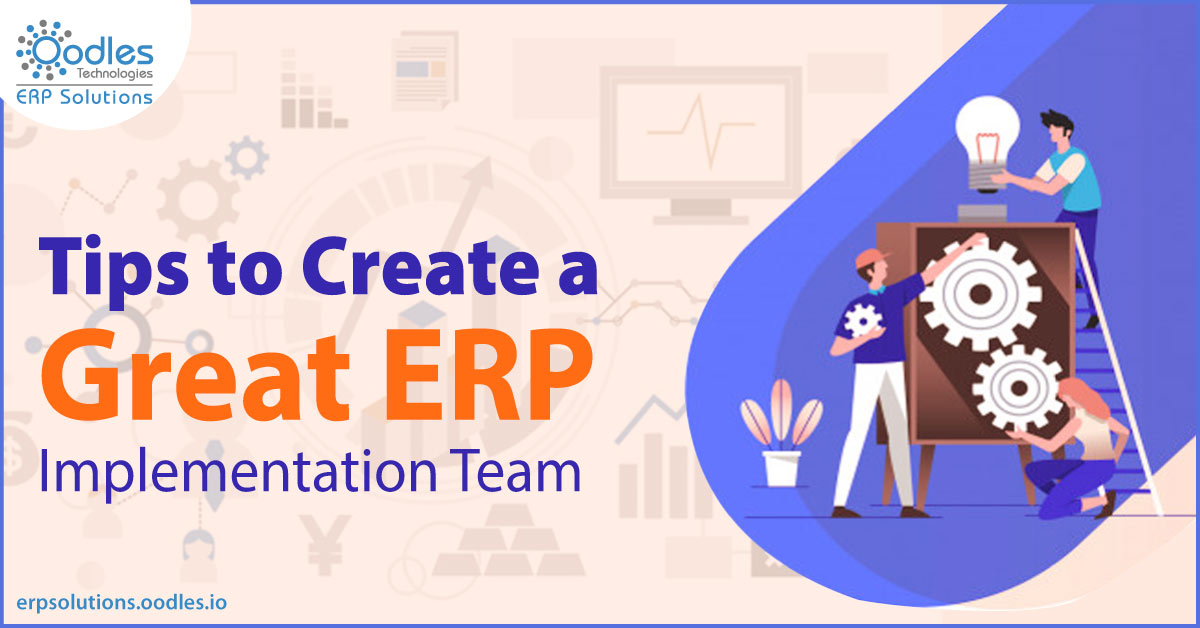 Creativity and innovation are two necessary elements for an organization to grow. An extraordinary idea, a passionate leader, a great team, plus a wonderful plan is equal to innovation. Changes call out for innovation, and innovation leads to progress. ERP (Enterprise Resource Planning is one such innovation that is now a necessity for an organization's success. It has made the life of business professionals simpler by allowing the organization to use a system of integrated applications to manage a business and automate other core functions. No doubt it takes your company to success but a new ERP system does not run on its own. Instead, it needs a dedicated team of professionals to lead the charge and make it happen. In this blog, you will find some of the excellent tips to create a great ERP implementation team.
ERP implementation has brought amazing benefits to businesses of all sizes and types. It has increased productivity and improved information flow.
Just one thing to remember, everyone on the team needs to know the roles and responsibilities to make it a successful one.  
Tips to Create a Successful ERP Implementation Team
1.) Be Wise While Making Pre-implementation Choices
By making wise pre-implementation choices, you set the right foot for successful ERP implementation. While trying to select the best ERP solution it is necessary for an organization to take a diligent approach. The right pre-implementation choices will help an organization to avoid surprises, setbacks and other mistakes.
Here are some steps to make the pre-implementation choices:
ERP software solution should meet your corporate objectives

Detail your technical and functional requirements

Conduct a request for proposal process with software vendors

Consider the cost value picture

Select the type of deployment; on-premise, cloud or a hybrid two-tier solution.

Outline the budget
2.) Precise and Realistic Planning
A proper ERP implementation team structuring and planning plays a crucial role in success. All you need to do is map out the journey of your organization's interaction with the ERP system. Plan out the day to day actions and chalk out the data and business process required to support the action. It is important for the implementation team to establish a project plan based on measurable goals and objectives. Incorporate trial runs and testing phases to anticipate any issues that may occur and resolve them by fine-tuning the designed configuration before the system goes live.
3.) Build an All-Star Team
A good ERP implementation team needs to be cross-functional and cross-departmental. It will reflect the diversity of the organization. Right people and right skills are necessary for a successful deployment. From highly skilled IT personnel to active daily users, everyone should be there for a complete team. There should be open and frequent communication and daily meetings with the team members to keep a track on the project's progress and address the relevant issues. A project management tool will be the perk for the organization. It will allow the members to communicate and share project-related information.
4.) Captivate an Executive Sponsor
The C-suite support is the major requirement for any business investment. It is something more than authorizing purchases and signing checks. An executive sponsor will influence the growth of the company. And if seen on a more practical level, a highly visible executive sponsor will help the employees get interested and excited about the technology and help them address the hurdles in the way of the project timeline.
5.) List Down Enterprise-Wide Representation
When structuring an ERP implementation team, it is necessary to include representation from every department in the organization that will be affected by the ERP system. ERP implementation team may contain people at different levels who will provide ongoing and tactical support across all the stages of the ERP implementation. Following credentials should be kept in mind:
Good communication skills

Complete knowledge of the existing systems

Good business relationship with end-users
6.) Go for a Third Party Support
It's fine to depend on your internal implementation team and vendors to set up the new ERP system. But at the same time, working with experienced IT consultants will give you amazing results. They have the knowledge of the latest ERP trends and time tested implementation practices.
Let's Wrap it Up!
A great ERP implementation team will help you operate your business more efficiently and effectively. A victorious ERP implementation is completely dependent on the experience and qualities of the team members. The right mix of individuals, experience, technical skills and knowledge of the internal process will surely make your ERP project a successful one.
Also Read: Hidden Costs Behind ERP Implementation You Must Know About