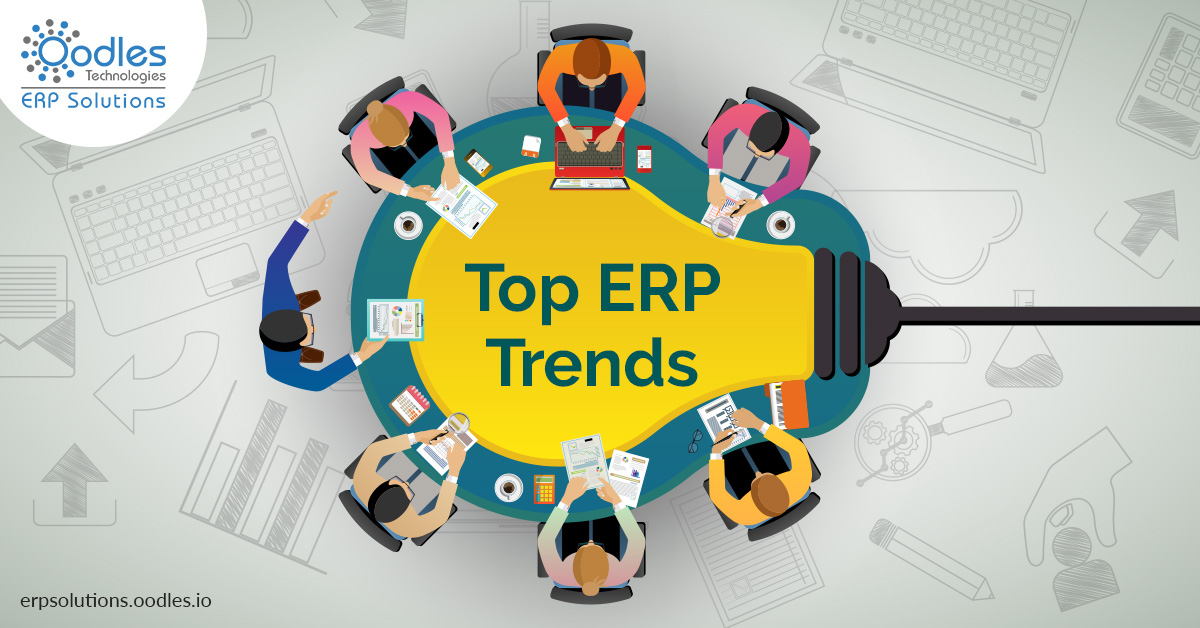 ERP Trends 2019: An Overview
The surge in ERP adoption is not only seen among large enterprises but also SMBs in the year 2018. ERP software is the necessity of every organization to perform business operations smoothly and optimally. AI and cloud technologies are emerging in the ERP landscape for making more advanced ERP software solutions. Not only this, there is critical competition in the business world. To compete against your opponents, ERP vendors should be knowledgeable about the latest ERP trends 2019.
Below are the top ERP trends 2019 to put your full attention so you don't fall behind in the ERP competitive world:
1. Security         
Only ERP is not enough to satisfy all the security requirements regarding software. Data security is a serious thing that can't be ignored. There will be demand for ERP systems having tighter access restrictions, advanced encryption systems, and AI-powered threat detection to ensure full data protection.  It is very crucial that you choose the ERP system that offers controls to protect the data it keeps and make data monitoring easy for you.
In addition, businesses will also take security very seriously and will not compromise for it as it can go over wrong hands and can be detrimental for business.
2. Features Over Easy of use
Several enterprises have started to acknowledge the fact that there is no effective use of ERP rather having it with its user-friendly and flexible nature. Cost savings are important but it is useless when the ERP system doesn't provide the required features. Many businesses switch to cloud ERPs as it seems a cost-effective option. It lacks features that a business wants and that is becoming the reason businesses are replacing their cloud ERPs. The ERP selection will be based on functionality rather than its costs and ease of use. Because it is still important to assess an ERP system based on your company's requirements and completely test its features to check if they meet your goals or not.
Also Read: 4 Technologies That Will Have Complete Dominion Over ERP Applications
3.Business Intelligence
Business intelligence and big data analytics are becoming more popular in ERP data management and analysis. Enterprises are taking BI and data analytics tools to be important for unfolding valuable insights out of ERP data. The competition within the ERP market in 2019 will become more intense. Businesses will expect ERP systems to give them real-time insights that will be helpful for doing important business decisions. With these insights, they can find opportunities to grow their company, improve productivity and make better marketing strategies by using valuable analytics reports.
4. A surge in the adaptation of a two-tier ERP model
ERP vendors strive to give both back-end and industry-specific features in a single ERP system. However, ERP giants in the market offer software such as  Salesforce that leads among CRM software systems. Due to this, many ERP vendors are no longer developing systems for sales or CRM because all the needs are taken care of through a Salesforce CRM.
When it comes to business processes, using multiple systems isn't beneficial for companies in terms of costs and manpower, but they prefer this option of using one system that covers only particular needs.
ERP buyers search for an ERP system that has all functionalities to cover their important business areas, but they fail to usually find it in one system. According to the estimates,  at least one in three buyers will prefer the two-tier model to cover their particular needs.
I hope this blog keeps you modernized about the latest ERP trends 2019.