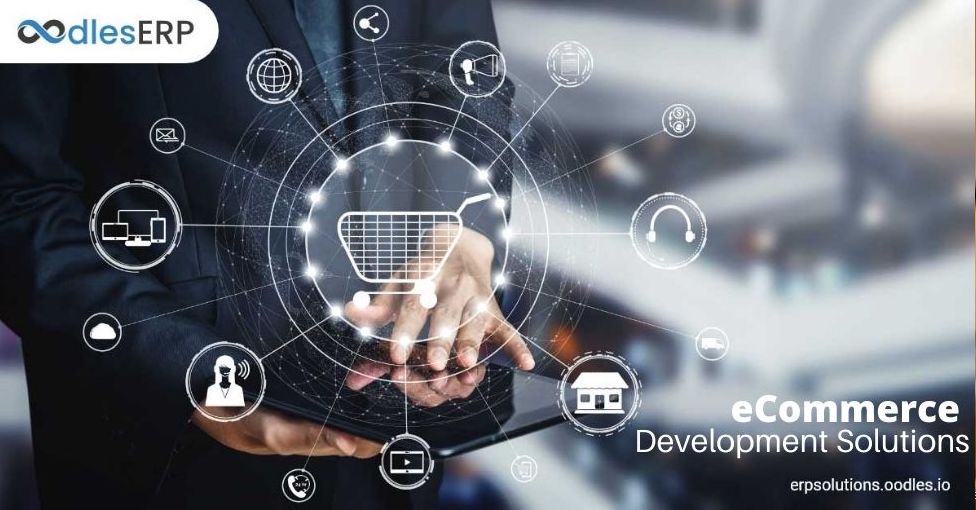 As the COVID-19 pandemic has brought the global economy to a standstill, a majority of businesses are rapidly switching to eCommerce. Being the last resort to keep their operations up and running during these trying times, eCommerce development solutions cater to their varied business needs. It's evident that developing an eCommerce platform renders a number of benefits to retailers, merchants, and other types of B2B/B2C enterprises. However, it is equally important to choose the right eCommerce software platform that best addresses your business requirements. 
While exploring the eCommerce market, it normally comes down to two options, i.e developing a vendor-based platform for building a custom eCommerce platform from scratch. Alternatively, you can choose to build a hybrid solution that combines the features of both custom and vendor-based eCommerce development solutions. 
We, at Oodles ERP, provide end-to-end eCommerce web development solutions to address varied business needs and requirements. Our development team is experienced in building custom eCommerce solutions to enhance your brand's online visibility and generate new revenue streams. We also provide whitelabel multi-vendor eCommerce development solutions to save time, costs, and accelerated product development. 
Based on our experience in eCommerce development, we highlight the key points of comparison between vendor-based and custom eCommerce solutions. 
Also read eCommerce-POS Integration: Making Your Retail Business Omnichannel-Ready
Custom eCommerce Development Solutions
Building a custom eCommerce solution from the ground-up is exceedingly beneficial for businesses in many ways. A customized eCommerce solution gives you better control over the platform and lets you present product information more clearly. You can easily customize it as per the likes and preferences of your target audience and potential customers. As a result, it significantly improves customer experiences and aids in customer retention. 
Let's delve into the main benefits of custom eCommerce development solutions.
– You get full ownership of your eCommerce application without the involvement of third parties or intermediaries
– Custom-built eCommerce platforms are more flexible, scalable, and adaptable to changes
– A customized eCommerce solution gives you the creative freedom to make changes in website and align it as per the customers' expectations
– It doesn't impose any time of design restrictions and is adaptable to new features
– Custom eCommerce development doesn't require any license fees which is a prerequisite for vendor-based solutions
Taking the above factors into account, it is apparent that a custom eCommerce solution is ideal for enterprises that want total control over the platform. Although the process is more complex and time-consuming, it guarantees maximum customer satisfaction. 
Vendor-based eCommerce Solutions
A vendor-based solution gives you the ease of running an online marketplace without getting into the complexities of custom development from scratch. There are several eCommerce vendors that let you use their underlying platform to custom-build an eCommerce store with more agility. In doing so, you get a ready-to-use eCommerce solution with little modifications that you can use under your brand name. It significantly reduces the development efforts and accelerates the development cycle. 
Below are the main benefits of using a vendor-based eCommerce platform:
– Accelerated development and faster time-to-market
– No need to get into the complications of regulatory compliance, licenses, and certification
– The vendor offers built-in security features and better fraud protection
– You get access to new features as they are rolled out by vendors
– Faster resolution of bugs, error-detection, and easy troubleshooting
– Reduced development costs and built-in support for marketing
Opting for a vendor-based eCommerce solution might be the best choice for startups or small-scale retailers who aim to build a digital presence. Since they only require limited market exposure, developing a full-fledged eCommerce solution might be increasingly expensive and time-consuming. Therefore, using a vendor-based eCommerce platform is the safest way to reach their potential customers online to boost their sales.
You may also be interested in reading The Future of eCommerce: Omnichannel ERP Software Solutions
Hybrid eCommerce Development
If you want the flexibility of custom eCommerce but do not want to get into the infrastructure complexities, then go for a hybrid solution. By choosing a hybrid eCommerce solution, you select a vendor-based solution but customize it as per your own needs. The best way is to seek assistance from an ERP development company having ample experience in eCommerce web development services.  
At Oodles ERP, we have years of industry experience in eCommerce ERP development services. Our development team is skilled at using a variety of open-source platforms like Shopify, Odoo, Magento, Prestashop, and WooCommerce to build feature-rich eCommerce solutions for varied enterprise needs. We have successfully completed several full-scale custom eCommerce development projects for startups and medium-sized enterprises. For project-related queries, drop us a line at [email protected].