An increasing number of organizations in all major industries are investing in custom ERP application development to streamline their operations and sustain the cut-threat competition. Developing an ERP solution gives them better control over hardware/software resources to efficiently run and manage diverse enterprise processes. At the same time, they gain better visibility into business data and drive workflow efficiency through data-driven execution strategies. 
Over recent years, the healthcare industry has witnessed a steady incline in the demand for custom ERP software development. Healthcare providers from across the globe are investing in custom ERP to improve the quality of their services with significant cost reduction. Besides, the global spread of the novel coronavirus made it essential to develop automated medical procedures to minimize human contact with patients. Custom ERP solutions enable hospitals and healthcare institutes to remotely monitor their patients' health and provide robotic treatment through RPA implementation.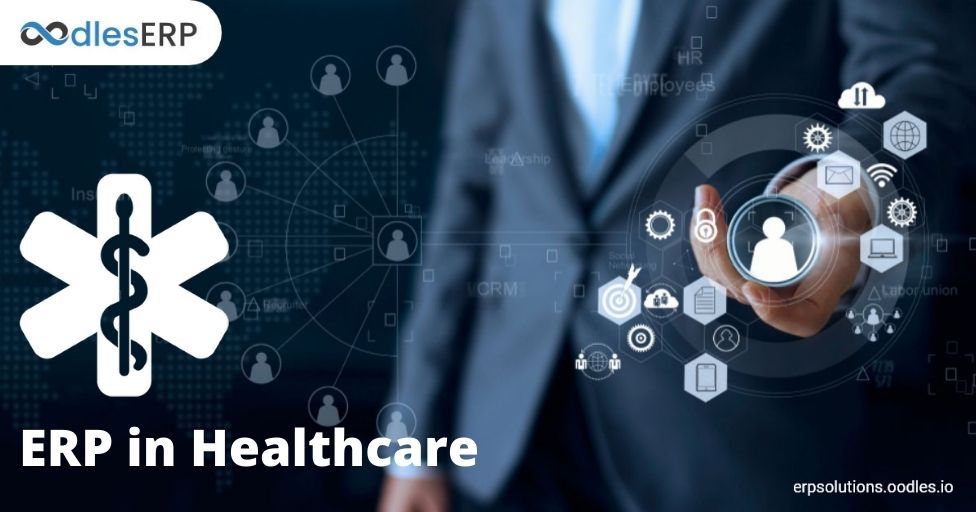 We, at Oodles ERP, specialize in building performance-driven ERP solutions for cross-industry business requirements. Our development team has years of industry experience in building custom ERP solutions from scratch to enhance business productivity. We use the latest tools and next-gen technologies to facilitate agile development and deliver high-quality solutions within the stipulated time frame. 
In this blog post, we highlight the features and benefits of developing a custom ERP software for the healthcare industry. 
Also read Reasons For Investing In Custom ERP Application Development In 2021
Key Features of a Healthcare ERP Software
Due to the constant influx of patients and growing thrust to extend the best medical support, it has become essential to implement ERP systems in the healthcare industry. The use of ERP systems will enable healthcare workers to improve their services without getting into manual data handling processes. Besides, they can have the patients' entire medical history at their disposal, as and when required. Below are the key features and benefits of custom ERP application development in the field of healthcare and medical sciences.   
AI-driven Operations
An increasing number of hospitals and healthcare units are using AI-based ERP systems to intelligently manage their patients' medical record. The use of AI algorithms enables doctors and healthcare workers to extract their patients' health data as and when required. It eliminates the manual complexities involved with checking piles of documents to find the required information. Besides, AI algorithms ensure that data is only accessible to authorized personnel. It eliminates the instances of identity theft and accelerates the process, not to mention the reduced overhead cost as an added perk. 
Improved Patient Care
Custom ERP application development enables hospitals and clinics to significantly improve their medical services. Using ERP systems, healthcare workers can provide remote assistance to patients as the ERP systems automatically send test reports and relevant health data. At the time of treatment, doctors can have the patients' entire medical history at their disposal. Custom ERP systems reduce human effort by automatically scheduling medical appointments based on the availability of doctors and medical staff.  
Reduced Operational Costs
As already mentioned above, custom ERP application development significantly reduces operating costs by enabling automation at all levels. A comprehensive ERP system comes with disparate modules for handling finance, accounts, human resources, and customer relationship management processes. As a result, hospitals can use these systems to automate their complex operations and improve medical services.  At the same time, they can efficiently run their operations with limited staff, thus reducing their overhead costs. 
Effective Against COVID-19
Custom ERP systems can be designed to minimize human contact with a certain group of patients recovering from contagious diseases. It can be extremely useful in extending medical facilities to patients in the wake of an epidemic or pandemic like the COVID-19 outbreak. Healthcare workers can also take robotic assistance to deliver essential medicines and food items to these patients without human contact. To make it possible, custom ERP systems can be integrated with robotic process automation (RPA) and programmed as per the needs of the medical staff. 
Enhanced Data Security
All hospitals, clinics, or laboratories must keep their patients' data confidential, and thus, data security is of foremost importance to them. ERP systems ensure that the patients' data is adequately protected with end-to-end encryption and cloud storage facilities. Besides, the data is only accessible to authorized personnel including doctors, lab technicians, and select healthcare professionals. Nevertheless, these authorized entities can easily retrieve this information at any time as and when required. 
You may also be interested in reading Custom ERP Software Development For Inventory Management
Wrapping Up
The healthcare industry has evolved tremendously over recent years to handle the growing influx of patients. Understandably, the rapid advancements in technology have brought revolutionary changes in the field of healthcare and medical sciences. As a result,  several medical institutes have been able to improve their services, allowing patients to recover from chronic diseases. Thus, developing a custom ERP software will allow healthcare companies to eliminate the burden of manual data management and processing. It will further provide them centralized access to patients' medical history to suggest the right treatment for a speedy recovery.
Why Choose Oodles ERP For Custom ERP Application Development?
We are a seasoned ERP software development company that provides 360-degree ERP solutions to address diverse business needs. Our experienced developers specialize in building custom ERP solutions to address the varied business requirements of our clients. We have successfully completed several full-scale custom ERP projects for startups and small-to-medium enterprises. Our end-to-end custom ERP software development services enable organizations to streamline their operations, boost productivity, and drive continuous revenue growth.