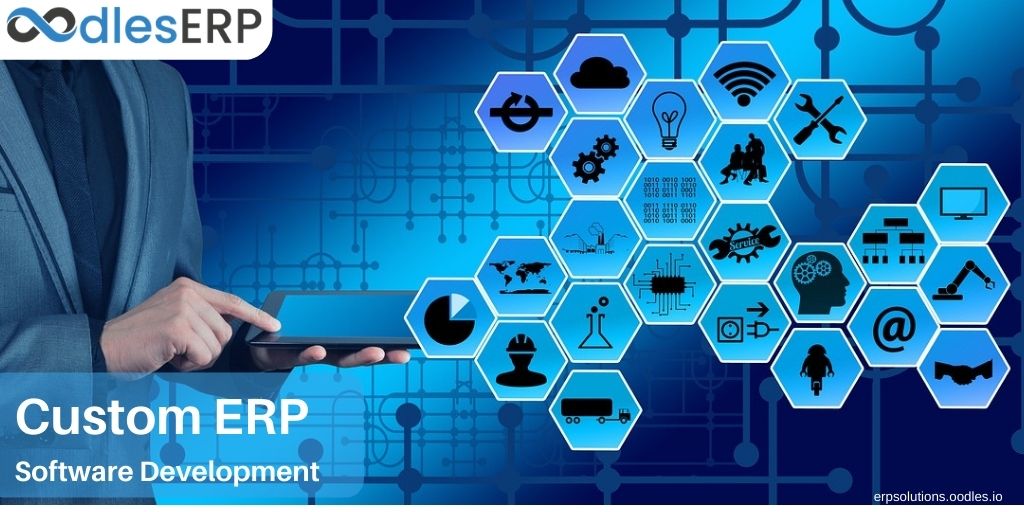 As we approach 2021, an increasing number of businesses are taking a keen interest in custom ERP application development. Understandably, an ERP software can unlock a pool of opportunities for enterprises to grow and expand. By enabling automation at every stage of business, it is an effective way to efficiently manage mission-critical workflows with reduced human effort. Besides, you get instant access to business data and workforce activities with real-time insights and advanced analytics features. Above all, a custom ERP solution enables organizations to boost productivity and their streamline workflows.
As an enterprise grows and expands, the management of resources becomes more complex and challenging in the absence of an enterprise software. Therefore, developing a full-scale enterprise software solution is essential to intelligently drive business processes and is imperative to business success. 
With the availability of a multitude of vendors and ERP solution providers, it is not difficult to find the expertise for custom ERP application development. However, choosing the right platform and ERP development company can be a challenging task. 
We, at Oodles ERP, have successfully established ourselves as a seasoned ERP development company that provides cross-industry ERP solutions for enterprises. Our development team critically analyzes clients' business requirements and selects the right enterprise software model to streamline their inbound/outbound processes. Our custom ERP application development services are conducive to augmenting business productivity with increased security, interoperability, and operational efficiency. 
The Growing Popularity of Custom ERP Application Development
Rather than opting for vendor-based solutions, more number of companies are investing in custom ERP software development. It gives them increased flexibility and better control over the business resulting in increased sales and improved customer relationship management. Before delving into the technical aspects of custom ERP application development, let's get familiar with the basics. 
A custom ERP system is built to address the requirements of an organization and includes enterprise-specific features. The features are implemented from scratch to overcome the issues that an organization may face during its routine operations. It is more flexible and agile as compared to off-the-shelf ERP systems thus, is more likely to benefit the company in a long run. Let's discuss the main benefits of developing a custom ERP application as compared to off-the-shelf ERP solutions. 
Also read ERP Software Development For Real Estate
Flexibility
One of the main benefits of custom ERP software development is flexibility and better control over the mission-critical business functions. Flexibility, however, is susceptible to the type of customization done by the ERP software development company. As a result, some ERP systems can be more flexible than the others based on their enterprise-specific needs. On the contrary, off-the-shelf ERP systems are more rigid and may not be susceptible to address the requirements of every business. However, they are also customizable to some extent to match the enterprise needs and fulfill their business requirements. 
Support and Upgrades
By getting an ERP application custom-built by a team of developers, you gain complete control over its features. Besides, you can easily upgrade the application to extend its capabilities to overcome complex business challenges. However, an off-the-shelf ERP system receives upgrades directly from the ERP vendors. It means the client enterprises have no control over the new features and upgrades coming their way. Similarly, they rely on vendors for resolving software issues and troubleshooting errors. 
At Oodles ERP, we provide on-demand support and maintenance services to ensure that your custom-built ERP application performs seamlessly across devices. We continuously monitor your software performance and take appropriate steps to maintain consistency even during the peak load instances. Our development team conducts routine system checkups to quickly resolve bugs and complex software issues.
Development Time
Development time might be a concern for several enterprises that need to deploy ERP solution within a given time frame. It's quite obvious that an off-the-shelf ERP solution will take less time to install and deploy in any business environment. While the timeline may vary from project to project, it normally takes 2-5 months for setup, training, and deployment of an out-of-the-box ERP software. 
However, it is difficult to accurately predict the time required for custom ERP application development. Since a custom solution is built in-line with the requirements and expectations of an enterprise, the development time may vary significantly. Although custom development might be more time consuming, it is definitely a more profitable investment considering the long-term benefits it delivers.  
Cost Efficiency
A majority of businesses refrain from investing in custom ERP application development due to financial factors or cost concerns. It's evident that by opting for vendor-based solutions, enterprises can significantly reduce their project costs. Since custom ERP solutions require development from scratch, they tend to be more expensive than their vendor-based counterparts. However, the development cost for a custom ERP software depends on the type of application, the number of features/integrations, and the time required for the development. Therefore, developing a simple enterprise application with basic features can be cheaper than availing vendor-based ERP solutions.
You may also be interested in reading Developing ERP Software For Restaurant Franchise Management
The Final Verdict
Opting for off-the-shelf ERP systems can be an ideal choice for startups or small enterprises that aim to reduce their manual effort. However, as the business grows and expands, these vendor-based ERP solutions may not suffice in the long run. Of course, the cost factor matters a lot if you are a startup.  Therefore, if your enterprise needs to operate in a small region with a limited workforce, then an off-the-shelf ERP system can your best bet. However, if you wish to expand to new regions with an increased workforce, the right way is to build a custom solution for better flexibility. 
Avail Our 360-degree Custom ERP Software Development Services
We, at Oodles ERP, provide end-to-end ERP software development services to address varied business needs and boost productivity. Our development team builds custom ERP solutions to intelligently drive business growth through a centrally-managed software application. Our enterprise-grade custom ERP application development services are conducive to increasing business productivity with increased security, accessibility, interoperability, and improved operational efficiency. We have successfully completed several full-scale ERP projects for startups and small-to-medium sized enterprises. For more information, drop us a line at [email protected].