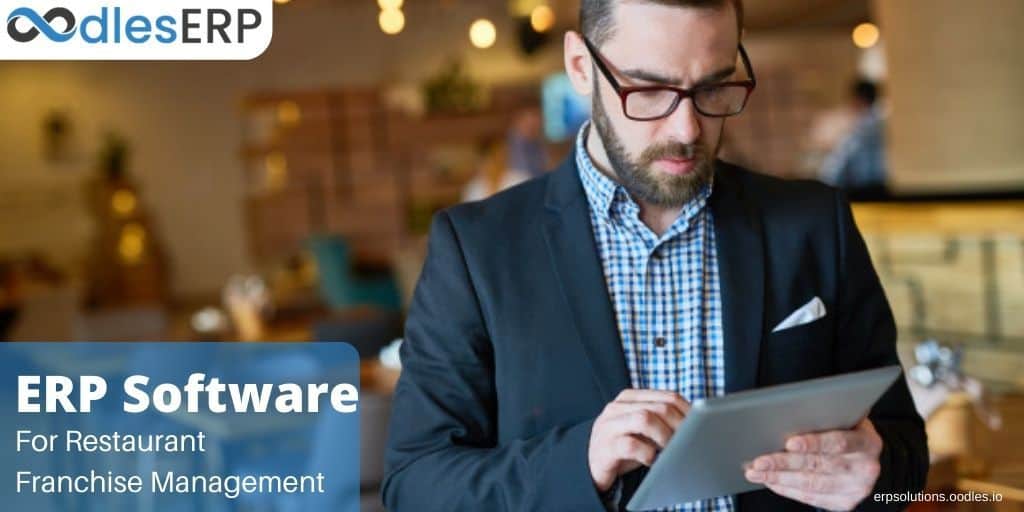 The following blog post sheds light on the key benefits of developing ERP software for restaurant franchise management.
The restaurant chain has been a startup point for many business enthusiasts who aim to build a rock-strong foundation in the food industry. The flourishing network of restaurant franchises like McDonald's, Burger King, and Wendy's have inspired many others to push their luck in the food sector. Having said that, many restaurant startups have succeeded in establishing their franchise in a particular region. However, only a handful of them have achieved global recognition for their brand franchises. On the contrary, those who have succeeded in doing so, are cognizant of the importance of ERP in restaurant franchise management.
Franchising a restaurant can be a smart move that will propel your business growth and offer guaranteed returns, if handled correctly. However, the process is more complicated than one can probably imagine. That being said, using traditional methods and manual data handling techniques can lead to errors and poor management of resources. 
Developing an ERP-based restaurant franchise management software is a tried-and-tested way to automate and streamline data handling processes with increased security, efficiency, and interoperability. At Oodles ERP, we have considerable experience in building data-driven franchise management software with custom features. 
Also read The Future of eCommerce: Omnichannel ERP Software Solutions
How ERP Software Streamlines Restaurant Franchise Operations
Running a restaurant chain is a tedious and back-breaking process that is full of complex procedures and data-handling difficulties. Effective monitoring of each restaurant outlet can be a major challenge for the franchise owner in the absence of an ERP software. An ERP-based restaurant franchise management software renders complete control over the operations of all restaurant outlets. It provides real-time order updates and accounting data to the master franchisee or directly to the owners. Let's explore the key benefits of developing franchise management software. 
Master Franchise Management
Having a master franchise outlet is essential to centrally manage a chain of restaurants. Since it is directly linked with all the other franchise outlets, it becomes imperative to have total control over them. The master franchisee must receive all the POS data including order details, tax details, and their royalty on every order. Also, it is essential to keep track of all the partners associated with the brand and their whereabouts.   
At Oodles ERP, we build data-driven ERP software for the master franchise owners to centrally manage their franchise outlets with real-time updates. Our 360-degree franchise management software solutions enable franchise owners to track order details, royalty payments, staff attendance, current occupancy in a restaurant, and more. 
Accounting and Finance Management
As already mentioned above, a franchise management software provides real-time insights into accounting and financial data with sheer accuracy. It tracks historical data related to transactions, royalty payments, stock replenishment, and automatically generates weekly/monthly financial reports.  
We, at Oodles ERP, use advanced accounting software packages like Zoho and Quickbooks to develop high-quality restaurant finance management software with custom features. 
Payouts and Royalties
A robust ERP software lets you centrally monitor all types of inbound/outbound payments and royalties earned on every order. At the same time, the franchise owners can easily manage various payments and staff commissions associated with multiple outlets. Furthermore, it is conducive to providing special discounts or festive offers, right from the master franchise panel. For instance, the owner can use the master franchise panel to release Christmas offers like buy 1 get 1 or combo discount on select food items. The same software can also be used to introduce new food recipes that may attract more customers. 
Our experienced developers are skilled at creating flexible ERP order management solutions and master franchise panels that are perfectly tuned to your revenue model. 
Point-of-Sale Systems (POS)
The point-of-sale systems are of foremost importance in restaurant franchise management. A POS system is a computerized software that enables restaurant owners to track sales, cash flow, food stock, and aids order processing. A typical POS system for restaurant franchises must have the following features:
– An intuitive interface for order processing
– A web interface to collect sales data and share it with the master franchise 
– EVM-compliant credit/debit card processing system for cashless payments
– A master panel to track the pending and completed orders, organized as per their priority 
In addition to all these features, a POS software must also be scalable and adaptable to new features. 
At Oodles ERP, we provide scalable, secure, and performance-driven POS solutions for cross-industry use cases. Our development team is experienced in building accuracy-driven POS software for retail stores and restaurant franchises. 
You may also be interested in reading Mobile ERP for Supply Chain Management
The Final Verdict
It is quite evident that ERP application development is an integral part of managing a restaurant chain. An ERP software enables master franchise owners to manage their sales data and access it anywhere, at any time. Not only does it streamline the management of multiple restaurant outlets, but also aids restaurant managers to automate their most crucial business functions. 
Why Choose Oodles ERP For Restaurant Management Software Development?
We are a 360-degree ERP software development company that specializes in building comprehensive restaurant franchise management software with custom features. Our development team uses agile methodologies and advanced tech stack to build feature-rich software applications for order processing, finance, accounting, and royalty management. We carefully analyze your project requirements and formulate effective ERP implementation strategies to streamline processes and drive profitable returns. Our end-to-end ERP application development services are conducive to increasing business productivity with increased security, scalability, efficiency, and interoperability.