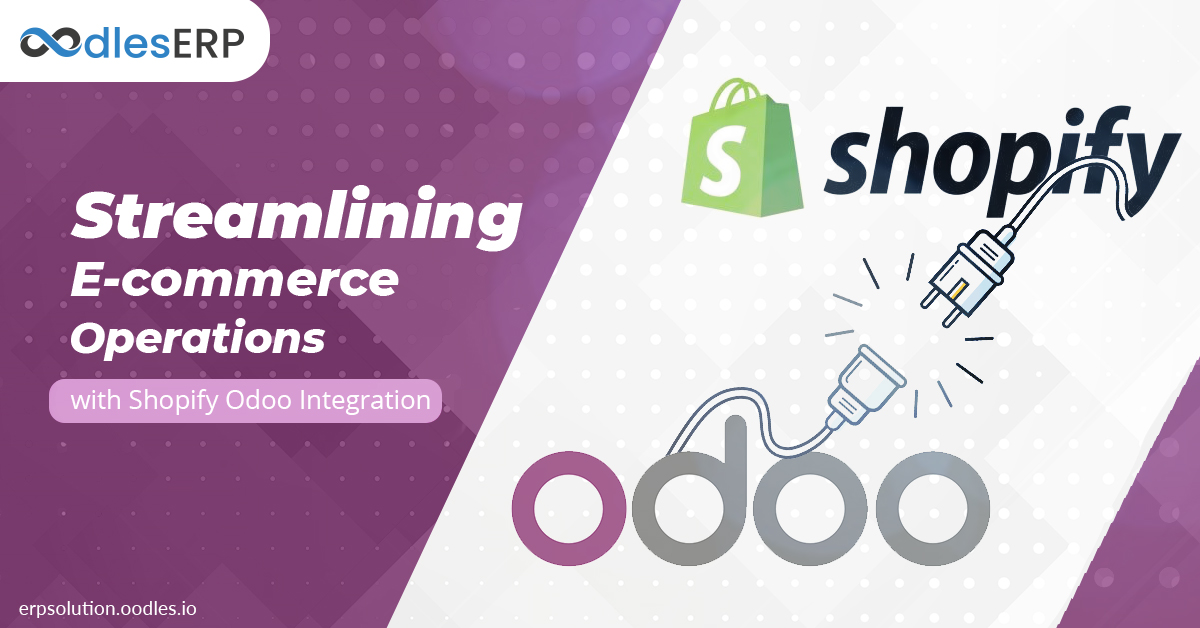 Shopify is a cloud-based multi-channel e-commerce platform designed for small and medium-sized enterprises. E-commerce businesses integrate the Shopify store with Odoo to manage different e-commerce operations including Customer Relationship Management (CRM), order management, inventory management, purchasing, and manufacturing. Shopify Odoo integration enables businesses to automate their vital business processes and saves employees time by automatically importing Shopify orders and customer data into Odoo. Let's explore how e-commerce businesses streamline their day-to-day operations using Shopify Odoo connector.
Odoo connector is a powerful framework to develop a bi-directional connector between Odoo and any other service or software. It is a 100 percent open source and its source code is available on Github. Shopify Odoo Connector enables e-commerce businesses to synchronize customers, products, inventory, orders, and payments from Shopify to Odoo. It enables businesses to create an invoice, payment, and delivery report in Odoo. 
We enable businesses to streamline and automate their business processes with our Odoo development services. Our developers are skilled at creating Odoo Shopify connector to synchronize all data from the Shopify website into Odoo. 
Features of Shopify Odoo Connector
Cross-platform compatible

Enable businesses to integrate their Shopify store with Odoo

Synchronizes Shopify store customers to Odoo

Imports Shopify collections to Odoo

Map taxes present in Shopify store to Odoo taxes

Imports order placed on Shopify store to Odoo

Import and update products from Shopify store to Odoo in real-time
Significance of Shopify Odoo Integration
Effective Product Management in Odoo:
Shopify Odoo integration enables businesses to manage multiple products easily and efficiently. Businesses can track the product details like quantity, color variations, price, and product image on their Shopify store by using Odoo as their backend ERP.  Employees can import the products from the Shopify store to Odoo in real-time. 
The changes in the stock on the Shopify store are automatically updated in the Odoo database. It enables businesses to constantly monitor stock levels to prevent understocking or overstocking. 
Whenever a scheduler runs in Odoo, the changes that are made to the stock in Odoo are automatically reflected in the Shopify store. 
Maintain Extensive Customer Database in Odoo:
Shopify Odoo integration enables businesses to transfer customer records and other relevant details from Shopify to Odoo and maintain an extensive customer database. Businesses can use this customer data for various email marketing, product promotions, and sending out customized discounts. 
Also Read: Exploring Odoo Python: Benefits and Upgradations
 Efficient Management of Purchase and Procurement Orders in Odoo:
Using Shopify Odoo connector, businesses can manage sales orders, procurement, and purchase operations efficiently. Businesses can manage and track the stock for Shopify products in Odoo. Additionally, they can also run simple and advanced inventory operations with Odoo. 
Efficient Management of Accounting and Invoicing of Orders:
Shopify Odoo integration enables businesses to supervise accounting and invoicing for Shopify orders and manage the data in one place. Employees can generate invoices and sign off credit notes for Shopify sales order using Odoo. Additionally, employees can create and analyze the Shopify store reports like sales and order reports in Odoo. 
Integrate and Manage Shopify Operations with Oodles
Boost your business growth with our Shopify integration services. From custom development to Shopify SEO and API integration to data migration, we provide integration and development services to streamline business processes and enhance customers' shopping experience in an online store. 
Reach out to our ERP development team to automate data synchronization between your Shopify storefront and back office.
To Read Next: Improving Business Performance with Salesforce Integration Services