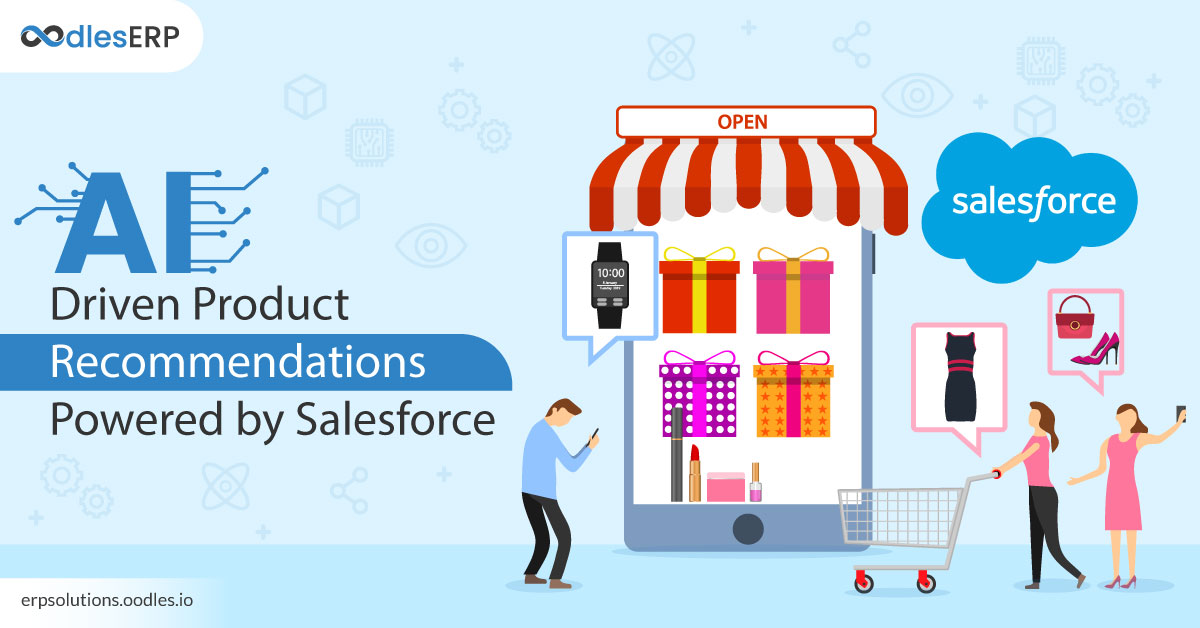 Salesforce Commerce Cloud Integration with AI
Customer's shopping experience is an essential factor to stay relevant and competitive in the e-commerce landscape. Integrating artificial intelligence with Salesforce commerce enables retail businesses to improve the shopping experience of customers. AI-driven product recommendations powered by Salesforce Commerce cloud-enable retailers to deliver personalized and enhanced shopping experiences. 
Salesforce Commerce Cloud provides both B2C and B2B businesses with an ideal platform suitable for e-commerce integration.  With a cloud-based architecture, the Salesforce commerce cloud delivers the reliability, scalability, and security to merchants in a competitive retail environment. It enables retailers to unify the buying experience across every touchpoint and streamline all operations-from purchase to fulfillment. 
Salesforce is a global leader in Customer Relationship Management (CRM) that has recently announced new innovations across its commerce cloud platform. It enables businesses to include artificial intelligence, inventory availability services, and visual research to an entirely updated generation of commerce experiences. 
Salesforce Commerce Cloud: Latest Features and Updates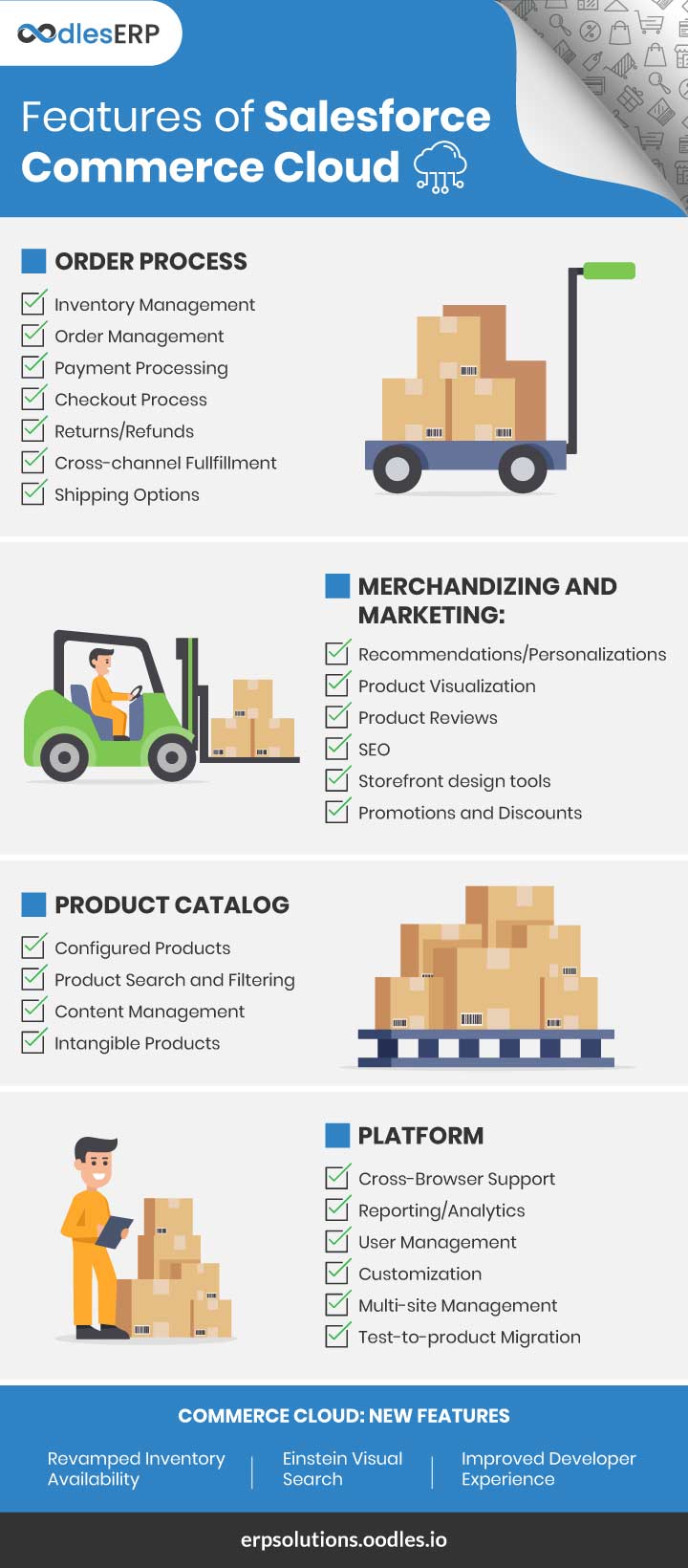 Snap and Search with Einstein Visual Search: 
Nowadays, users prefer to use visual search over any other search technology. Gartner predicts by 2021, the digital revenue of brands that provide visual and voice search will increase by 30%. Recently, Salesforce has announced the launch of Einstein's visual search, an AI-powered feature that enables shopping and searching of products through photographs. Users are supposed to upload an image through smartphones and the Einstein visual search will assist in finding your product.
Einstein Recommendation Engine Extended Across Platforms:
Recommendation engine feature enables retailers to deliver the right offer at the right time and to the right customer. It increases the chances of conversions and enhances Customer Lifetime Value (CLV). According to a research report, 31% of e-commerce site revenue is generated from personalized product recommendations. Gartner reports also states that 35% Of Amazon's revenue is generated by its recommendation engine. Initially, this feature was available only in a commerce cloud storefront. However, it is now available through API across different channels. 
Commerce API Explorer:
Salesforce has released the new commerce API explorer that enables developers to search across an API library and test different calls and functions. 
To Read Next: Beneficial Use Cases of Salesforce Integration with ERP
AI-Driven Product Recommendations Powered by Salesforce Cloud Commerce
Personalized Product Recommendations:
In this tech-savvy market, shoppers want meaningful digital experiences that focus on their individual needs. Salesforce commerce cloud Einstein eliminates the guesswork and tailors the shopping experience as per individual needs. It delivers spot-on product recommendations, meaningful search results and product sorting at every touchpoint.
Retailers are witnessing an increase in their revenue after adding product recommendations to their e-commerce sites. Recently, Icebreaker, an apparel brand found that its shoppers clicked on Einstein product recommendations powered by Salesforce CRM, 40% more often. The company was able to increase revenue from recommended products. Additionally, there was an 11% overall increase in average order value when compared with a current provider. 
Personalize Search Results:
Customers do not like to scroll through pages to find the perfect item. If they don't find a suitable product in a few minutes, they are likely to leave the site without completing a purchase. 
Einstein's predictive sort increases sales conversions by connecting customers to the products they require. It automatically tailors search and category pages based on every action a shopper makes- even the micro-moments on mobile devices.  
Turn Data into Actionable Insights:
Manually sorting through volumes of data is a challenging and time-consuming task. It enables retailers to drive revenue and increase conversions. Einstein commerce insights can turn commerce data into immediate and actionable insight. Using these insights decision-makers can create a roadmap of changes that they can make on their e-commerce site.
Einstein commerce insights automatically analyze the data and provide decision-makers with actionable insights to optimize site experiences. It enables site merchandisers to quickly identify co-purchase patterns to create product sets, bundles and deals to engage customers. 
Time-Saving Capabilities:
Commerce Cloud Einstein eliminates the requirement for labor-intensive tasks like creating new product groupings, manual merchandising, optimizing sorting rules and updating customer segments. It saves the time of the staff members and enables them to focus on other critical factors of a business-like strategy, development, and growth.
Concluding Thoughts
Salesforce commerce cloud platform consists of APIs, platform services, and design tools that provide businesses the capability to embed 'smart commerce experiences' in every element of shopping experience. Salesforce stated that the brand-new commerce cloud operates as the main commerce platform to schedule problems and simplify circulation. According to a research study by Salesforce and Deloitte, merchants utilize more than 39 diverse systems to handle client engagement including point-of-sale, email marketing, social networks, and call center. The main aim of the commerce cloud is to keep engagement and sale a unified experience so that the client doesn't switch to another platform. 
Empower your online business with our Salesforce eCommerce integration services. Our phased and flexible methodology with best practices ensures that you get the right solution the first time. Our team is efficient at developing Salesforce eCommerce platforms for effective selling.
To Read Next: Zoho vs. Salesforce: CRM Systems Comparison