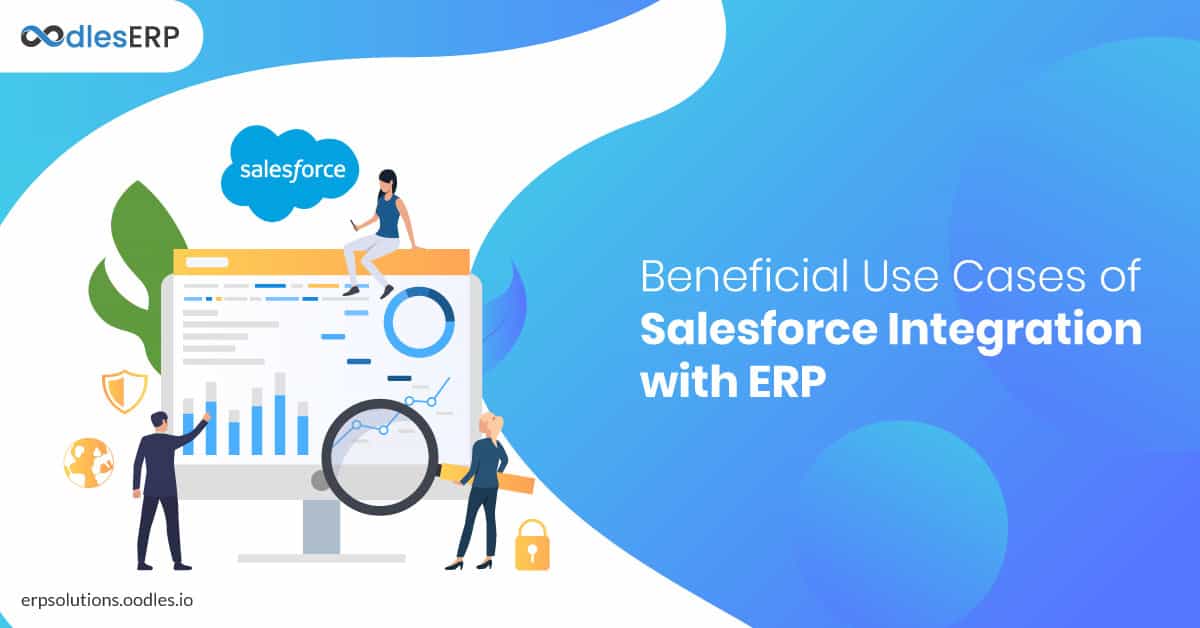 Salesforce Integration With ERP: An Overview
Enterprises depend on CRM and ERP systems for smooth business operations and raise customer satisfaction level. An ERP system streamlines and integrates critical back-office functions, while CRM enables efficient customer information management. A CRM system that is popular with medium and large enterprises is Salesforce, a cloud-based SaaS CRM platform. It aids businesses to engage with customers in an effective and efficient manner.
Being a key industry player for over a decade, Salesforce manages more than half of the CRM market effectively. Salesforce integration with ERP systems enables sales teams to gain immediate access to customer/prospects' data for avoiding delays and disruptions.
How Salesforce-ERP Integration is Beneficial for Businesses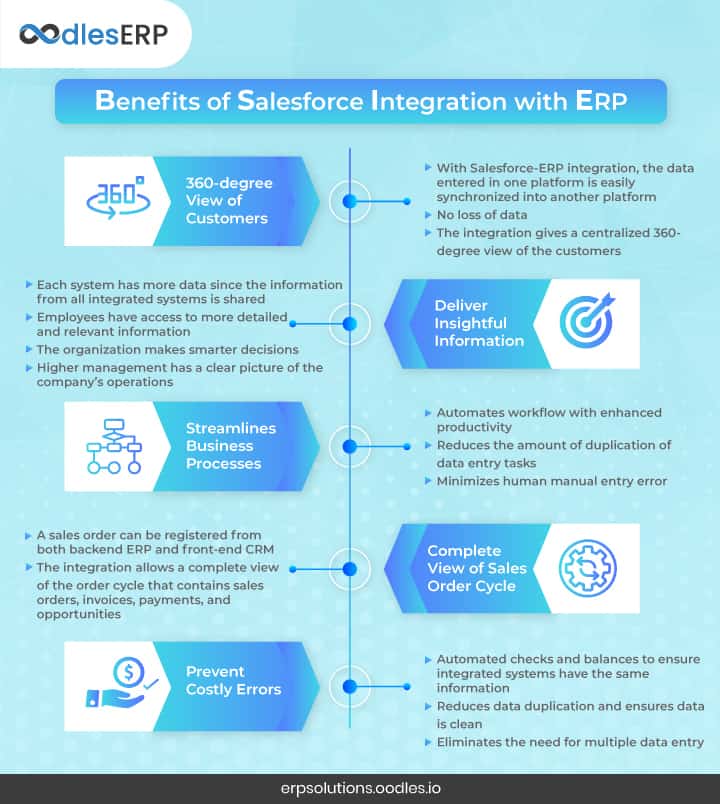 Salesforce-ERP integration synchronizes data and solves both operational and financial problems of an organization.
Possible Data Integrations Between Salesforce and ERP
One of the trickiest parts of data integration is to decide what organizations should integrate. The integrations are possible at service and case management level too. The most common transfers between Salesforce and ERP solutions are given below: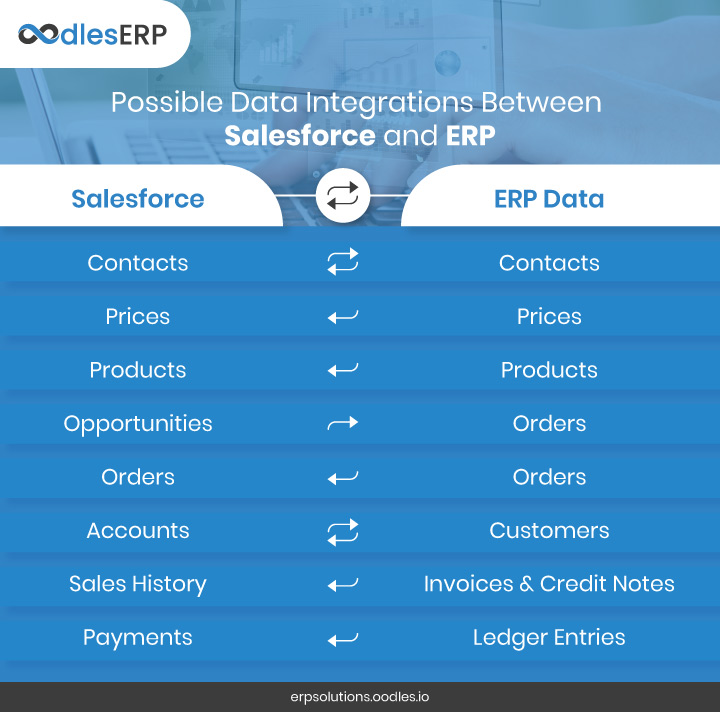 Experts at Oodles ERP provide organizations most of the above-mentioned Salesforce data integrations services and other customizable integrations. Get in touch with our ERP experts for more details.
Use Cases of Salesforce Integration with ERP
Invoices and Payment History
Sales and account management teams need information about invoices or new payments in Salesforce. It enables them to make informed decisions about recollecting debts or providing discounts.
Quote and Management
Salesforce-ERP integrations enable organizations to deliver accurate sales quotes quickly, even if there are complexities. Moreover, organizations can convert proposals into actual orders, track order status, and inform customers regarding changes (if any) easily.  
Product and Price Books
Whenever you update product lists or revise prices in ERP, the information gets automatically synced with Salesforce Price Books and other products. This aids the sales representatives to quote the actual prices of product(s) and eliminate manual errors. It also keeps the frontline representatives aware of any product related updates such as a change in sales price or description.
Account and Contact Information
Information about customers is stored in Salesforce and ERP systems as well. An ERP system focuses on billing information while CRM has its focus on leads and sales data. Account and contact integration is important to reduce the chances of ending up with inconsistent customer profiles.
The organization can transfer customer information from their ERP system to Salesforce and then configure a two-way integration. In this way, organizations can synchronize customer data entered into one platform with another. It eliminates the need for entering data separately into different platforms.
Inventory Data
One of the practical uses of Salesforce-ERP integration is synchronizing inventory quantities. The warehouse and retail sales teams can identify existing inventory against requested products or new products and create sales opportunities. In addition, such an integrated system can provide a complete overview to customers about their orders including delivery dates.
Gain Benefits with Salesforce ERP Integration at Oodles
We, at Oodles ERP, transform businesses with comprehensive salesforce integration services such as Salesforce Sales Cloud, Pardot, Exchange App and Salesforce Einstein. Our experts centralize data access, streamline buyer's journey and automate reports. We provide flexible, scalable and secure solutions for Salesforce and ERP integration on cloud or on-premises as required. We also provide Salesforce development services Salesforce data migration services.
Concluding Thoughts
ERP Salesforce integration solutions provide several benefits to organizations. It brings all the vital data that you need in one place from Salesforce and ERP system. A Salesforce ERP integration saves time and money by eliminating time-consuming manual data entry.