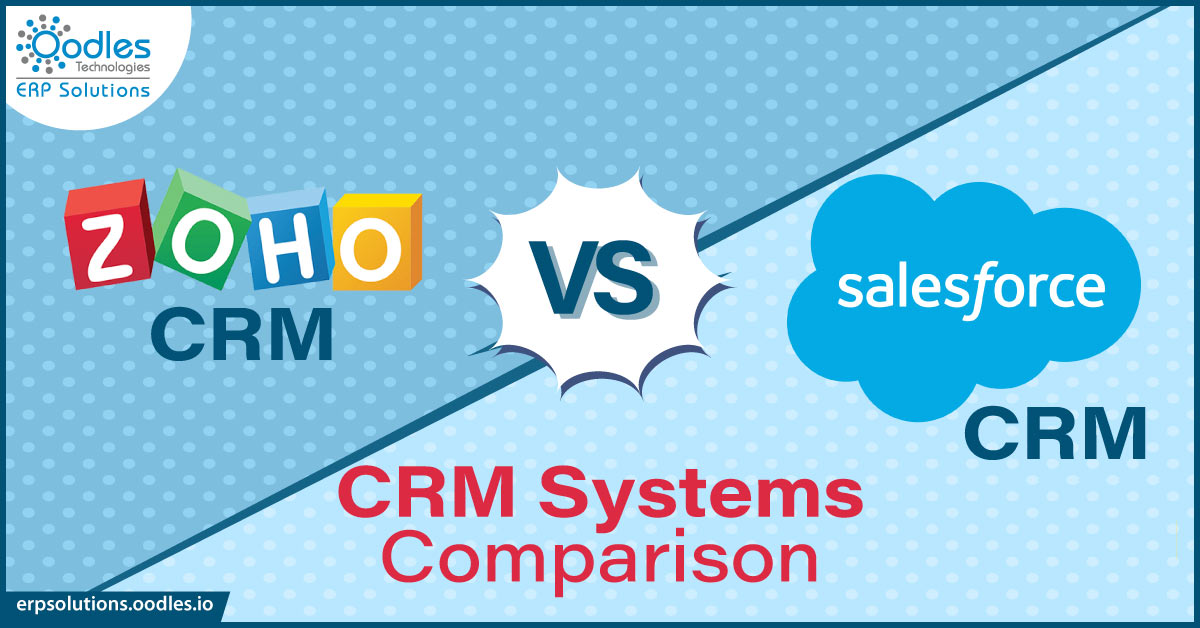 Zoho vs. Salesforce – CRM Systems: An Overview
If you want to be a stand out with your business, then the CRM system is one of the most quintessential business tools. Customer Relationship Management (CRM) is an approach used by companies to manage and analyze customer interactions throughout customer lifecycle with the goal of improving customer service relationships and assisting customer retention. It is one of the fastest growing business software in the market. Whether it's about improving sales forecasting accuracy or customer retention, CRM is on the top. Now the point is which CRM systems are the right choice for your business. Read our blog and decide yourself.
When choosing which CRM platform to use for your business, undoubtedly, the first name that strikes in the mind is Salesforce as this cloud-based platform has consistently held the lion's share of the market.
But this does not mean, it's the only CRM system in the market. Another popular platform is Zoho. It is well known for its Google Docs competitor, Zoho Docs.
In this blog, we will compare these two CRM systems. Read the post and then make a decision which software suits best to your business. Remember your decision will affect the profitability and productivity in the years to come.
Zoho vs. Salesforce: CRM Systems Compared
Presentation of Information
In both systems, upon signing in, you are greeted with a dashboard containing large rectangular tiles showing key information such as open tasks, deals closing of a particular month and current quarterly performance.
Now, the key difference between both is the presentation of information.
Salesforce presents this information with the mix of graphs and lists whereas Zoho uses all the lists by default.
Both CRM systems use navigation menu tabs and basic headings such as leads, accounts, contacts, dashboard, opportunities and so on.
Both the systems have a social networking section where employees can share information in the form of a post.
Contact Management
Whether it is Salesforce or Zoho, contact management is a key section for any CRM. Both of these platforms cover the basics but Zoho has some brilliant features that are available by default.
For instance, with Zoho CRM, if a salesperson adds their social accounts with their contacts, they can view their social activities. It is a perfect choice if most of your business interactions happen over social media.
On the other hand, the Salesforce database stores communication history, customer data, and other related activities. It allows the extraction of social data from major networks for a deeper view of the customers.
Mobile Capabilities
Both Zoho and Salesforce offer mobile apps for iOS and Android devices. Zoho mobile apps include calendars, geolocation, team news feeds and so on.
On the other hand, Salesforce also offers a variety of features such as updates, file sharing, calendars, mobile dashboards, etc.
With Salesforce, you can easily record notes. You can even dial into a conference directly from the app. In terms of usability, there are no complaints of both the CRM systems.
Comparison of Zoho and Salesforce
| | | |
| --- | --- | --- |
| Categories |       Zoho |            Salesforce |
| User Satisfaction | 92% | 99% |
| Pricing | Free | Starts from about $25 |
| Languages Supported | English, German, French, Italian, Russian, Chinese, Hindi, Spanish, Swedish, Portuguese, Italian | English, Spanish, French, Italian, Portuguese, Dutch, and Swedish |
| Available Devices | Android, Windows, Mac, Web-based, iPhone, Linux | Web-based, Mac, Linux, Android, iPhone |
| Company Size | Small, medium and large enterprises including freelancers. | Small, medium and large enterprises including freelancers. |
Final Analysis
Choosing the right CRM system is essential for a successful business. For smaller businesses, Zoho seems to be an easier choice because its pricing is reasonable and orientation and training is also less intensive.
However, if you are looking or a highly advanced system with plenty of room to scale, Salesforce is the right solution for your business.
So, choose the right CRM system while keeping in mind the requirements and goals of your business.
Also Read: CRM for Prestashop: Key Features and Benefits