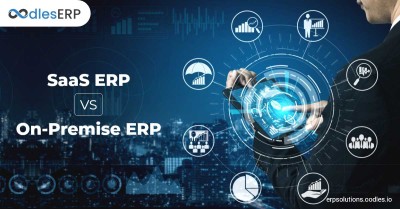 If you are considering an ERP solution in 2021 to streamline your enterprise processes, there are ample options to choose from. Nevertheless, the initial decision that you have to make is whether to choose a SaaS-based ERP or an on-premise ERP solution. It is also the most critical factor while moving in that direction as you obviously don't want to change the deployment model later on. 
The basic difference between SaaS ERP and on-premise ERP comes in the form of the deployment architecture. While on-premise systems are installed locally on the company's servers, their SaaS-based counterparts are deployed in the cloud. In more fundamental terms, the SaaS-based ERP solutions are offered as a service to the enterprise. Besides, these solutions are hosted on the vendor's servers as opposed to the company's local hardware. 
As of today, SaaS-based ERP solutions have become more common as they offer increased flexibility with minimal hardware requirements. In this blog post, we provide a technical comparison between SaaS ERP and on-premise ERP systems. Subsequently, you can decide which one out of these two solutions best fits your business requirements. 
Also read How Manufacturing Companies Can Benefit From Custom ERP
SaaS-based ERP Systems
SaaS ERP is a cloud-based enterprise software that is installed on the vendor's remote servers rather than the company's hardware. Since it is offered as a service to the enterprise, we call it software as a service or SaaS ERP. 
SaaS ERP systems incorporate a multi-tenant software architecture where multiple customers use the same software platform hosted by the vendor. However, the data of each customer is adequately protected and separated from other entities by assigning a dedicated cloud hosting space. Nevertheless, multi-tenant SaaS solutions offer limited customization options as the vendor is responsible for all major software updates. 
A SaaS ERP solution may also have a single-tenant software architecture. In this case, the customers can have their own version of the software rather than sharing a common software. Understandably, a majority of enterprises prefer the single-tenant model to meet their privacy and security requirements while also gaining better flexibility and interoperability. 
Pros
– Faster deployment and implementation
– Lower upfront costs for software implementation
– Easy to customize single-tenant SaaS applications
– Easy to configure and maintain
– Higher flexibility and scalability
– Automatic data back and disaster recovery
– Ease to integrate and migrate
Cons
– Customization may not be possible with the multi-tenant SaaS model
– Only the vendor can release software updates
– Year-over-year maintenance costs can be higher as compared to on-premise systems
– Integration with existing enterprise systems can be complex and tricky
On-Premise ERP Systems
An on-premise ERP system is basically an in-house self-hosted solution that may or may not be supported by a third party. As opposed to cloud solutions, on-premise software is installed on a company's internal hardware and computer systems. It mainly comprises an extensive database facility and combines a series of dedicated modules to accomplish day-to-day enterprise processes. 
Pros
– Better control over the software and more flexibility
– Vast customization options
– Ease of integration with diverse enterprise systems
– Minimal involvement of vendors and third parties
– Easy data transfer and faster software migration
– More flexibility to schedule software upgrades 
Cons
– Implementation time may increase unexpectedly
– Requires more manpower and skilled personnel
– May require additional hardware/software purchases
– Project costs increase as the timeline extends
– Requires extensive IT support for maintenance and software upgrades
– Requires more human effort in resource planning
– Higher maintenance costs
You may also be interested in reading Industry 4.0 and Its Impact On ERP Systems
Conclusion
Despite the apparent limitations, SaaS-based systems are gaining a foothold in the ERP software industry. It's quite evident that SaaS has many advantages over on-premise ERP solutions. Developing a SaaS-based ERP solution might your best pick if you want a scalable enterprise solution with limited customization. However, it might not be the best option if you want complete control over the software including custom integrations and flexible software upgrade procedures. Alternatively, you can opt for a hybrid ERP solution that combines the features of both SaaS ERP and on-premise ERP. In doing so, you get the benefits of SaaS and the flexibility of on-premise software leading to greater business value and increased interoperability. 
Avail Our ERP Development Services To Strengthen Your Enterprise Processes
We are an ERP development company having years of experience in developing enterprise-grade software solutions to solve complex business challenges. Our seasoned developers carefully analyze your business requirements and formulate effective execution strategies to seamlessly carry out the development process in a phased manner. We have a proven track record in both SaaS ERP and on-premise ERP software solutions with 100+ satisfied customers from across the globe. For project-related queries, drop us a line at [email protected].