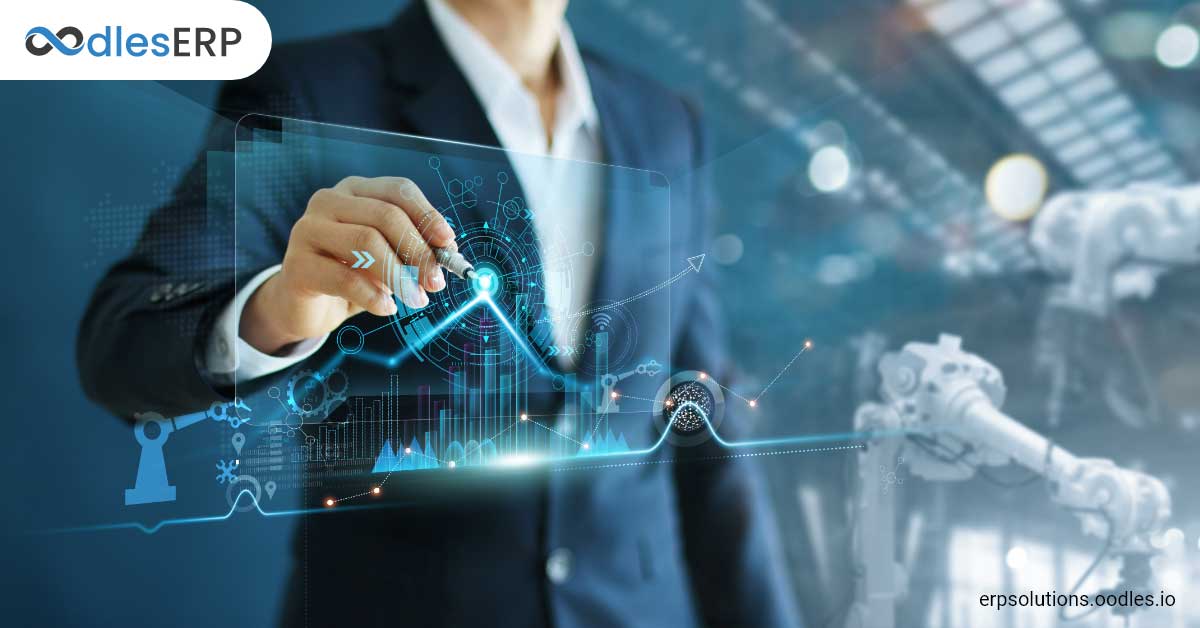 The manufacturing industry bears the onus to fulfill the dynamically changing customer needs while also coping up with the regulatory challenges. Despite the many challenges, the global manufacturing market has grown tremendously over the past decade. While it created a pool of employment opportunities for the needy, we can't deny the cut-throat competition there is for startups. According to BCC Research, the global manufacturing market is expected to grow to $117.7 billion by 2025. The growth is expected at a compound annual growth rate (CAGR) of 6.3 percent between 2020 and 2025. 
The growing market size and intense competition have made it essential for small-to-medium manufacturing firms to avail custom ERP development services. Developing a custom ERP software will enable these companies to streamline their processes and sustain the competition in the market. 
We, at Oodles ERP, provide 360-degree custom ERP development services to address cross-industry enterprise requirements. Our development team uses open-source ERP platforms like Odoo, OFBiz, ERPNext, and Opentaps to develop feature-rich ERP solutions with significant cost savings. We have a proven track record in custom ERP software development for manufacturing, inventory, supply chain, and many other industries. 
In this blog post, we highlight the importance of custom ERP development services for the manufacturing industry and the benefits it brings to the table.  
How Manufacturers Can Benefit From ERP 
Custom ERP development services give you access to several enterprise modules where each module focuses on streamlining diverse manufacturing pipelines. A full-fledged custom ERP solution automates a host of manufacturing processes such as product planning, task scheduling, activity tracking, supply chain, and logistics amongst many others. As a result, it accelerates the product development lifecycle, improves manufacturing efficiency, and reduces time-to-market. Let's move ahead and discuss the diverse ERP modules that strengthen and streamline manufacturing processes.
Production Management
Manufacturing companies face immense strain to meet their production timeline while also keeping close tabs on market trends. To address the dynamically changing customer demands, they must optimize their production cycle as per the required standards. 
The production module in enterprise resource planning enables manufacturers to accelerate their production cycle and enhance process efficiency. It provides a centralized software interface for production managers to track on-site activities and automates product planning and task scheduling. The module also automates equipment scheduling and ensures that you never get short of essential equipment and raw materials. 
Inventory/Warehouse Management
Inventory management is an integral part of manufacturing that is critical to prevent stock outages, track inventory movements, and provide accurate recordkeeping. The inventory module provides real-time insights into warehouse data and lets you track stock movements at all stages of the production cycle. Besides, the auto-replenishment feature ensures that you never have to deal with stock outages.
Sales and Purchasing
The sales and purchasing module lets you efficiently manage purchase orders, quotation requests, supplier listings, provides real-time stock updates. It best serves in integration with inventory and supply chain modules to provide greater visibility into stock data. Based on the demand and availability of raw materials, it automatically places stock orders and facilitates effective collaboration with suppliers and vendors. 
Supply chain and Logistics
Custom ERP development services for manufacturing companies provide dedicated tools to manage the supply chain and logistics operations. The SCM module lets you track and monitor supply chain workflows at all stages of the production cycle. At the same time, it significantly reduces overhead costs by enabling automation at every level and eliminating manual complexities. By availing SCM solutions, you also gain access to features like electronic data interchange (EDI), inventory management, and order management. Besides, it automatically aligns the supply chain operations to meet market demands and shipping schedules. Other features include asset tracking (barcode, GPS, RFID), material requirement planning (MRP), Order/Returns management, and logistics management and tracking.
You may also be interested in reading Industry 4.0 and Its Impact On ERP Systems
Conclusion
An ERP software can be fully customizable and caters to your industry-specific enterprise needs in addition to solving complex business problems. Besides, it is easy to integrate with new modules as compared to off-the-shelf and vendor-based ERP systems. Custom ERP development services are focused on delivering greater value through data-driven automation mechanisms. To achieve that, it incorporates the use of Industry 4.0 technologies including artificial intelligence, big data analytics, internet of things, and cloud computing.  
Avail Our Custom ERP Development Services To Strengthen Your Enterprise Processes
We are a 360-degree ERP development company that specializes in developing custom enterprise solutions to efficiently manage diverse manufacturing processes. Our developers are skilled at implementing custom modules to provide a full-scale ERP software solution that covers sales, inventory, workforce planning, SCM, logistics, and more. We use open-source platforms such as Odoo, OFBiz, ERPNext, and Opentaps to custom-build high-quality enterprise solutions at reduced project costs. Our end-to-end ERP development services and proven track record ensures seamless delivery of your software product within the stipulated timeframe. For more information, reach us out at [email protected].