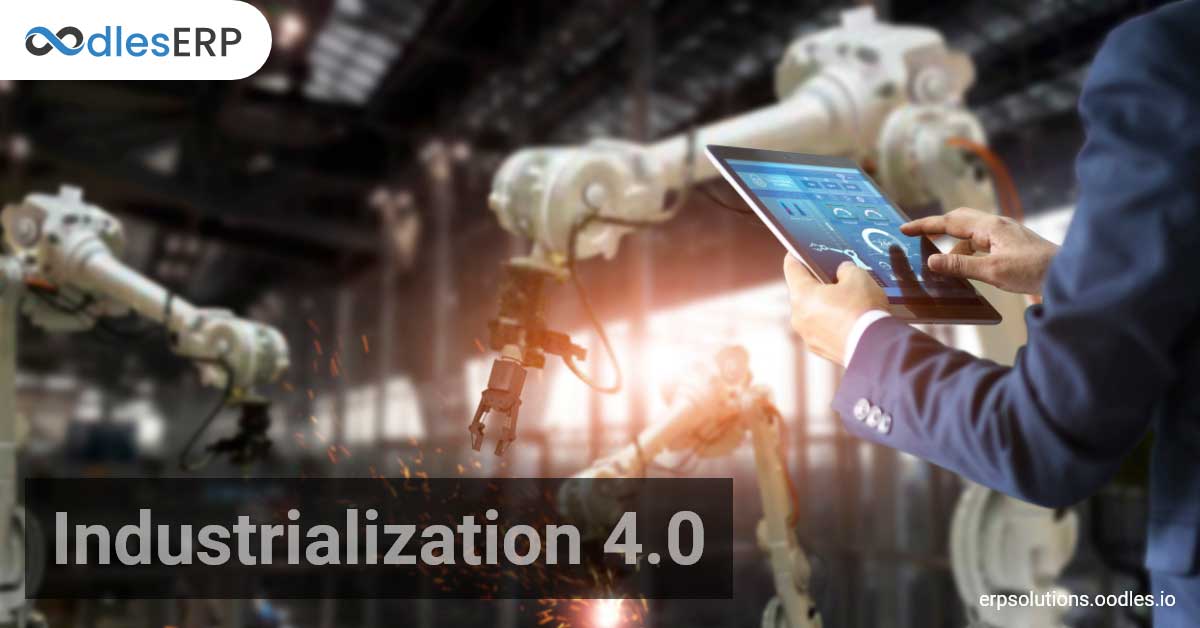 The fourth industrial revolution is here and is disrupting the operations in all major industries on a global scale. Popularly known as Industry 4.0, it is reshaping the legacy systems and traditional software applications by integrating next-gen technologies like artificial intelligence, the internet of things, and cloud computing. With the rapidly evolving technology landscape, Industry 4.0 is poised to alter the way most industries work and operate.
Having said that, it becomes more important to align your enterprise systems in adherence to Industry 4.0 standards to stay afloat in the coming years. The best way to achieve that is by upgrading your existing ERP systems with the latest technology integrations. In doing so, you can significantly improve your existing software architecture and make your business applications future-proof. 
At Oodles ERP, we give you the opportunity to revamp your existing business applications or develop data-driven ERP software solutions from the ground up. Our development team has years of experience in developing future-ready enterprise solutions with a focus on next-gen technologies like AI, ERP, IoT, and cloud computing. We use agile methodologies and Industry 4.0 technologies to develop performance-driven business solutions for cross-industry enterprises. Our end-to-end ERP software development services enable enterprises to overcome their business challenges to streamline inbound/outbound processes. 
Here we shed some light on the importance of Industry 4.0 and how enterprises can use it to future-proof their ERP systems. Subsequently, we'll analyze how Industry 4.0 technologies have become an indispensable part of the ERP software development services. 
Also read The Need For an AI-Powered CRM System In 2021
What Is Industry 4.0?
Industry 4.0 refers to the fourth industrial revolution that aims at automating and upgrading the traditional manufacturing and industrial practices using next-gen technologies. It mainly focuses on using the latest technologies including AI, Big Data, IoT, cybersecurity, cloud computing, and ERP. Industrialization 4.0 generally involves large-scale machine-to-machine communications and IoT integrated hardware to seamlessly carry out complex manufacturing processes. Let's move ahead and discuss the benefits of using Industry 4.0 with ERP software development services. 
How It Impacts ERP Systems?
The use of Industry 4.0 technologies play an important role in enterprise resource planning. The goal of ERP systems is to solve business problems by reducing manual complexities and rendering control over inbound/outbound processes. Using Industry 4.0 technologies in ERP systems will enable organizations to gain better visibility into manufacturing processes and supply chain activities. Besides, they can optimize their logistics operations, improve inventory tracking, and efficiently manage their workforce with automated resource planning. 
Industry 4.0 is also critical for strengthening customer relationship management (CRM) and human resource management (HRM) systems. The big data analytics method enables enterprises to process and analyze massive chunks of structured or unstructured customer data. At the same time, the use of AI algorithms lets you detect hidden patterns and gain valuable insights into customer data. In doing so, it helps you understand the likes, preferences, and buying patterns of your customers. Accordingly, you can optimize your CRM operations to improve customer services. Several enterprises also use machine learning algorithms to automatically optimize their website usability and deliver personalized customer experiences. 
Similarly, cloud computing has become an indispensable part of the modern-day ERP systems amid the rising data security concerns. The use of cloud enables organizations to efficiently manage their mission-critical business data with increased security, scalability, and better flexibility. Cloud storage also provides business managers with easy access to data anywhere in the world. Other benefits include reduced IT costs, effective workforce management, quick migration, and ease of integration with other business tools. 
You may also be interested in reading Top Supply Chain Management Trends For 2021
Closing Remarks
After the third industrial revolution that mainly focused on information technology, Industry 4.0 is poised to change the way most industries work and operate. It has already made significant strides in the manufacturing industry and is disrupting the other industries as well including logistics, supply chain, agri-farming, mining, and more. Also, it's quite evident that leveraging the Industry 4.0 technologies to reshape ERP systems will enable enterprises to boost their productivity and eliminate manual complexities. It is, therefore, high time to consider investing in Industrialization 4.0 in 2021. 
Why Choose Us For ERP Software Development Services?
We are an ERP development company that provides 360-degree software development services to address varied business requirements. Our development team specializes in building performance-driven enterprise solutions with a focus on next-gen technologies like AI, IoT, Big Data, and Cloud. 
We use an advanced tech stack to make your business applications future-ready with custom technology integrations. We also provide ERP consulting services to help you align your existing software infrastructure in-line with the Industry 4.0 standards. We have successfully completed several full-fledged ERP projects for 100+ customers from across the globe. For more information, drop us a line at [email protected].