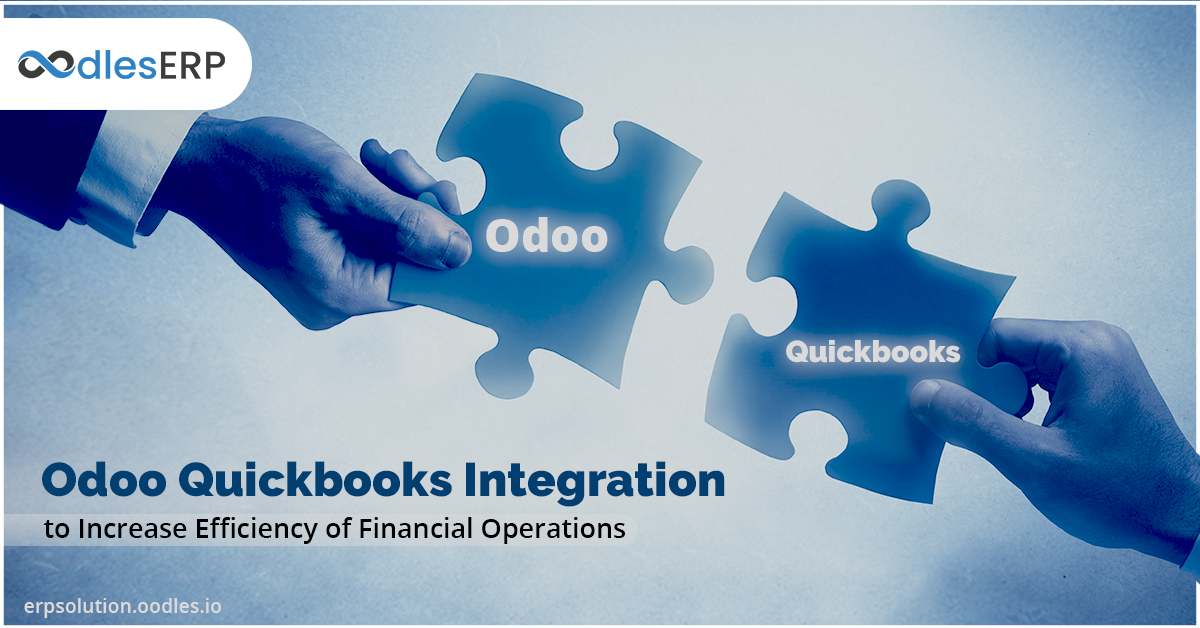 QuickBooks is an accounting software package used by businesses to manage sales and expenses while tracking transactions daily. It holds more than 80% of the small business market share in the US. QuickBooks is ideal for raising invoices, paying bills, filing taxes, generating reports and tracking cashflows. QuickBooks counted more than 2.55 million online subscribers in November 2017, making it one of the most widely used accounting software in the US. QuickBooks can handle the complexities of a small scale business but software support is essential to meet the requirements of a growing business. This blog post discusses how Odoo QuickBooks integration makes financial operations efficient. 
Benefits of Quickbooks for Small and Medium-Sized Businesses
Tracks Bills and Other Expenses:
QuickBooks is accounting software that downloads and categorizes all the expenses. Businesses can automatically track bills and expenses by connecting their bank accounts to QuickBooks. The software enables businesses to pay bills before their due date. For instance, businesses can ensure they pay bills on time by creating accounts payable reports in a few minutes.
Sales Invoicing:
QuickBooks enables businesses to save time by tracking sales and automatically creating receipts and invoices with a simple click. Accounts team members can instantly email the invoices to customers. QuickBooks has the provision to not only bill customers individually but bill multiple customers in large batches. Users who subscribe to QuickBooks merchant services gain the added benefits of being able to accept credit/debit card charges through QuickBooks Pro.
Odoo ERPOdoo ERPAccurate Reporting Insights:
Businesses can manage their cash inflow and outflow activities with QuickBooks. It enables businesses to access several reports that provide valuable insights into their financial operations. Reports pre-built in Odoo can be simultaneously updated as the users enter and save transactions in real-time. Additionally, with the accounts receivable and payable reports, businesses can monitor their overall financial operations.
Manage Sales and Income:
Businesses can manage income and track customer sales with QuickBooks by creating invoices. With QuickBooks, businesses can easily know how much balance is pending payment. Businesses can gather details of current and past pending invoices by reviewing accounts receivable aging reports.
Accurate Payroll:
Mistakes in calculating payroll can result in steep penalties and dissatisfied employees. QuickBooks has its own payroll function that automatically calculates and runs payroll when required. QuickBooks payroll ensures that all the business financial statements are up-to-date as per the latest payroll run. 
Is Odoo ERP Integration with QuickBooks Essential for Businesses?
Odoo ERP is specifically designed to manage complex accounting functions to meet the growing business demands. With an ERP solution, businesses can get more accurate details of the ongoing financial activities. 
Although QuickBooks is robust accounting software, it has flexibility challenges, which can be overcome by integrating Odoo with QuickBooks. It reduces labor costs, eliminates errors and increases the efficiency of financial operations.  
At Oodles ERP, we provide Odoo development services that enable businesses to streamline their financial operations.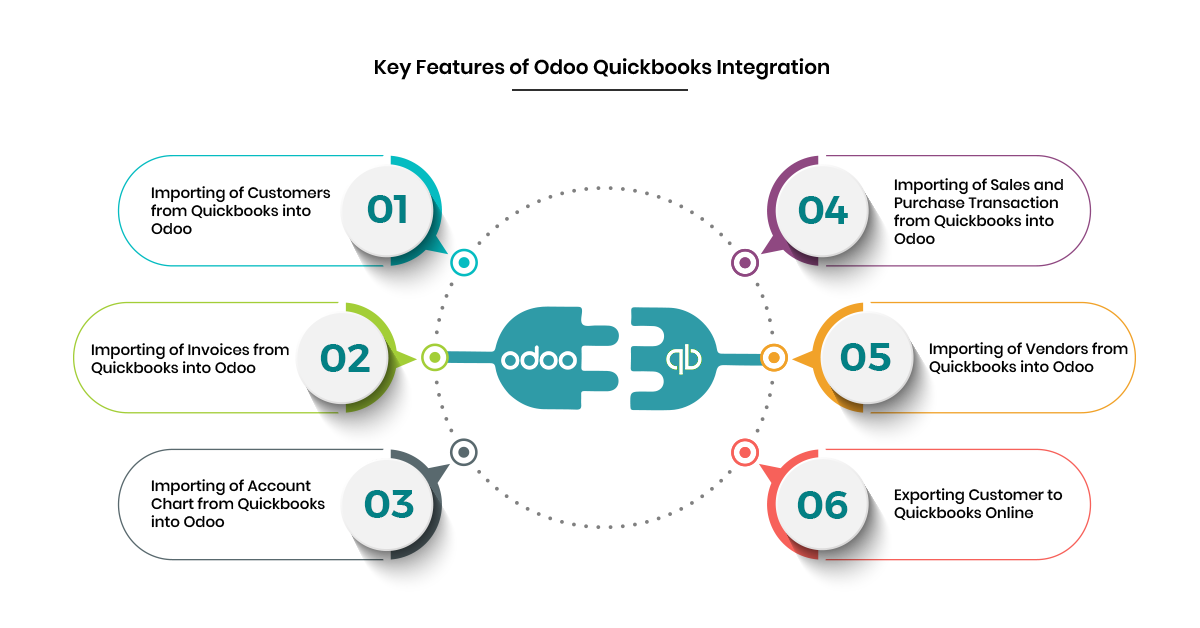 Benefits of Odoo QuickBooks Integration
* Odoo QuickBooks integration enables businesses to easily share data with external partner sites and other e-commerce platforms.
* Integrating QuickBooks with Odoo enables businesses to easily synchronize the existing data
* Employees who do not want to shift from working on QuickBooks to other systems can import or export data easily to Excel spreadsheets
* Odoo QuickBooks integration enables businesses to do effective scheduling, time accounting, and payroll accounting.
Avail Benefits of QuickBooks Integration with Oodles
We provide QuickBooks integration services that enable businesses to manage their accounting operations, orders, inventory and shipping from a single dashboard. Here are some of our key QuickBooks integration services: 
QuickBooks Implementation: Our development team has experience in providing end-to-end QuickBooks implementation services.
QuickBooks Programming: With robust API support, we enable businesses to simplify complex situations that require custom application development.
QuickBooks POS: Our development team uses web connector APIs to integrate QuickBooks POS with any other accounting module.
Data Conversion: We enable businesses to move all their customer and product-related data from their existing system to QuickBooks.
At Oodles ERP, we can develop QuickBooks connectors for accounting businesses. Here are some import/export services that we can provide using the connector:
* Import supplier to Odoo
* Export account tax to QuickBooks Online (QBO) 
* Import QBO customers into Odoo
* Import product category to Odoo
* Export customer invoice to QBO
* Export supplier bill to QBO
* Import customer payment to Odoo
* Import payment method to Odoo
* Import accounting lists into Odoo
* Export tax agency to QBO
Concluding Thoughts
QuickBooks meets all accounting requirements of small to medium size businesses. It simplifies and streamlines accounting, tracking, and reporting processes. Odoo QuickBooks integration provides an added advantage of tracking accounting activities occurring across all business functions. Odoo QuickBooks connector synchronizes the data between Odoo and QuickBooks.  It enables businesses to manage data in real-time, thus enabling decision-makers to take effective decisions for the growth of the business. 
To Read More: QuickBooks ERP System: Why It Is The Right Solution For Businesses