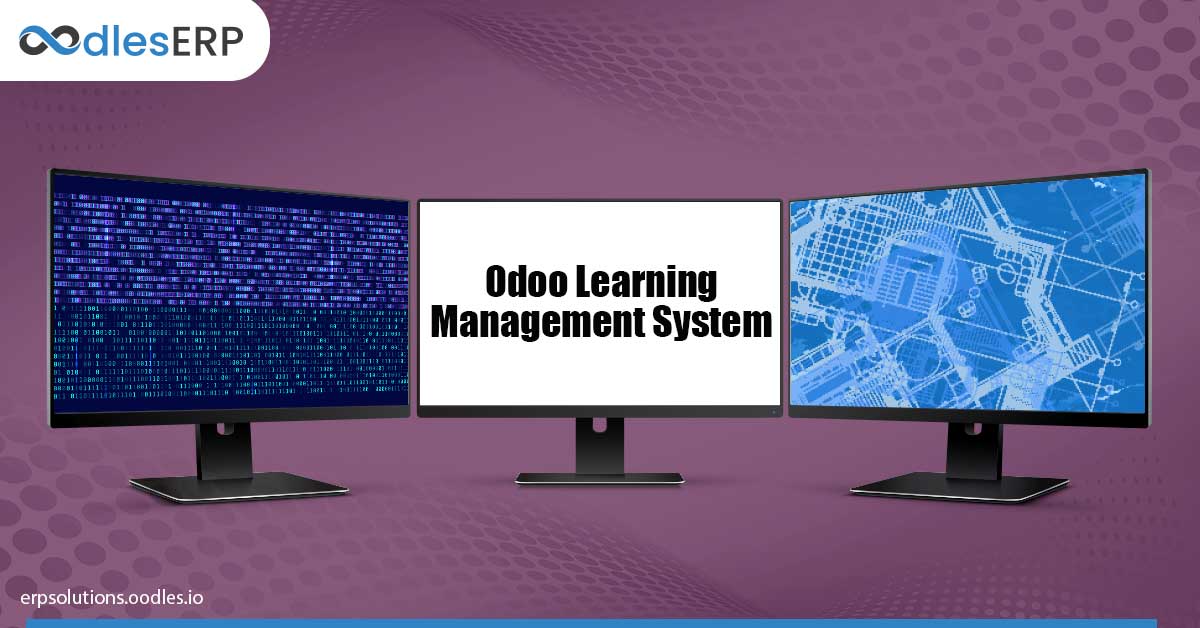 With the pandemic driving the majority of the world population indoors, it's only natural to digitize learning platforms and institutions. As internet usage goes up by 50% to 70%, it may be just the time to automate your venture in the education sector. Learning management systems are software systems integrated with digital libraries, online courses, research forums, evaluation tests, and support for both students and teachers. Odoo eLearning is a unique, comprehensive, easy-to-use learning management system that can benefit educational and business organizations alike. It was launched with Odoo version 13 and offers creation of interactive, self-paced courses as well as tests/quizzes, certificates, badges, and a host of meaningful learning experiences.
At Oodles, we provide Odoo implementation services that ensure the integration of customized modules into your ERP for the smooth management of your organization. We integrate automated grading and advanced reporting to your eLearning platform so you can manage, assess, and derive insight from the learning process and course adequacy. Read on to learn more about Odoo Learning Management System.
Development Time:
Once you install the eLearning module to your database, Odoo's impeccable dashboard offers various tabs like Courses, Forum, Reporting, and Configuration catering to the implied functions. Create courses, add lessons, course description, access rights, visibility, and featured content. There are options to include external links, reports, and statistics. The configuration shouldn't take too long for a planned course. Once configured, you can view a course on your website under Courses. Installing updates is just as simple with Odoo's interactive interface.
Cost:
Odoo's eLearning module costs no more than $8.00 USD per month and its comprehensive features make it worth every penny. On the other hand, if you implement it through SaaS, you only have to pay a quarterly or yearly subscription fee that includes, servers, databases, updates, and maintenance. At Oodles, we provide streamlined, best-in-class SaaS platforms for all your ERP needs, including eLearning.
Features:
It is its unique features that make Odoo eLearning the go-to module for setting up an online learning platform. Let's take a look at these features below:
1. Odoo eLearning module gives you the option to create as many courses and lessons as you want. Manage and organize content embedded with videos, PDF presentations, infographics, web pages, quizzes, and certifications.
2. It allows you to add quizzes with single and multiple answers at the end of lessons as well as courses. Also, you can add additional resources like external links for learners to refer to.
3. Odoo eLearning allows you to translate your website into as many languages as you want. There's no easier way to drop language barriers in learning than this.
4. It also enables marketing and selling your courses online with easy, advanced payment options. Odoo also simplifies payment gateway integration with your website.
Must read: An Overview of Payment Gateway Integration in Odoo
5. The eLearning module also provides evaluation and certification options. You can create tests with a mixed bag of question types. You can also specify if tests for different learners include a random selection of questions.
6. It allows you to set the passing score, limit test duration, and number of attempts. By measuring the performance of candidates, you can certify them too. The module assigns badges to student profiles on passing a course test.
7. The eLearning module allows you to engage with the community by linking with forums as well as accepting course reviews.
8. It also provides an advanced reporting system that reports the performances of courses, content, returns, forums, reviews, and certifications. You can add predefined or custom filters to show the relevant data and group and display the results as graphs, bar charts, line charts, pie charts, or stacks.
9. Odoo eLearning also offers the opportunity to optimize and promote your courses. Its Promote tool enables search engine optimization, sharing, and embedding on social platforms' profiles.
Benefits:
1. Its extensive, wide-ranging features make it a single tool for building a multi-channel online learning platform.
2. It takes into account the teaching, learning, evaluating, reporting, and promoting processes. Thus, it's an all-inclusive, engaging website building platform.
3. Its insightful, smart reporting systems make it possible to radically reconstruct courses and resources as per the needs of the students.
4. It is cost-effective when implemented through Saas and reduces server and database costs.
You may like: What is better- Odoo SaaS or Odoo Premise?
5. It comes with SEO tools saving a dedicated marketing and promotional department for the same purpose.
It can, therefore, be said that Odoo's comprehensive, all-inclusive, smart learning management system is an asset for organizations based in education. It not only allows them to reach and educate a greater number of students but also allows a unique, meaningful learning experience for learners. It, thus, makes for a win-win situation for all.
Implement Odoo eLearning with Oodles
We are an Odoo Development Company with an objective of transforming business and social organizations to remain in pace with technological advancements of the times we live in. Our Odoo implementation services enhance your ERP with customized modules and applications suited to your organization. Effectuate Odoo's learning management system to design your eLearning website with Oodles. Contact us NOW!