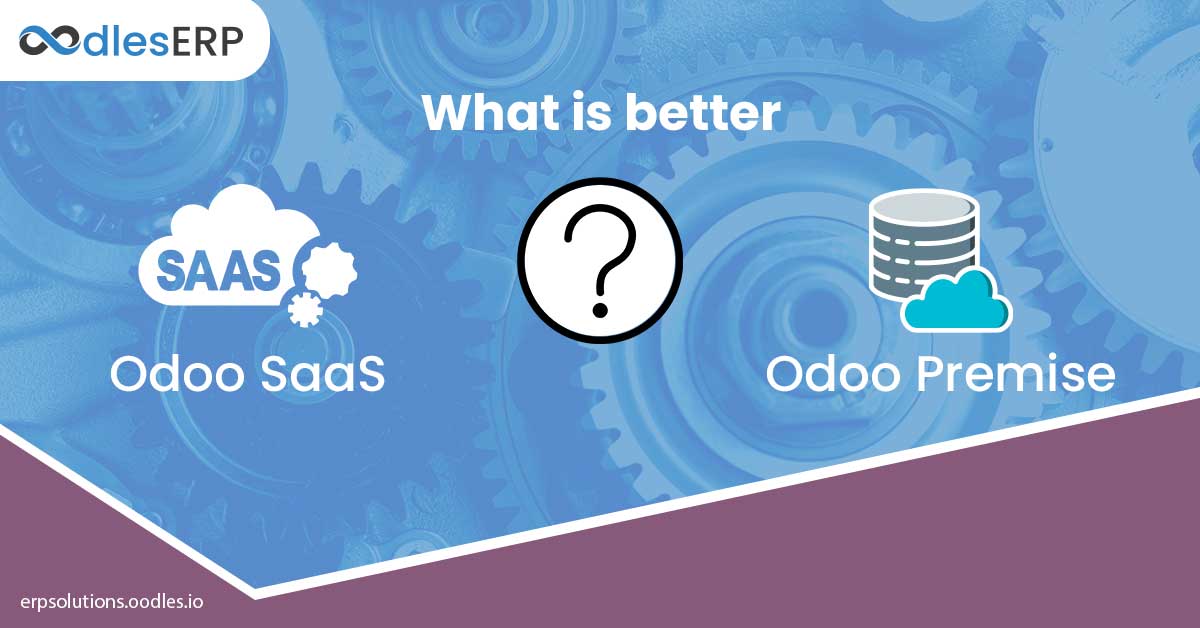 Odoo is a software suite of business applications including manufacturing, supply chain, eCommerce, accounting, invoicing, and warehouse management. It has both community and enterprise versions with characteristics features and services that regulate, manage, automate, and streamline business operations. While implementing Odoo into a business, it can be either hosted on-premise or entirely on the cloud. Both implementations have their positives and drawbacks. At Oodles, we furnish enterprises with custom Odoo development services for enterprises to sustain their operational efficiency while enhancing management capacity.  Let's shed some light on their distinguishing features to understand which one is the perfect fit for your business.
Points of Comparison between Odoo on Premise and Odoo SaaS
   Setup
On-premise hosting requires an enterprise to invest in IT infrastructure. It's a comprehensive process with the on-premise installation of hardware and software. It thus requires a significant amount of resources and workforce for the added workload.
On the other hand, cloud hosting lets you use the ERP software remotely along with a secure cloud server for storing enterprise data. All you need is a good internet connection and no on-premise installations as the whole suite is available on the cloud.
   Maintenance
For on-premise Odoo hosting, server upgrades, security measures, and plugins need to be maintained by the IT team. As software owners, it becomes their prerogative to resolve issues and monitor software performance.
When an enterprise opts for cloud hosting for their Odoo ERP, it is the SaaS provider's job to manage upgrades, issues, plugins, and performance. They also provide data security through suitable architectures and authentication processes. With SaaS, the enterprise only needs a browser of their choice, and an internet connection to examine their frontend and backend operations.
    Cost and Server
Setting up a server for on-premise Odoo ERP can be a huge cost for SMEs. There is the advantage of a one-time investment on license but investment on servers from time to time may be required. This works well with a big organization with a dedicated IT infrastructure and resources.
On the other hand, Odoo SaaS requires enterprises to pay a monthly, quarterly, or yearly subscription fee according to the resources you utilize. Updates, servers, data security, and maintenance will fall under this fee and will be the responsibility of the service provider. This saves financial, infrastructural, and human capital, making it ideal not only for SMEs but also for large corporations.
  Scalability and Customization
For on-premise Odoo ERP, businesses need to buy modules with a proprietary license. At the same time, scaling up requires upgrades on the in-house server with additional costs.
It is easy to scale a cloud-based SaaS ERP up or down just by changing the subscription plan or service type. Incorporating expanded product and customer databases as well as changing or adding plugins and modules is hassle-free too.
The choice between on-premise and SaaS ERP from Odoo depends entirely on your business strategy and requirements. Both can put your business in an advantageous position depending on how they're implemented.
We are an Odoo development company with the goal of streamlining enterprise operations to maximize growth and profit. Our Odoo implementation services range from end to end ERP implementation to developing custom modules, and providing maintenance and support. Our teams analyze your business models to design and integrate the most suited Odoo modules into your ERP. Get in touch with us to avail our Odoo development services now.