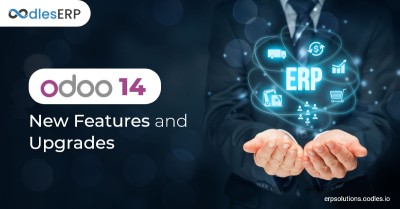 The year 2020 has been full of ebb and flow for many enterprises. As the COVID-19 outbreak left the world economy in tatters, several enterprises struggled to get their business back on track. With ERP being the last resort to stay functional during these trying times, we saw a large number of enterprises investing in Odoo ERP development services. As we approach the year 2021, the arrival of Odoo ERP version 14 gives yet another reason for enterprises to invest in Odoo ERP development.  
We, at Oodles ERP, provide end-to-end Odoo ERP application development services to address cross-industry enterprise requirements. Our development team specializes in using the Odoo ERP suite to build performance-driven enterprise solutions with custom features. Our custom Odoo ERP development services are conducive to improving enterprise productivity with increased security, efficiency, flexibility, accessibility, and interoperability. 
In this blog post, we walk you through the key features and upgrades that Odoo 14 brings for enterprises. Subsequently, you'll learn about the benefits of choosing Odoo 14 for an ERP project. 
Odoo Ver. 14: An Overview
Odoo is an open-source business application suite that provides comprehensive enterprise solutions for CRM, eCommerce, accounting, inventory, and warehouse management. It is an extensively used enterprise software suite that covers all types of enterprise requirements and streamlines complex business processes with automated workflows. 
With its previous version, Odoo covered pretty much everything, from integrations to modules for custom ERP application development.  However, Odoo releases a new software version every year to improve its existing features and software modules while also introducing new features. Likewise, the latter has recently rolled out the latest version i.e Odoo 14 worldwide. Although being in the beta stage, the Odoo 14 offers several unique and powerful features to streamline and automate enterprise processes.
Also read What is better- Odoo SaaS or Odoo Premise?
New Features and Upgrades In Odoo 14
Odoo 14 introduces a series of features that enable enterprises to efficiently manage their business processes with more flexibility. In addition, Odoo 14 is 3.5 times faster than the previous Odoo version, making it all the more reason to upgrade. Below are the key features of Odoo 14 and the benefits they deliver to enterprises. 
Redesigned Website Builder
Odoo website has builder has been through several technical upgrades and advancements in the past. With the latest version (ver. 14), Odoo brings a redesigned website builder with an improved HTML editor. Besides, it introduces new building blocks including charts, countdowns, popups, and dynamic product catalogues. These building blocks enable developers to effortlessly build high-quality functional websites. 
Cross-App Integration
With the latest version, Odoo extends its support for cross-app integration, making it more flexible and agile. It facilitates seamless eCommerce integration with various web or mobile applications. Other integrations include documents, emails, and Microsoft (Office 365) Calendar. Besides, Odoo 14 enables enterprises to create custom email templates and manage documents faster and more efficiently. 
New BI Tools
Odoo has helped a large number of organizations worldwide to automate their mission-critical business processes. However, for implementing more complex functionality, it often required several third-party software mainly to improve data interpretation. With Odoo 14, it has combined the features of several third-party tools including Tableau, PowerBI, and Google Studio. As a result, Odoo 14 provides a comprehensive business solution to address varied enterprise requirements without integrating with additional tools. 
Automated CRM and Improved Sales Management
Odoo 14 aims to streamline sales operations by removing manual complexities associated with selling, purchasing, and payment processing. In doing so, it enables salespeople to focus on their core operations and handle accounts data with ease.  Besides, it facilitates automated email follow-ups with clients and future prospects and aids in establishing healthy customer relationships. 
Time-saving To-do Lists
In the latest version, Odoo introduces new and more intuitive to-do lists that enable salespeople to proactively manage their activities. Besides, it provides an improved view of various tasks including scheduled tasks, completed tasks, and in-progress activities. As a result, it enables enterprises to save their valuable time and accelerate their daily tasks, and improve process efficiency. 
You may also be interested in reading Payment Gateway Integration in Odoo
Other Critical Updates
Odoo 14 offers many other critical features to enhance enterprise productivity. Other features include:
– Improved and upgraded data cleaning module 
– Support for the Owl JavaScript framework
– One-click access to various documents
– Improved POS inventory management
– Gmail and Outlook plugins
– Integration Support for Google and Microsoft (Office 365) Calendar
Avail Our Odoo ERP Development Services To Boost Business Productivity
We are a seasoned ERP software development company that provides full-scale Odoo implementation services for varied enterprise needs. Our development team is skilled at using Odoo enterprise modules to build performance-driven software solutions to streamline mission-critical business processes. Our end-to-end Odoo ERP development services are conducive to increasing enterprise productivity and operational efficiency by enabling automation at every stage.