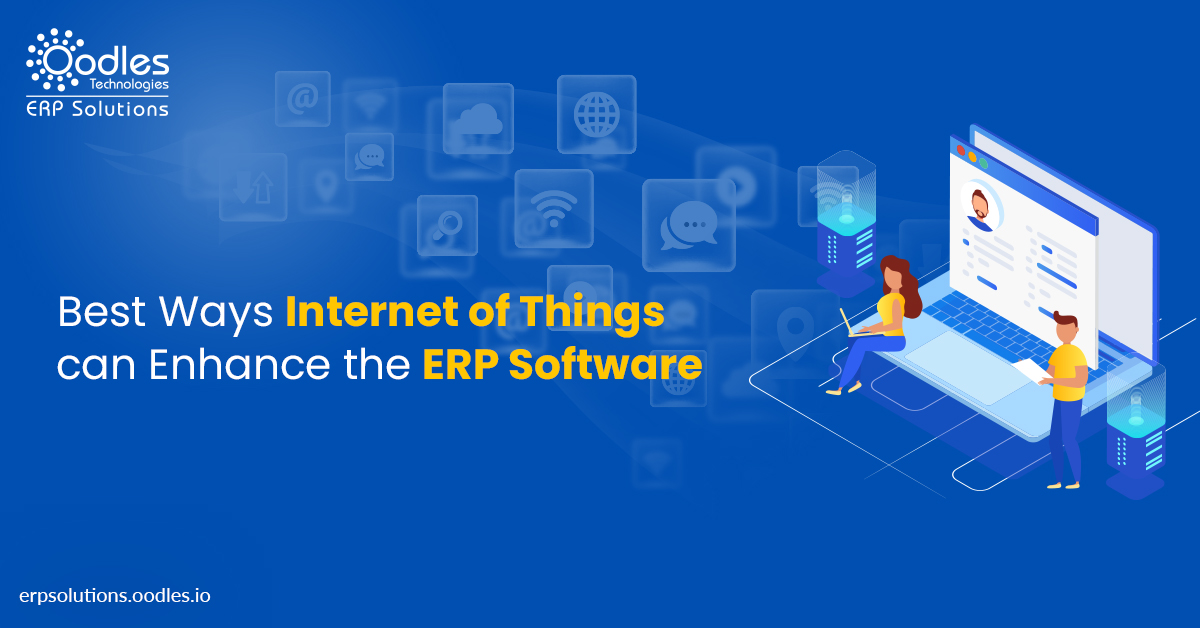 Internet of Things and ERP: Virtual Insights
'The internet is now becoming the town square for the global village of tomorrow'-Bill Gates. With the universal technological advancements across every industry, the Internet of Things has also spread its wings. It is helping enterprises in asset tracking and machine maintenance. IoT has showcased its lots of abilities for improving ERP.   
ERP software has been an important part of businesses nowadays. IoT is serving as the data source for AI enabled ERP.
The main motive of an ERP system is to offer information and actionable data to company leaders. But collecting data is a vexing challenge. IoT has the potential to improve accuracy and expand data availability. Read our blog further to discover the best ways IoT can enhance ERP software.
Role of the Internet of Things to Enhance ERP Software
1.) Enhance Business Intelligence
Internet of Things solutions is offering new opportunities to extend and augments business management systems. IoT enabled ERP solutions to improve business intelligence. It allows organizations to do real-time analysis of a product's performance on basis of which they upgrade the product and other components of business intelligence.
IoT sensors can immediately communicate replenishment and re-orders to the ERP system without the need for manual intervention.
IoT has a great impact on ERP software. It gives businesses an opportunity to perform real-time analysis of streaming data. Internet of Things permits social analytics and a direct interface with customers.
In simple words, accurate business intelligence will help organizations make better financial decisions.
2.) Better Customer and Field Service
Traditionally, manufacturers had to face the challenge of service and maintenance of the product. But now, IoT has changed the direction of winds. Now, smart sensors integrated into devices stream data in real-time to manufacturers, thus giving them an opportunity to monitor products performance. It is also possible that potential problems are solved remotely via the internet.
IoT enabled ERP software has also established a direct connection with end users. Previously ERP system was updated with customer information for every serial number at the time of shipment or after that. The end user was visible in the ERP system from the beginning when manufacturers sell directly to the customer. But, end user data has been a challenge when products are sold through dealers.
Internet of things has solved this issue. It enables the product to communicate with the manufacturer from the very beginning itself. It gives manufacturers enough flexibility in their sales model, thus offering them lots of information for service operations.
3.) Enhances Data Availability
ERP software has nowadays become a necessity for most businesses because of its capability to provide a single source of data. IoT enabled ERP system have increased data availability and accuracy. It has enhanced ERP in various sectors including customer service, inventory management, forecasting, and business intelligence.
IoT enabled ERP system has greatly helped in the manufacturing sector. For example, sensors that are attached to the equipment provides a greater level of maintenance automation.
4.) Enhanced Communication
Traditionally, when a manufacturer sells directly to the customer, an ERP module is updated with customer information for every serial number during the time of shipment. But when the product is sold through dealers obtaining end-user data becomes a bit complicated. IoT enables the product to communicate with the manufacturer at the same time when it leaves the warehouse. This results in a leaner supply chain, reduced wastage, and errors.
Inventory management is also benefitted from IoT enabled ERP software. It gives real-time updates to on-hand values.
Concluding Thoughts
Most of the businesses have realized the cost savings, efficiency gains and competitive benefits of the Internet of Things, but still, there are some slow adopters. Therefore, It's time to revolutionize the ERP software with IoT.
Read More: 4 Technologies That Will Have Complete Dominion Over ERP Applications