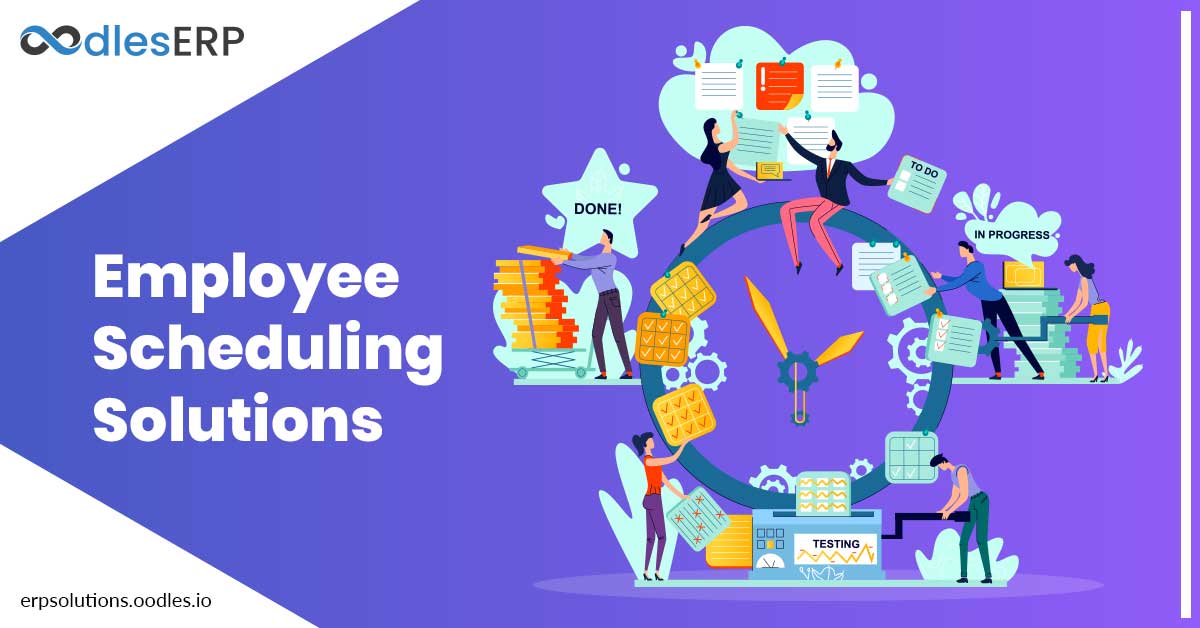 Managing employees is one of the biggest challenges for HR professionals. Ineffective scheduling not only increases the pressure on managers and HR professionals. In addition, the employee's morale also drops down if the schedule does not match their skills and requirements. Creating a flexible and automated schedule keeps employees satisfied while also reducing the workload of managers, like preparing manual spreadsheets, calendars, timetables and employee time off forms. Let's explore the benefits of implementing employee scheduling solutions.
We are an ERP development company that creates workforce management systems to improve organizational efficiency by simplifying HR compliance, administration, and payroll activities. 
Benefits of Implementing Employee Scheduling Solutions
Real-time Analytics:
Employee scheduling solutions enable business managers to forecast staffing requirements and generate reports based on the busiest business hours. They can accordingly adjust shifts to meet employee and customer requirements. In addition, managers and HR professionals can take a data-driven approach to make better staffing decisions. 
Enhances Employee Experience:
Workforce scheduling solutions provide employees with self-service portals thus giving them complete visibility into their weekly schedules. Workforce management systems can notify employees about their upcoming schedules via SMS, push notifications and Emails. 
Ensures Compliance:
Employee scheduling solutions will enable managers to track compliance with employee classification, payroll-based journal compliance, and ACA compliance. In addition, it will enable managers to modify their business processes when new labor laws come into effect. 
Mitigates Availability Conflicts:
Employee scheduling solutions enable the employees to set their own availability and collaborate on the schedule automatically. It will enable businesses to schedule work as per their requirements. In addition, errors wth time off requests will be reduced and customer satisfaction will increase.
Enhances Recruitment Process: 
It is critical for businesses to have a planned and structured recruitment process. Recruiting a new employee is a big investment, not only in terms of money but also in terms of time. Employee scheduling solution enables HR professionals to schedule recruitment sessions and plan the onboarding process for new employees. 
Common Employee Scheduling Challenges
No Official Schedule
An organization's scheduling requirements can vary over the years as business grows. A hand-written schedule is sufficient for small enterprises with few employees, but for large scale enterprises, it is not a suitable choice. 
Businesses should invest in an intelligent and automated scheduling software to make scheduling easier and efficient for both employees and management. Robust scheduling software enables businesses to schedule, track and evaluate employee's time. It will enable businesses to send digital schedules to employees and update them about the last minute changes.
At Oodles, we program the workforce management systems with AI algorithms to create staff schedules as per business constraints like skills, policies, preferences, and contracts.
Unplanned Absences
Common scheduling challenges include unplanned absences of employees maybe because of health issues or other reasons. 
Businesses should invest in workforce management software to simplify the task of managing staff and employee absence. It provides business managers with an overview of staff availability in real-time and for future experiments. 
Unfair Scheduling
One of the most common challenges faced by organizations is unfair scheduling. The issue is some employees can always get their favorable shifts and all their time-off requests approved, while the others may not get the same benefits. 
At Oodles, we provide fully customizable shift planning and task exchange solutions to efficiently manage staff allocations autonomously. In addition, the software will enable staff members to swap their shifts as per the availability of others.
Implementing Workforce Management Software with Oodles
Employee scheduling solutions will enable businesses to create, change and publish schedules with a single click. It will enable businesses to manage complex staff scheduling requirements while avoiding overstaffing or understaffing instances. Managers and HR professionals will be able to save time and focus on other essential business issues. 
At Oodles, we provide workforce management solutions to drive business outcomes, increase productivity, engage employees, control labor cost and reduce compliance. Our workforce management development services include applicant tracking and onboarding, fatigue management, absence management, payroll integrations, biometric integrations, shift exchange, and task planning.
Connect with our ERP development team to avail of the benefits of our workforce management solutions!
To Read Next: Weighing the Pros and Cons of an Open Source ERP vs Enterprise ERP