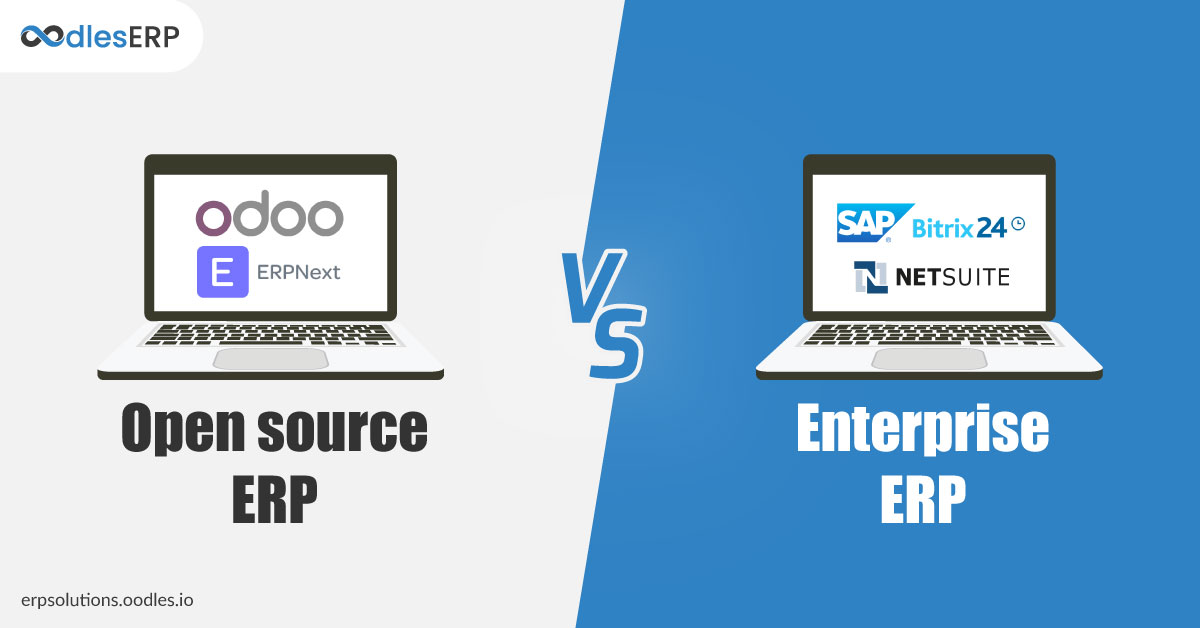 A robust ERP software is the necessity of the hour as it can have a strong impact on the future growth and profitability of an organization. Acquiring and operating an ERP system requires a considerable amount of financial investment. A free and open-source ERP system seems to be a more preferable option when compared to Enterprise ERP. But, Enterprise ERP has better documentation and features. Both, these ERP software have their own benefits. Let's explore the pros and cons of open source ERP vs Enterprise ERP. 
We are a well-established ERP development company that can customize and deploy open-source ERP and enterprise ERP software as per specific business requirements. 
Before moving forward, let's have an overview of Open Source ERP vs Enterprise ERP.
Open Source ERP: Odoo
Open source ERP is an ERP software system whose source code is publicly available. Organizations can access the source code for free and customize the software using their own IT department instead of relying on a third-party vendor.  It is a preferable choice for small to medium-sized businesses that want to customize and upgrade their ERP systems without paying any licensing and support fees. 
Odoo is an open-source ERP and CRM platform that provides an integrated suite of applications including project management, warehouse management, accounting, inventory, human resource management (HRM) and customer relationship management (CRM) to streamline business operations. It has a strong technical structure with an easy to use and intuitive interface. 
At Oodles, we provide Odoo integration services to extend the functionalities of the existing ERP system. Odoo has more than 14,000+ apps/plugins that can be customized and upgraded as per unique business requirements.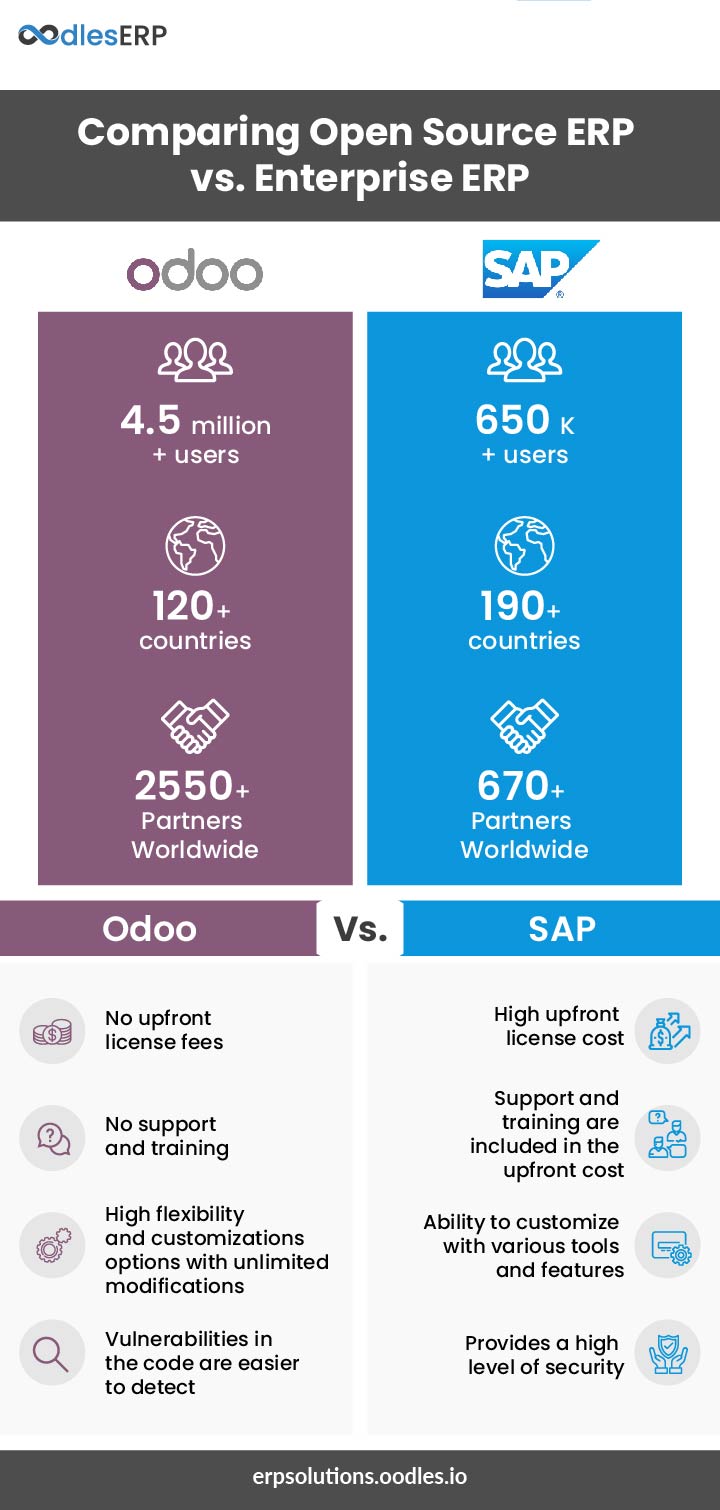 Pros of Open source ERP Software:
* Open-source platforms like Odoo, OpenTaps, ERPNext, and Ofbiz have no licensing cost associated with them. They are open-source solutions and free to download.
* Open-source software is infinitely flexible. They can be customized as per specific business requirements.
* Open-source ERP options reduce an organization's reliance on a single or group of ERP vendors for maintenance, improvements or support.
* Its source code is publically available which means the IT department of an organization can modify, copy, test and distribute the code without paying any royalties or fees.
Cons of Open Source ERP Software:
* Businesses require a technically skilled ERP team to customize Odoo modules/applications as per their requirements. Also, it is a time-consuming process.
* Though there is no licensing cost for open-source ERP like Odoo, it can still increase the IT cost. Customizations and adaptations are handled by a third-party vendor that has technical expertise.
* Open-source platforms like Odoo do not provide generalized support. The solution to a specific query is not readily available. Instead, the support is available in the form of documents, newsgroups, and forums.
Enterprise ERP: SAP
Enterprise or Proprietary ERP software is licensed under the exclusive legal rights of its owner. It is restricted from modification, distribution and reverse engineering. Enterprise ERP software is a preferable choice for businesses that have limited IT resources.
Pros of Enterprise ERP Software
* Proprietary ERP software gives businesses the right to ownership. They have full access to updates, bug fixes, and documentation revision. 
* Proprietary ERP software comes with support and maintenance facilities. The IT department of businesses gets extended training and support from technical experts.
* Enterprise ERP like SAP, NetSuite is designed for long-term use with required updates and upgrades.
Cons of Enterprise ERP Software
* Users of an Enterprise ERP like SAP or NetSuite have limited access to the program's source code. Users do not have the access to fix, debug or patch if any problem arises.
* Businesses using enterprise ERP software like SAP are dependent on the vendor. They must abide by the vendor's product availability, pricing, and timeline. 
* The upfront cost for an Enterprise ERP software is high. 
Buying Behavior: Open Source ERP vs Enterprise ERP
Choosing the right ERP software depends on various factors like budget, the infrastructure of the organization, business size and requirements, experience, and skills of the team, support, upgrades, maintenance, and other hidden costs.  For a small to medium-sized business that wants to expand its ERP functionality, an open-source solution like Odoo or Ofbiz is the right choice. Similarly, if a large enterprise wants to streamline its web content management operations, choosing a licensed ready-to-use software would be more beneficial. 
The battle of Open Source ERP vs Enterprise ERP is never-ending as both have their own pros and cons. An open-source ERP platform provides greater flexibility but it is a bit difficult to operate and maintain. While proprietary ERP software is easy to use but it limits your options and involves higher costs.
If you want to increase the operational efficiency of your business with an ERP system, connect with our development team to know more!