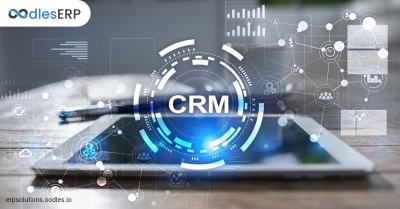 The year 2020 brought unprecedented changes for the retail industry as we saw an increasing number of retailers turning to eCommerce. While the brick-and-mortar stores witnessed lesser footfall due to the COVID-19 pandemic, the eCommerce profits doubled down for obvious reasons. Nevertheless, with a majority of retailers turning to eCommerce, it becomes more important for them to improve their CRM operations. 
CRM software development is an effective way to enhance customer services and build healthy customer relationships. In addition, a CRM system enables retailers and eCommerce businesses to track and analyze their customers' buying habits and shopping patterns. They can use this data to optimize their web or mobile apps to deliver personalized shopping experiences across devices. Furthermore, retailers can use the data gathered through CRM systems to improve their marketing campaigns. That said, since you are targeting customers based on their likes and preferences, it significantly increases sales and conversions. 
We, at Oodles ERP, provide enterprise-grade CRM application development solutions to address varied business needs and retail/eCommerce requirements. Our custom CRM software development services enable enterprises to strengthen their customer relationships and build customer loyalty. We use open-source tools like Odoo, ERPNext, and Opentaps to develop data-driven CRM solutions with significant cost savings. 
Also read:  Contactless POS System Development For Retail and eCommerce
Importance of CRM In Retail Business
As already mentioned above, CRM is an integral part of the retail and eCommerce business. Here you would learn the significance of CRM software development for the retail industry.
Customer Segmentation
The main task of a CRM system is to gather and analyze customer data to reveal shopping patterns and extract valuable information. In doing so, they categorize this data into several groups based on the likes, preferences, and buying habits of customers. It's a great way to manage your customer relationships and retailers can use it to improve customer services and fine-tune their marketing campaigns. 
Customer Behavior Analysis
CRM software development enables retailers and eCommerce companies to track and analyzes their customer behavior. Customer behavior analysis is critical to identify their likes, preferences, and buying habits. Once you have that information, you can optimize your website or app accordingly to deliver personalized shopping experiences. At the same time, it lets you optimize your marketing campaigns to target the right set of audiences with the right products. 
Ease of Integration
It is easy to integrate CRM systems with your existing enterprise apps or time-tested legacy software. For instance, you can integrate the CRM software with your eCommerce app, sales/payment module, inventory management software, logistics, and more. Besides, you get greater flexibility to manage the mission-critical business processes while ensuring maximum customer satisfaction. However, the integration process can be a bit tricky and increasingly time-consuming. It is, therefore, advisable to choose the right solution provider to seamlessly integrate CRM software with your existing enterprise systems. 
We, at Oodles ERP, have vast experience in developing and integrating CRM solutions to enhance customer relationships and boost productivity. Our end-to-end CRM integration services let you proactively manage your business processes with a focus on improving customer relationships. 
Effective Order Management 
Order management is yet another crucial aspect of CRM systems that facilitates effective order processing, shipment tracking, and delivery. It enables automation at every step throughout the order completion lifecycle. After order completion, it automatically seeks customer feedback that you can choose to display on the website as well. 
You may also be interested in reading:  Mobile eCommerce Trends To Watch Out For In 2021
Closing Remarks
The aforementioned features and attributes indicate the importance of CRM software development for retailers and how it aids customer shopping experiences. As the business grows and expands, it becomes more important to develop a CRM system. In addition to improving customer services, a CRM system can be effective at addressing customer queries. Above all, it ensures maximum customer satisfaction which is imperative to building customer relationships and thus acts as a game-changer for retail and eCommerce businesses. 
Avail Our CRM Software Development Services To Strengthen Your Retail Business
We are a seasoned ERP development company that specializes in building data-driven CRM systems for retail and eCommerce businesses. Our development team is skilled at using open-source platforms like Odoo, OFBiz, ERPNext, Dolibarr, and Opentaps to develop high-quality CRM apps. Our end-to-end CRM software development services enable retailers to significantly improve their customer services to boost their sales and conversions. We have successfully completed several full-scale CRM and HRM application development projects for startups and small-to-medium enterprises. For project-related queries, contact us at er[email protected].