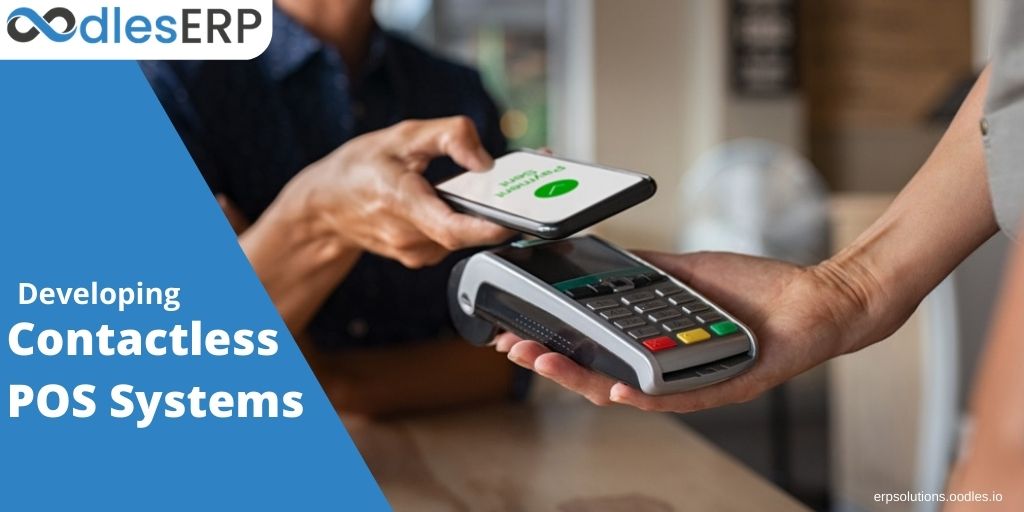 In the wake of the COVID-19 pandemic, the idea of cash payments has become unsettling for many shoppers and customers alike. Taking into account the rate of contagion, even normal debit/credit card payments might not be completely safe. Since the customers need to touch the pin pad to process these card payments, they are susceptible to contracting the virus. While such cases are rare, we still can't ignore the possibility of transmission during these uncertain times. Therefore, to avoid the instances of transmission, an increasing number of retailers are opting for contactless POS system development services. Contactless point-of-sale systems enable retailers to facilitate NFC-based card payments and easy mobile payments. Besides, they can simultaneously manage their eCommerce store (if they have any) orders right from the POS interface.
At Oodles ERP, we provide full-scale POS system development services for managing retail and eCommerce business processes. Our custom eCommerce development services enable retailers to create a feature-rich online store with POS integration that helps generate new revenue streams. We also specialize in contactless POS system development for retail and eCommerce businesses. 
In this blog post, we shed some light on the significance of contactless POS systems and delineate their benefits for retailers.
The Significance of Contactless Payments
Contactless payments have made the checkout process simpler, smooth, and faster than ever before. Besides, the customers get to choose from a plethora of payment options such as e-wallets, NFC-enabled smart cards, mobile cards, UPI apps, and more. According to Forbes, the IoT-based contactless payments in the US are expected to increase at a compound annual growth rate (CGAR) of 125 percent. Another study conducted by Juniper Research reveals that more than 53 percent of point-of-sale transactions globally are going to be contactless in the next 5 years. Let's now take a quick glance at some of the benefits of contactless POS system development for retail and eCommerce businesses. 
Faster Transactions
Contactless payments are faster than traditional card payments and more reliable due to encryption and dynamic data technologies. Faster transaction processing translates to shorter cues at the checkout counter that is beneficial for both retailers and customers. Since you do not need to punch in the card PIN, it also avoids human contact that is essential during these COVID times. 
Payment Frequency
There are several reports that indicate that users having contactless payment cards or mobile wallets tend to shop more frequently as compared to others. A survey conducted by MasterCard found that contactless cardholders shop 26 percent more frequently than ordinary cardholders. Therefore, retailers who use contactless POS systems are likely to attract more customers and remain a preferred choice for many returning shoppers. 
Shopper Convenience
Contactless POS systems offer increased shopper convenience since they allow customers to checkout using their preferred payment method. Instead of carrying cash or a bulky wallet, they can easily pay via an NFC-enabled smartphone or contactless credit card. Besides, tap-to-pay technology is more reliable and secure as compared to traditional payment methods as it protects you against fraudulent purchases. 
Omnichannel Experience
Contactless payments have become an indispensable part of the omnichannel retail strategy. Implementing an omnichannel strategy requires retailers to offer all possible payment options for their customers' convenience. It includes cash exchange, credit/debit card payments, online payments (net banking, e-wallet, etc.), and contactless mobile and card payments. 
The Fight Against COVID-19
Developing a custom POS system has become the need of the hour due to increasing safety concerns in the wake of the COVID-19 pandemic. According to the world health organization, the novel coronavirus can stay on plastic, steel, and cardboard surfaces for up to 72 hours. Under these circumstances, traditional payment methods are more susceptible to COVID-19 infection as compared to cashless purchases. Understandably, a majority of customers prefer contactless payments for their daily purchases. As a result, it has become essential for retailers and brick-and-mortar shop owners to invest in contactless POS system development to remain operational during these trying times. 
We, at Oodles ERP, provide 360-degree eCommerce development and eCommerce integration services using open-source platforms like Magento, Odoo, Shopify, and WooCommerce. We also provide POS development services and have considerable experience in contactless POS system development for retail and eCommerce business use cases. Our development team has successfully completed several full-scale eCommerce projects for clients from across the globe. For more information, contact us at [email protected].