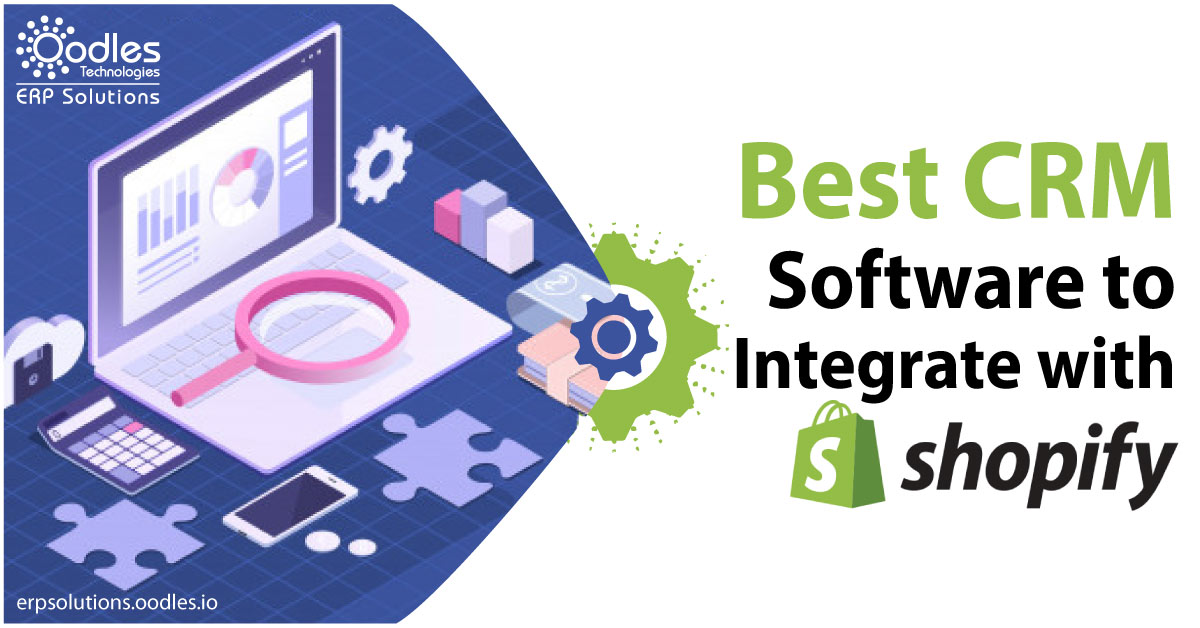 Best CRM Software to Integrate with Shopify: An Overview
Just like a caterpillar turns into a beautiful butterfly, leads can turn into profitable customers. All you need is a good CRM (Customer Relation Management) to manage your day to day business operations/activities. Are you wondering about the benefits of CRM for your e-commerce store? Are you looking for some of the popular CRM software to integrate with Shopify? If yes, then be glad, you have landed on the right page. Read further to know the best CRM integrations for Shopify.
Benefits of Integration
CRM software for Shopify has the ability to cold email potential customers before they turn back into leads.
Comprehensive and complete customer profiles will help you understand the shopping habits and hence, relevant marketing messages will be generated.
Data-backed insights that your prospects and customers really want.
An understanding of how your potential customers are reacting to your marketing efforts.
E-commerce CRM will help you engage and enchant potential and existing customers to encourage long-term relationships and business.
Integration will give the ability of tagging and segmentation, which in turn, will make marketing more personal and effective.
Before going further, let's have a brief overview of CRM (Customer Relation Management) and Shopify.
CRM (Customer Relation Management)
CRM (Customer Relation Management) is software for managing an organization's relationship and interaction with potential and existing customers for long lasting and strong business relationships. It is a technology that companies use to analyze customers interaction and data throughout the customer lifecycle with the motive of improving customer service relationships.
Here are some key benefits of CRM:
Improved relationships resulting in a high conversion rate

Better efficiency

Beneficial investment and cost saving

Secure working relationships

Improved cross-selling opportunities
Shopify
Shopify is one of the most popular e-commerce platforms used to start, grow and manage your business. It is hosting more than 377,000 active online stores that generate more than $29 billion in sales. It integrates more than 70 payment gateways with checkouts in more than 50 languages.
Here are some key benefits of choosing Shopify:
A variety of professional templates make it visually appealing

Superfast loading speed

Easy to use, secure and reliable

It is easily integrated with apps.

Increased mobile responsiveness

Excellent customer support
Best CRM Integrations for Shopify
1.) HubSpot CRM: Everything you Need to Sell in One Integrated Suite
HubSpot CRM for Shopify extends many e-commerce solutions that will help you personalize your marketing approach through unique and detailed customer insights. This analytics is a good choice to review recency, purchase frequencies, and monetary value. This information will help you set CRM to score customers, which in turn, would allow you to develop marketing campaigns according to each segment of customers.
HubSpot helps to align all customers' order data with their profiles. This will help you to segment the customers using custom tags. For instance, you can tag them based on new customer, lifetime value, product purchased and so on.
HubSpot sales help you to import contacts straight into its interface. It also offers you the ability to use your email to track when your potential customer opens an email you have sent.
HubSpot CRM also offers lots of customer support when integrated with Shopify.
Quick Review:
Best for: Freelancers and Start-ups

Unique Feature: E-mail tracker to support CRM efforts

Price: Free
2.) Salesforce
Salesforce is one of the best CRM integrations for Shopify. It is a popular choice for achieving several e-commerce goals such as monitoring important customer details, producing sales forecast report, automating CRM actions and syncing contact data between two e-commerce platforms.
Salesforce also creates detailed customer personas and analytics like the number of active customers, how often they buy, how much they buy and so on. It also notifies if a customer or lead triggers a workflow. This integration goes well with all business sizes.
You can connect more than 400 integrations between Shopify and salesforce to take your business to the next level. This is one of the best CRM software to integrate with Shopify.

Key facts:
You can try the TradeGecko app, an inventory management tool, which combines with salesforce to create smooth integration.

You can implement Zopin live chat app to connect with Salesforce for syncing chats.
3.) Zendesk
Zendesk is one of the most popular CRM software options in the market. Its functionality grows with your business. More than 200,000 companies including Uber and Groupon is using this CRM software. It would assist your support team and make most of the processes automated. It is a suitable choice for larger business as it gives an opportunity to build an online community where customers can ask questions and get their queries resolved.

Quick Review:
Best for Larger business

Unique Feature: Online community for customer support

Price: A bit costly
4.) Nimble: Best for Contact Management
If you are looking for a simpler CRM software, then Nimble is a perfect choice. Nimble CRM offers standard tools to manage contacts, create sales funnels and optimize marketing efforts. It provides a unique feature for using social data to drive your CRM. This not only reduces the need for data entry but you can also identify your potential customers through social networks.
The social media aspect helps them stand apart from other CRM software. If you are connected with your customers on Twitter or Instagram, you can easily get a wide range of information about them. It is one of the most popular CRM integrations for Shopify.

Quick Review:
Unique feature: Social media aspect

Price: Very well priced
5.) Metrilo: Powerful to Capture Behavior
Metrilo CRM is a powerful software that tracks and captures behavior automatically. It is an E-mail marketing platform that integrates quickly with Shopify. It can track and use historical data to generate detailed customer profiles. The tracking feature of Metrilo helps to segment customers effectively with the help of more than 30 pre-set filters. It is one of the amazing CRM integrations with Shopify.

Quick Review:

Best for established as well as SMEs

Unique Feature: Captures customer behavior

Price: High priced due to multifunctional nature
6.) Zoho CRM: Robust E-mail Marketing Tool
This is one of the most popular CRM integrations for Shopify. Zoho CRM offers a plethora of products for sales marketing, business process, and e-mails. It has more than 24 applications that help you grow your business. Its free addition features like feeds enable socialized collaborations through direct messaging functionality and status updates.
Zoho CRM can also integrate with Zoho SalesIQ, which is a live chat program. It's free up to two users.

Quick Review:
Best for Small agencies and freelancers

Unique Feature: SalesIQ on-page chat functionality helps to reach potential leads.

Price: Free

Are there any paid versions: Yes
Other Free CRM Tools:
Bitrix24

Capsule CRM

Spreadsheet CRM
Closing Thoughts
CRM is a superhero for online business. Engaging and tracking the right people at one can help you make your business grow exponentially. CRM helps to build amazing business relationships and keeps you a step ahead. Try out these amazing CRM integrations for Shopify.
Oodles ERP at Your Help!
ERP Oodles offers you a plethora of services to grow your business and unleash its true potential. Whether it is about custom ERP development or end to end integrations, you would find us at your service. Oodles ERP empowers transformations across a variety of platforms such as Shopify, Zoho, Salesforce, Magento and many more. Our dedicated in-house team gives you the best custom ERP development services using Oodo, Ofbiz, and Opentaps. If you have any query, want a quote, or a proposal, feel free to connect with us. We will be pleased to help you out with our services.