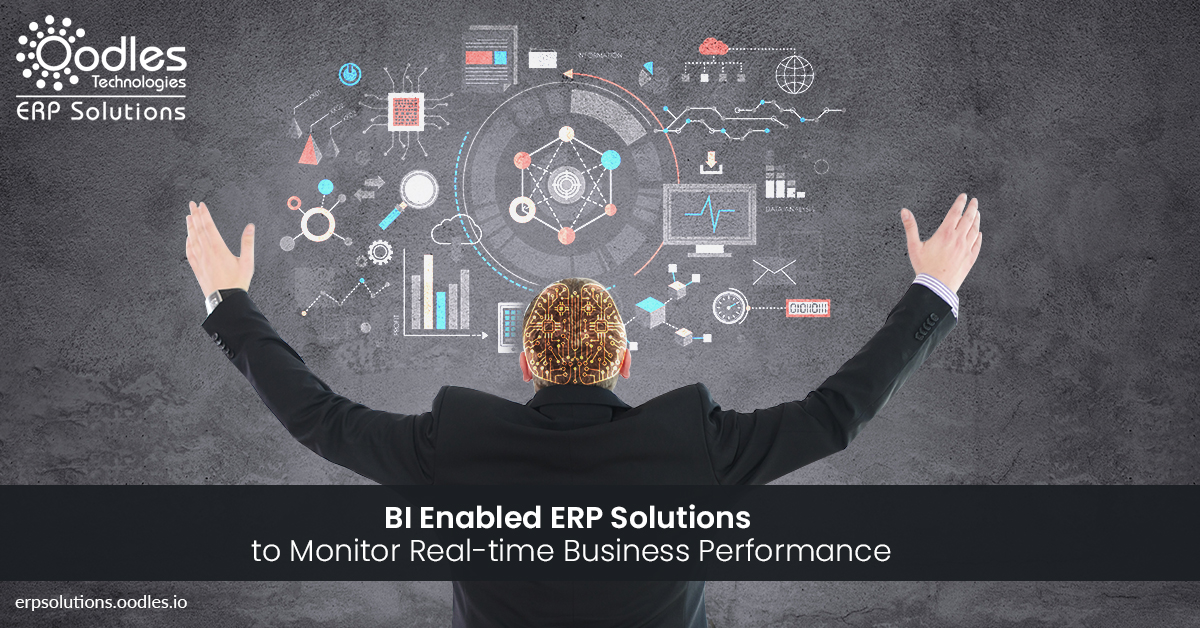 BI Enabled ERP Solutions: An Overview
'Business Intelligence is the key for small organizations to move to the next level', says Gary Blackwell
Business Intelligence (BI) is a technology-driven process to convert raw data into meaningful information critical for making informed business decisions. It provides businesses insights about their sales trends, customer behavior, and overall growth. BI is necessary for the success of Enterprise Resource Planning (ERP) in the digital ecosystem.
ERP is a business process management system that enables organizations to integrate core business processes in real-time for better business management. BI powered ERP solutions fulfill the need for monitoring key performance indicators (KPIs) and implementing changes when necessary.
Legacy BI systems rely on manual data gathering processes and techniques involving multiple sources. Users of such systems perform data wrangling in spreadsheets to produce static reports. They are required to spend considerable time and efforts to generate reports at the expense of other important tasks.
Advanced ERP solutions contain integrated BI modules that provide dynamic reporting. BI enabled ERP solutions to provide end users on-demand access to the exact information they require to make informed decisions.
Read the blog further to discover how BI enabled ERP solutions are making businesses work smarter and what Oodles ERP has in store for you.
BI Enabled ERP Solutions to Keep Your Business in the Leading Position
BI enabled ERP solutions to have the ability to analyze data, discover historical patterns and make data-informed predictions about the future. Business intelligence enabled ERP systems to ensure that businesses can take proactive actions with predictive analytics to stay ahead of the competition.
They provide deep and quick insights into where the business stands and future outcomes. BI enabled ERP systems to act as tools for making better decisions with the following possible outcomes:
Determining the failure rates of machines

Scheduling machine maintenance requirement.

Performing data-driven tasks on resources

Making quick inventory management decisions

Predicting sales trends accurately with sales analytics

Enabling organizations to synchronize demand and supply with distribution analytics
Future Planning:
BI enabled ERP solutions to enable organizations to formulate robust strategies for the future. Data about past and present business activities are essential for predictive analysis that decision-makers can use for better planning.
Reporting Capabilities:
Users can independently access insights to achieve their tasks using the dynamic features of BI enabled ERP solutions. Traditionally, reporting was a static and inefficient process that required a heavy dependence on IT. However, new BI systems put users in control of the insights they need to make critical decisions. It means stakeholders can avail real-time access to insights. They do not have to worry about wrangling with raw data in spreadsheets to create reports. It also brings a high level of consistency in the reporting process.
Real-time Data:
Deriving data insights with traditional means lead to wastage of time and efforts. BI enabled ERP solutions to provide data in real-time and with high accuracy. Thus, organizations can make timely decisions based on accurate data.
BI Cubes to Enable In-depth Slicing and Dicing
Business intelligence uses cubes to make ad hoc reporting easy for non-technical users. Cubes store raw data and enable users to quickly slice and dice it. They enable users to configure and store data in a way that the use of SQL queries is not required every time. In the database, all the data that enters through ERP systems is transformed and stored in a hierarchal cube.
Once the data is stored in the cube, the 'slicing and dicing' of data begins. It further facilitates users to drill down into specific cube configurations and generate customized reports on the exact data they need in real-time.
BI tools also enable users to enter data from multiple outside sources such as Excel spreadsheets and associate it with the data in the ERP database.
Value of Cubes to Monitor Chosen KPI (Key Performance Indicator)
Cubes provide organizations access to humongous data to not only generate reports but also to witness trends for making better decisions. Whether it is about equipment maintenance, cost cutting or revenue growth, businesses can be more proactive rather than being reactive with BI cubes.
Business Intelligence Framework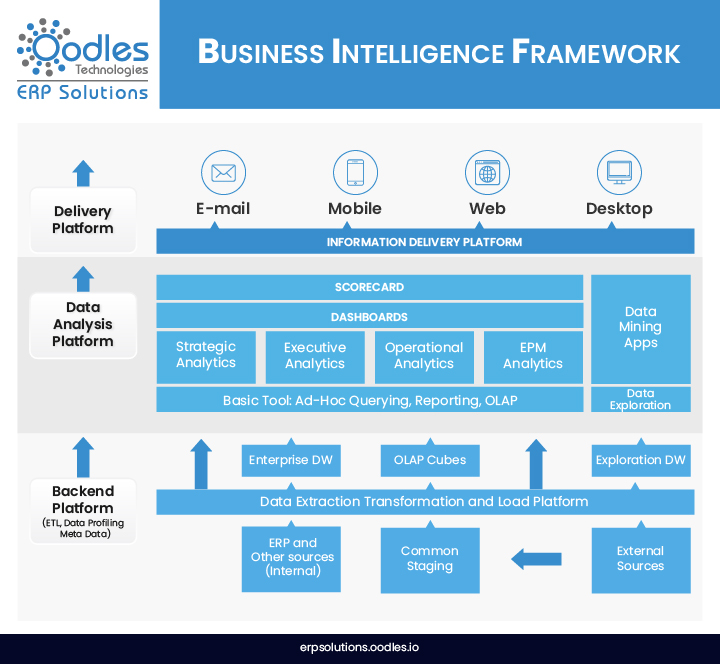 Helical is a business intelligence tool that provides regular and advanced features such as visualization, exporting, user-management role, multi-tenancy, and email scheduling.
Use Cases of Helical Insight Framework (Distinctive from Other BI Tools)
Solutions Offered by Oodles ERP
Our business solutions provide companies dynamic access to the financial, operations and sales information that organizations need to manage business operations. We develop BI enabled ERP solutions that are optimized for desktop PCs and mobile devices. It means that organizations can now share real-time data and insights.
We use tools like helical business intelligence tool to give your organization on-demand access to performance data. The permission-based views enable you to have control over sensitive information.
Our business intelligence solutions facilitate organizations to evaluate multiple data sets for associative and comparative analysis. The intuitive executive dashboard lets you chart, graph, and filter on key performance measures allow a meaningful manner.
Concluding Thoughts
BI enabled ERP systems effectively gathers, stores, analyzes and provides data access that allows enterprise users to make better business decisions. It is done through query and reporting, decision support systems, statistical analysis, data mining, and forecasting.
BI allows free flow of information across the organization providing people a forum to collaborate and communicate.
We provide ERP software development services with integrated BI modules that enable businesses to render dynamic reporting leading to on-demand access to insights.
To Read More:  AI and ERP for Skyrocketing Business Growth