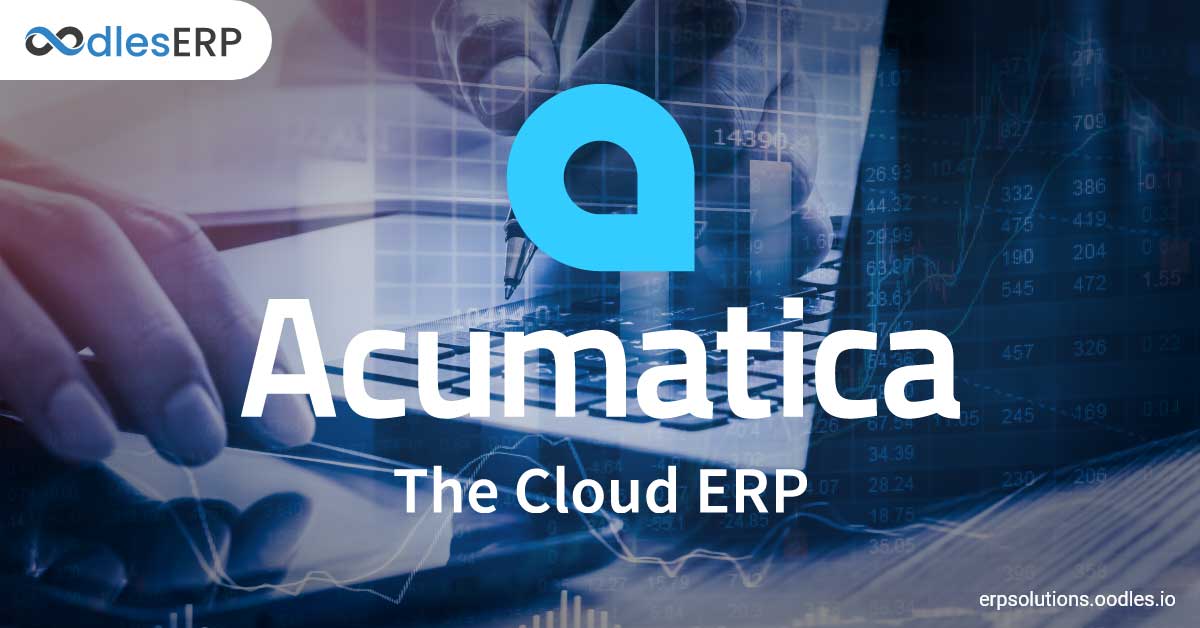 With the rapidly changing marketing trends, it has become increasingly important for the retail and eCommerce businesses to develop comprehensive accounting software. Even small to medium-sized businesses can fall into despair in the absence of a reliable accounting solution. At the same time, it is equally important to prevent overspending while investing in accounting and finance management solutions. However, the solution must be scalable enough to address the dynamically changing business needs as it grows and expands.  Taking these factors into account, Acumatica might be the best platform for retail and eCommerce companies to streamline their accounts and finance-related operations. 
We, at Oodles ERP, provide full-scale Acumatica ERP development services to strengthen and streamline accounting, bookkeeping, and finance management processes. Our custom-tailored Acumatica cloud ERP solutions let you efficiently manage your enterprise's financial records and accounts data with ease. We also specialize in integrating Acumatica cloud ERP with your existing enterprise systems or third-party applications. 
Here we highlight the significance of using Acumatica for developing scalable accounting and bookkeeping systems for retail and eCommerce businesses. 
Also read Accounting and Finance Management Software – Time, Cost, Features, and More
What Is Acumatica?
Acumatica is a comprehensive cloud ERP suite that aims at automating and simplifying accounting and finance management operations. It is specifically designed for small to medium-sized businesses and offers several dedicated tools to manage finance, accounting, bookkeeping, distribution management, and customer relationship management (CRM). Besides, you get increased scalability and flexibility to manage your core enterprise processes without getting into manual complexities. 
Acumatica ERP cloud solutions are increasingly beneficial for eCommerce as you get an intuitive dashboard to manage sales, orders, returns, pickups, shipping, and more. It provides a flexible back-office system to connect your storefront with and lets you gain valuable insights into customer data. Besides, the integrated CRM system is conducive to delivering improved customer shopping experiences to build healthy customer relationships. 
Key Features of Acumatica ERP Cloud
Acumatica is a fully-integrated cloud ERP service that combines several distinct software components into a single enterprise package. It consists of four main components that enable enterprises to efficiently run and manage their diverse business processes. Let's explore these components and learn their features and benefits for the retail and eCommerce businesses. 
Business Accounting 
Acumatica seamlessly integrates with your organization's core accounting functions and lets you keep track of your business expenses including project costs, billing, budgeting, and payroll. Besides, it provides ease of integration as you can link the accounting module with general ledger, accounts payable/receivable software, sales/purchase order management app, and other enterprise applications. The project accounting module lets you keep close tabs on the actual costs involved with managing your internal or external projects.
Financial Management
It provides robust tools for financial management for retail and eCommerce businesses that are easy to scale as your business grows in size. Nevertheless, the tools are equally beneficial for many other industries like manufacturing, supply chain, telecom, healthcare, and more. The key features of Acumatica's financial management module are:
– Cashflow management and tax management 
– Asset management and revenue management systems
– Accounts payable/receivable management
– A fully integrated general ledger with real-time analytics features
Distribution Edition
The distribution management suite is increasingly beneficial for retail, eCommerce as well as manufacturing companies. Also, it lets you track inventory and stock levels, aids faster order processing, and manage customer data through a centralized software interface. The key features of the distribution suite include:
– Inventory management and tracking
– Sales/purchase order management 
– Better visibility into sales and customer data
– Improved online customer service
Customer Management
The CRM suite, also known as the consumer edition of Acumatica, provides a  fully integrated dashboard interface to manage customer data and sales reports. Besides, it provides an advanced reporting and analytics solution to gain valuable insights into customer data. As a result, you can focus on establishing long-term customer relationships while also improving your sales, marketing, and quoting functions. The key features include:
– Advanced reporting and real-time analytics
– Customizable consumer dashboards
– Powerful business intelligence tools
– Integration support for web, mobile, and in-store apps
You may also be interested in reading The Significance of a Cloud-based ERP for Education
The Bottom Line
Acumatica packs all these features together in a complete business management suite that automates accounting, financial reporting, and several other back-office tasks. It provides a central repository for keeping all essential business information and customer data that are easily accessible to authorized personnel. Nevertheless, you can access the application on a wide range of devices while being anywhere across the globe. Above all, the single installation license makes it quite affordable for small businesses as compared to other similar applications. It is, therefore, quite evident that Acumatica cloud ERP solutions are increasingly beneficial for small-to-medium enterprises to help them grow, expand, and boost their productivity levels. 
How We Help You Achieve Growth Through Acumatica Cloud ERP Solutions?
We are a 360-degree ERP software development company having a proven track record in Acumatica ERP development services. Our development team specializes in using Acumatica cloud ERP solutions to develop performance-driven enterprise applications for accounting, finance management, and CRM operations. We have worked with 100+ customers from all major industries on a variety of projects related to accounting, finance, and business process management. For more information, drop us a line at [email protected].