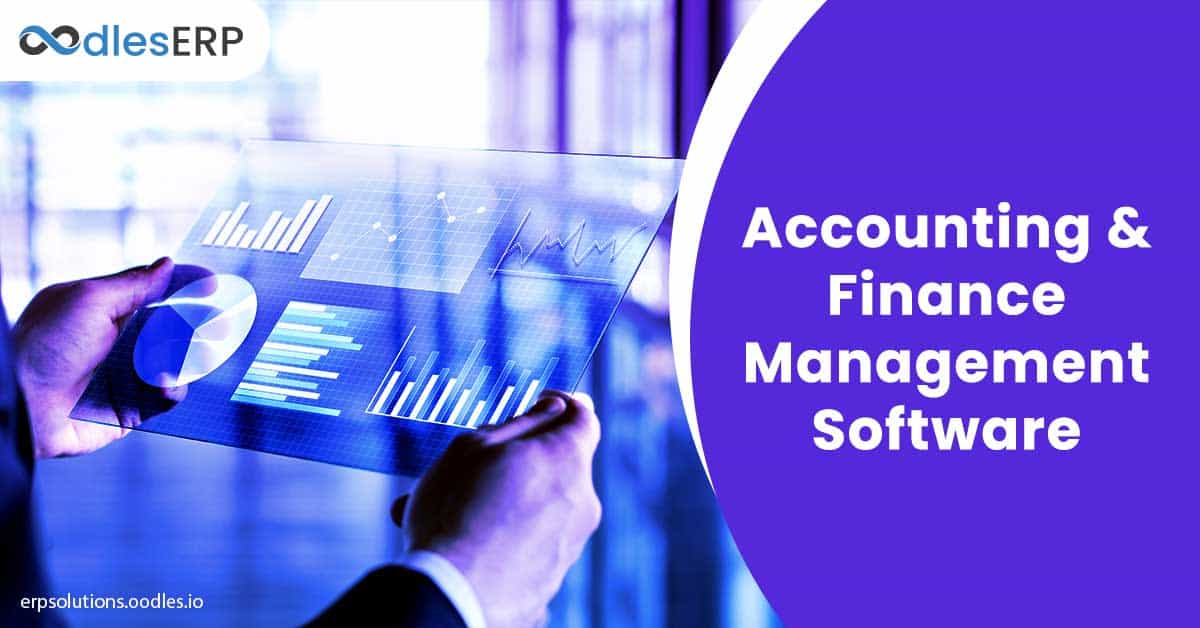 Maintaining accuracy and transparency in financial transactions is significant for the well being of any organization. Be it observing, initiating, and storing a transaction or linking, planning, and securing future investments, an accounting and financial management software is designed to handle all monetary undertakings of an organization. While traditionally, this software should revolve around measuring cash flow, new age systems are equipped to optimize returns, regulate tax, measure compliance, and maintain stability. At Oodles, we enable enterprises of all scales to implement a comprehensive accounting and finance management software for managing and planning expenses for maximum returns. Let's take a look at all the factors that determine the efficiency of accounting and finance management ERP software.
Benefits of Accounting and Finance Management Software
A cloud-based ERP solution integrated with a finance management software oversees an enterprise's business in order to ensure returns and protect financial data from malicious breaches. Here's a list of benefits of an accounting and finance management software:
Along with organizing and maintaining records of transactions, a finance management software accelerates invoicing, optimizes liquidity flow, and effectively reduces accounting errors.
Compliance with Current and Future Accounting Regulations
As tax and accounting regulations keep changing over time, accounting software regularly aligns the financial data with the new standards. It also notifies and updates businesses in case a filing is due.
Apart from error-free basic accounting, financial software aids organizations in budgeting, planning, and forecasting. It encompasses tools that not only manage assets and expenses but also offer smooth integration with banking portals.
Financial planning software development includes the implementation of multi-level authorization and access processes to ensure data security. As all audit and finance data is sensitive and integral to the organization's functioning, robust accounting software is key.
A finance management ERP software integrates enterprise operations with financial data. A central, interlinked data resource not only ensures data integrity but also reduces the complexity of corporate processes.
As a business expands, its operations cater to a wider range of systems. It is therefore essential to implement a scalable financial management software that can handle growth over markets as well as locations.
Features of an Accounting and Finance System
Let's take a look at the features of financial management software that enables them to accurately manage financial data and transactions.
Managing Records
One of the basic functions of accounting software is to manage ledgers and sub-ledgers. It can be done without additional hardware and middleware by implementing a cloud-based solution that also reduces installation and implementation costs.
Asset Management
The value and condition of assets is a determining factor in delivering accurate financial statements. They play a role in managing inventory levels as per capital and operations data. Accounting and Finance software maintains this data and reports appreciation and depreciation in asset value to employ a suitable business strategy.
Collection and Employee Cost Management
This software also handles payments, creates collection profiles, and suggests collection strategies as per customer credit scores or similar parameters. It also manages the allocation of expenses and furnishes employee expense reports to map these expenditures to projects or travel.
Reporting and Analytics
Analytics tools form a significant part of the finance software as the organization, analysis, and retrieval of financial data gives useful insights, on real-time data, into the performance and stability of the enterprise. At the same time, embedded reporting tools with advanced data visualization capacity give a bird's eye view of the liquidity, assets, accounts, and costs of operations.
Revenue and Risk Management
Most finance and accounting software come integrated with revenue management modules that handle the audit trail and automate tax compliance. Also, they come with risk management tools that protect the company's assets and data from theft and fraud.
Thus, integrating an accounting and finance management software into an ERP strengthens the financial well-being of the enterprise.
We are an ERP Development Company with the objective of furnishing enterprises of all scales with automation and marketing tools. Our ERP software Solutions include mobile and web app development as well as SaaS for WFM, HRM, CRM, WMS, Accounting, and Finance Management. Get in touch with our experts to avail custom development services for accounting and finance management software.
Read More: ERP Financial Management Software: Is it Time for Change