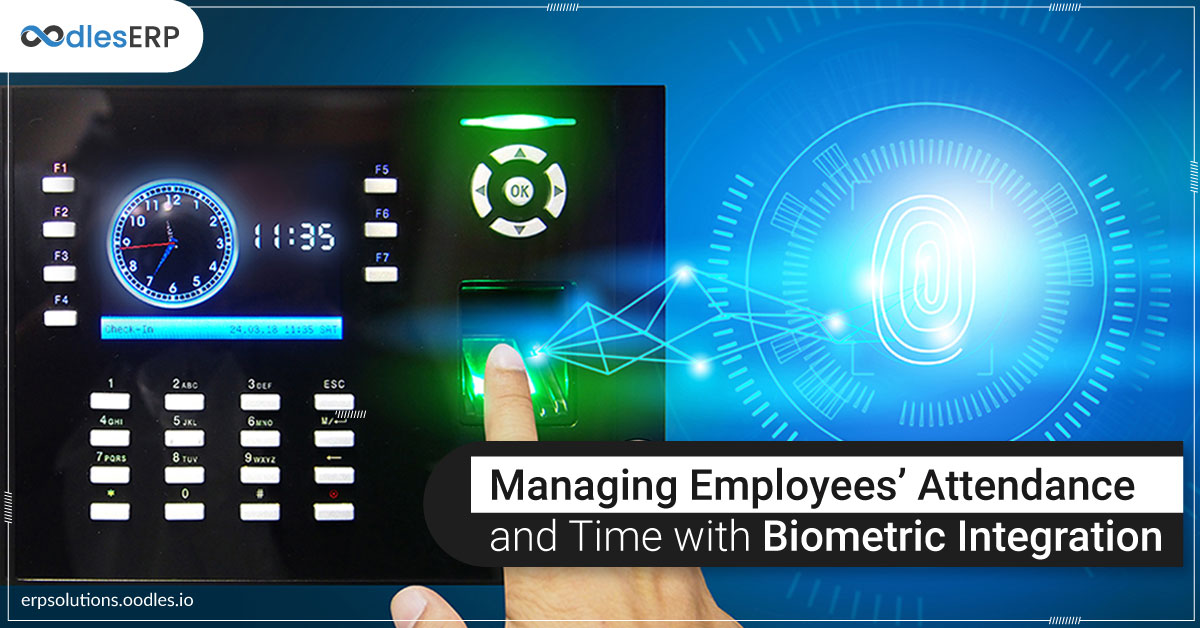 Biometric devices increase the efficiency of the workplace by providing HR professionals with an unparalleled ability to quickly and accurately capture real-time workforce data. Incorporating biometric devices to manage employees' attendance and time tracking enables businesses to minimize labor costs and maximize profits. Biometric time and attendance systems enable employees' to clock in and out for their shifts from a smart device. Let's explore how biometric integration is increasing employee retention. 
At Oodles, we program time and attendance tracking systems to track employees' working time through desktop and mobile applications. Our skilled team provides complete attendance tracking solutions for employees depending on the size of the organization and work environment. 
Benefits of Biometric Integration
Increases Productivity and ROI
A biometric time clock eliminates the need to manually gather time and attendance records. It enables businesses to track time-sheets and their employment histories with a simple press of a button. Incorporating biometric devices to manage employees' attendance saves time and makes it easy for business associates to track hours and generate quick reports on overall attendance data. In addition, it decreases staffing costs and provides accurate labor data to the payroll system to manage business operations efficiently. The biometric time clock increases productivity and enables managers to focus on core job responsibility.
Increases Flexibility for Employees
Biometric time clocks enable businesses to keep track of records easily. With biometric integration, representatives don't have to show up to the domestic office to punch in and maintain the record on a spreadsheet. Instead, they can easily punch in through their smartphone as soon as their shift begins. Once their shift is over, employees can punch out from the same device. 
Accurate Payroll Processing
Accurate payroll processing is an essential part of any business and the use of fingerprint time clocks for managing employees has a direct impact on efficient payroll processing. Many organizations use fingerprint and facial detection time clocks to directly upload attendance data to payroll processing software within minutes. Incorporating biometric integration will track employee time and attendance and prevents time theft issues like missed days, early departures, late arrivals, and unauthorized overtime. 
Eliminates Time Theft
Time theft in the workplace occurs when an employee gets paid for work that is actually not done. Buddy punching is a common method through which employees steal time and wages from the organization. Buddy punching is easy to do if employees' time is tracked on paper or a system in which time could be easily adjusted and changes. 
Facial and Fingerprint Detection Systems for Employee Retention
At Oodles, we program the workforce management system that features biometric integration to accurately record employee attendance. We provide multiple biometric options with minimal dependence on IT. Our developers use technologies like OpenCV and dlib for facial recognition. 
Features of Fingerprint Scanning Systems
Constant Availability:
The fingerprint time clock has better synchronization with the Linux operating system. It makes possible for businesses to use Dynamic Host Configuration Protocol (DHCP) for IP addresses. In addition, remote configuration from a web browser login is also possible.
Scalable System:
Fingerprint biometric integration is beneficial for businesses that need easy expansion. It eliminates the necessity of buying a new system to match the requirements of a growing workforce. The fingerprint time clock has the ability to adapt to changing workforce scenarios. 
Employees can work virtually from anywhere and still remain connected to a centralized time tracking system. Fingerprint biometric integration enables managers to know how many employees are working. 
Easy Integration with Business Systems:
The fingerprint time clock is compatible with other business systems. Its onsite installation is easy with a centralized network interface. Fingerprint biometric integration works seamlessly with different systems including smartphones, proximity clocks, and desktop models.
Features of the Facial Recognition System
Features Generalization Mode: 
The generalization mode generates the collection of generalized facial features from multiple images of the same subject. Each face image is then processed, features are extracted and then they are analyzed and combined into a single generalized feature collection. The collection is further stored in the database. 
Live Face Detection:
A face detection system is able to prevent a security breach by determining whether a face in the video stream belongs to a real human or is a photograph.
Multiple Samples of the Same Face:
Facial biometric integration features multiple face samples belonging to the same person. These samples can be enrolled with different facial expressions and postures. Multiple samples improve the matching quality.
Simplify Time and Attendance Tracking of Employees with Oodles
We are an ERP development company that provides workforce management system development services to increase the overall efficiency and productivity of an organization. Our team develops custom warehouse solutions to simplify HR processes including scheduling process, payroll administration, absence management, biometric integrations, planning, and forecasting.
Our developers build a fully automated cloud-based and on-premise time tracking system that enables employees' to clock in at any location in real-time. Using an integrated employee attendance tracking system businesses can accurately record employees' working hours on-site and in multiple remote locations. 
Connect with our ERP team to avail the benefits of workforce management solutions!