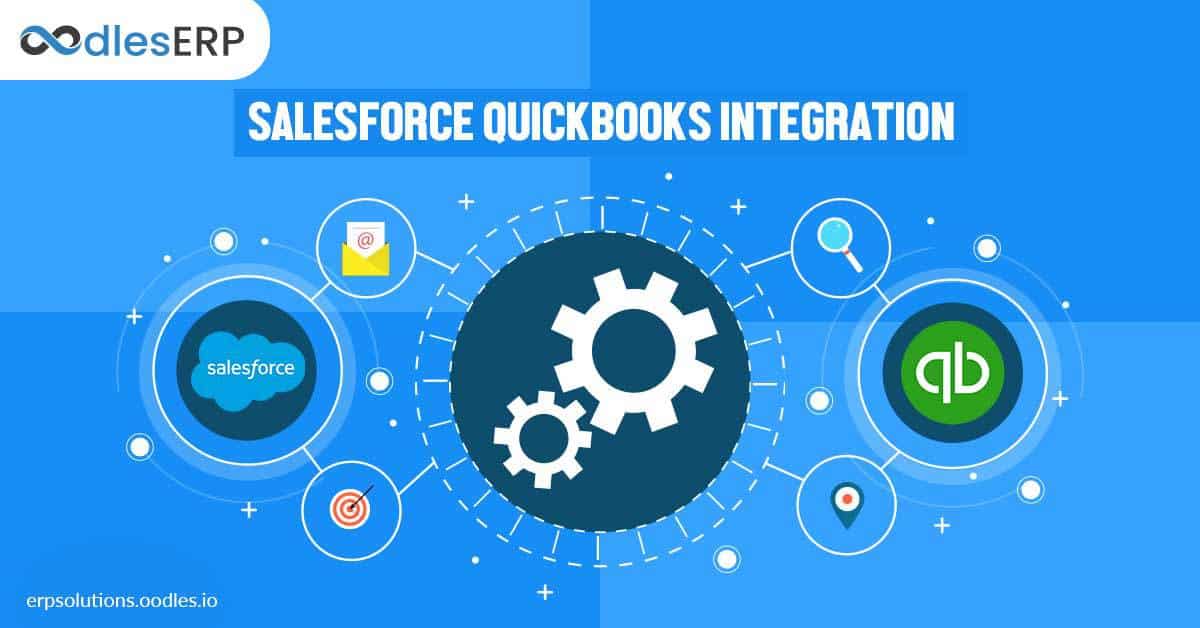 Salesforce is a leading CRM software and Quickbooks is cloud-based accounting software. Both of them play a critical role in managing day-to-day business activities. For instance, Salesforce contains lead information, while QuickBooks converts lead to customer information like sales and balances. Integrating Salesforce with QuickBooks provides business users with unified information on ROI, sales patterns, and forecasted marketing expenses. Let's explore the benefits and key considerations of Salesforce QuickBooks integration. 
We provide Salesforce integration services that enable businesses to get a better view of their customers. We integrate Salesforce with QuickBooks to boost productivity, reduce data duplication, and track product analytics.
Benefits of Salesforce QuickBooks Integration
Salesforce QuickBooks integration makes it easier for businesses to share financial data, view customer sales, check accounts, and finances and discover sales opportunities. It enables businesses to view open balances in Salesforce even if the information was entered in QuickBooks. 
In addition, if a salesperson enters customer details in Salesforce, the accounting team can create an invoice in QuickBook without re-entering the data. 
* Create transactions like invoices, estimates, and sales receipts in one system
* Access data in real-time like invoices, orders, sales history, and other expenses
* Single data entry in both the systems saves time and prevents errors 
* Can implement automated workflows without writing code
* View customized reports with real-time insights for better forecasting
* Enhanced time management as the data flow is bi-directional after integration
Businesses can sync data of following sub-fields of Salesforce with QuickBooks:
* Contacts
* Companies
* Products
* Payments
* Reports
* Accounts
* Opportunities Closed
Fields that can be synced from Quickbooks to Salesforce:
* Invoices
* Vendors
* Bills
* Purchase orders
* Customers
* Reports
How Salesforce and Quickbooks are Integrated
Salesforce QuickBooks integration can be done in the following two ways:
* RESTful API in QuickBooks Online
* QuickBooks Desktop's Web Connector
Businesses require an online QuickBooks account and a Salesforce.org account to use the RESTful Application Programming Interface (API). Businesses can use the QuickBooks REST API with third-party technologies like Java to sync the data. 
Advantages of Using REST API:
* Easy to Understand
* Well-defined
* Using JSON input for easy output
QuickBooks Web Connector depends on a web service that is built on Java. The Java application efficiently syncs the data between Salesforce and Web Connector. Each time the connector schedules a job based on user input, it authenticates with QuickBooks Java application. After the authentication, Java starts syncing the data between QuickBooks and Salesforce. 
Advantages of Using QuickBooks Web Connector:
* Schedules jobs automatically to run at fixed intervals or dates
* Features built-in components of QuickBooks
Key Considerations for Salesforce QuickBooks Integration
Businesses should consider the following points for successful Salesforce and QuickBooks integration.
Versions of Salesforce and QuickBooks:
Check the versions of Salesforce and QuickBooks that you are incorporating. Both of them are available in cloud and desktop versions.
Pre-built Integrations:
Often businesses do not have the time, support and resources for scratch integrations. In such cases, it is better to choose pre-built integrations to meet specific business demands. 
Check the Salesforce Edition:
Salesforce.com enterprise edition and unlimited edition give reconciliation APIs whereas professional release operates only when a product is certified from QuickBooks. In addition, professional releases do not support out-of-the-box integration techniques.
Measure ROI:
Calculate how much time the integration is going to consume and then on that basis calculate the hourly wage of an employee. Compare the two results and see which process is time-saving. 
Types of QuickBooks Integration:
QuickBooks Premier: 
QuickBooks Premier is a suitable choice for growing businesses. It enables businesses to modify reports as per business type such as contractor, retail, or non-profit. Businesses can track their inventory, produce profitability reports, create bills, track changer orders, and calculate the cost to complete their on-going project. 
QuickBooks Pro:
QuickBooks Pro is a preferred choice for startup businesses. It enables businesses to import contacts from an email account or excel file. QuickBooks Pro can be used by up to 3 employees at a time. It enables businesses to download bank transactions and export reports to excel. In addition, instant reports enable new users to save time. 
QuickBooks Enterprise Solutions:
QuickBooks enterprise solution is an ideal choice for well-developed businesses that require advanced inventory management, increased options for employees' permissions within the software, and the ability to create complex reports. Though it is the most costly version of QuickBooks its features and tools are not available in any other edition. Enterprise solutions are made to meet the diverse requirements of growing businesses.
Avail Benefits of Salesforce QuickBooks Integration with Oodles
Improve your business efficiency and drive growth with our Salesforce development services. We provide Salesforce QuickBooks integration services that enable businesses to get full visibility into their on-going business operations. Our ERP development team provides easy synchronization of products, accounts, invoices, and sales orders in QuickBooks. We have a well-planned process to import existing data in Salesforce for a successful migration.
Connect with us now to schedule a discussion!
To Read Next: Odoo QuickBooks Integration to Increase Efficiency of Financial Operations