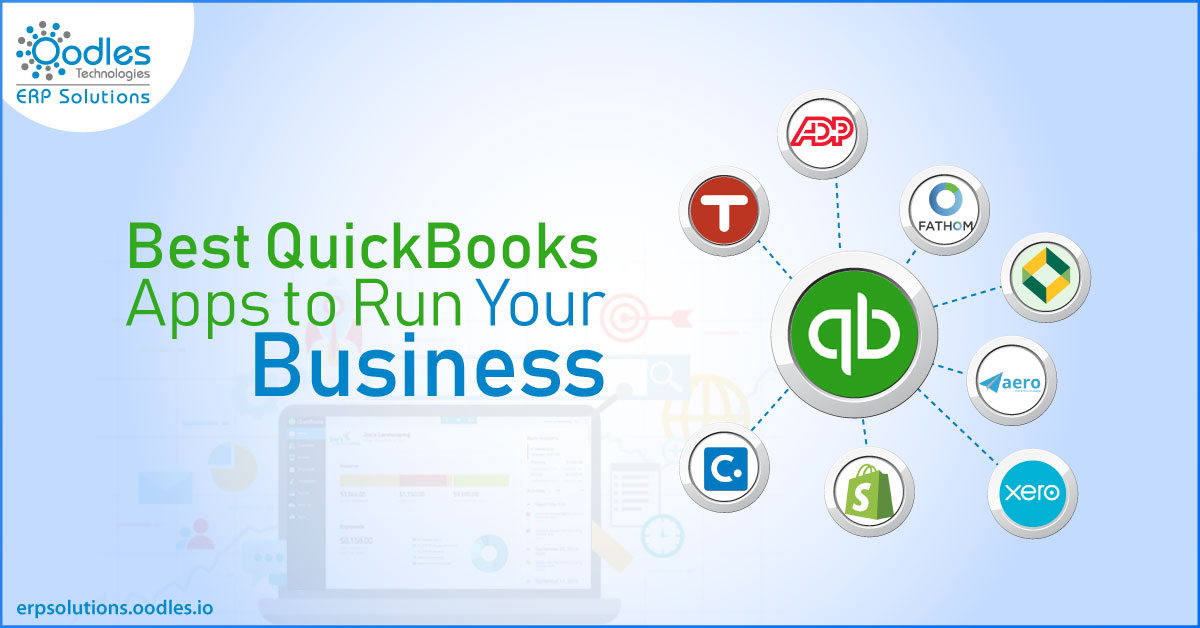 Best QuickBooks: An Overview
With the continuous technological advancements, QuickBooks has become one of the leading masters of the business world. This software is incredibly beneficial if mastered in the right way. In this blog, we have listed out some of the best QuickBooks Apps to run your business effectively.
Quickbooks is an accounting software program which helps in managing the sales and expenses of a business. It is basically designed to serve small and mid-sized businesses. It also keeps track of daily transactions.
QuickBooks offers cloud-based versions as well as on-premise accounting applications. Businesses use it to pay bills, generate reports for planning, invoice customers, tax filing and so on.
Some of the amazing benefits of QuickBooks are:
Easy to use

Financial reporting

Expense billing

Sales invoicing

Money management
A List of the Best QuickBooks Apps to Simplify Your Business
1.) TSheets
It is one of the best applications for employee management. It helps you manage your employees hours accurately when they are working. This will save your business money. It has a user-friendly interface which makes it easy for the staff and employees to operate. TSheets keep the information accurate and up to date.
Manage employees time

Track timesheets

Generates timesheet reports
2.) LivePlan
For a growing business, data-driven strategies are of major importance. LivePlan has an easy to understand dashboard that breaks down the set of data and the key metrics for small businesses. Once you sync your LivePlan with Quickbooks, it uses relevant data to build financial forecasts and budgets.
Saves a lot of time

Quickly gathers information to make the right business decisions

Uses industry benchmark data to show comparison details with competitors
3.) Expensify
One of the major problems faced by business owners these days is keeping track of their company's expenses. Expensify solves this problem and tracks the receipts and mileage with ease. It is a simple expense reporting system which streamlines your business' day to day operations. It syncs all your expenses directly with QuickBooks and your company can go entirely paperless.
Great choice for small businesses

Offers a tool to take photos of receipts and other expense data
4.) Cin7
Whether you have a retail or wholesale business, this app is surely going to fulfill your business demands. It manages all your inventory, the point of sale, supply chain and all sales channels in one single location.
Saves time

Automatically updates QBO with your latest purchases, inventory values, and sales
5.) InvoiceSherpa
If you are tired of late payments then InvoiceSherpa is a good choice to get your invoices paid on time. It connects with QuickBooks automatically and works to get you paid faster.
Sends out branded reminders to customers about the invoices due dates

Saves time and is hassle free
6.) Erplain
It is a robust application that helps you manage the inventory and allows business owners to sync up their inventory and products with their QuickBooks account in real-time.
Keeps track of the stock and inventory before it gets invoiced

Provides drop shipping support

Easily track products that contain multiple components

Easy to use interface

Track inventory across multiple locations
7.) SOS Inventory
SOS Inventory easily integrates with Quickbooks. It is specifically designed to save your money and time by minimizing duplicate data entry.
Create sales orders

Sync invoices for each order

Itemize the orders
8.) Cloud Connector
It is one of the best choices for e-commerce businesses. Cloud Connector easily adds online sales directly to QuickBooks. It syncs QuickBooks with BigCommerce, Shopify, Amazon, and ShipStation so that you can make sales directly to online customers.
Final Analysis
Running a business is a constant battle and you need to stay updated with the latest technology to win it. These QuickBooks apps will surely scale up your business and help you achieve a work-life balance.
Try out these apps and make your life easier and insightful.