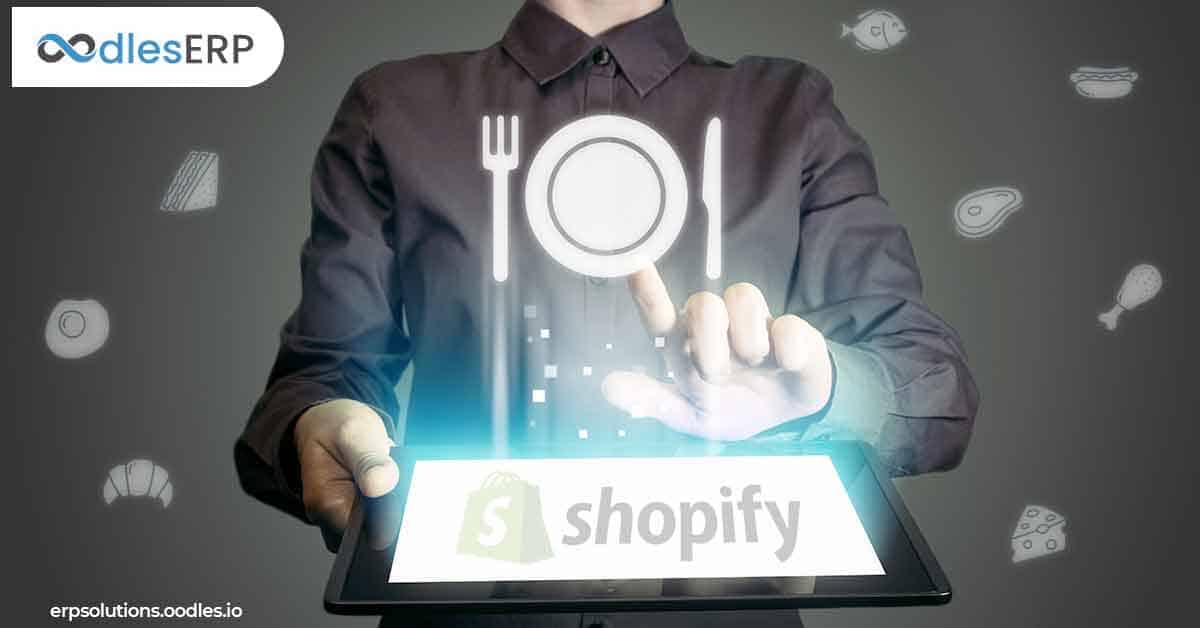 The year 2020 hasn't been good for hotels, restaurants, clubs, and other hospitality services. The adverse effects of COVID-19 are still apparent in the restaurant industry as fewer tables are filling up to maintain social distancing. With the dine-in services gone on the back burner, an increasing number of restaurants are moving toward the digital platform. By developing a food ordering app, restaurants, cafes, and bakeries can easily reach out to their customers and offer their services online. Besides, it's a proven branding methodology that goes a long way towards strengthening your online presence. 
We, at Oodles ERP, help you develop an online food delivery app with custom features for your restaurant, bar, or food joint. Our development team specializes in building custom web and mobile applications for restaurants that facilitate easy order processing across devices. We use open-source tools, frameworks, and SDKs to develop custom ERP solutions for restaurants and other types of businesses in the F&B sector. 
Reasons For Turning To The Online Platform
In 2020, the COVID-19 outbreak left the world economy reeling, causing many businesses to suspend their services in response to mass quarantines. Although with vaccination programs gaining pace, things are slowly getting back on track, we can't expect a full-scale recovery in the foreseeable future. Since hotels, restaurants, and other businesses in the hospitality industry are bearing the brunt of the pandemic, it has become essential for them to turn to digital media.
Several restaurant chains across the globe are effectively dealing with the adverse effects of COVID-19 by offering online food delivery services. In 2021, it's going to be more crucial to adopt an omnichannel approach even in the restaurant industry. Therefore, it has become more important to develop an online food delivery app to successfully sustain the new normal. 
Also read Custom Invoicing Software Development For Effective Billing
How Shopify Lets You Develop An Online Food Delivery App?
Shopify is a cloud-based online shopping platform that enables businesses to set up an online store to reach their target audience. It is one of the most extensively used platforms for eCommerce app development services that also caters to the online selling needs of diverse business use cases. The platform also provides an online ordering solution that lets you get your restaurant online with minimal complexity. Let's move ahead and delve into the key features of Shopify's online ordering solution for restaurant businesses. 
Theme Selection
You can choose from three beautiful themes to easily set up your online restaurant, list food items, and provide the menu. With these pre-set themes, you can take your restaurant business online in no time without getting into the complexities of custom design. However, Shopify's online ordering solution also lets you upload personalized theme templates and customize them as per your business needs.
Food Images
Uploading high-quality images of your food items and delectable cuisines is always a great way to grab your customers' attention and get more orders. Shopify ordering solution lets you upload well-shot images of your restaurant menu and organize them in the best way possible. You can style your images and club them with other food items in the context of a meal or combo. 
Product Labels
Shopify's online ordering system lets you add appropriate product labels, making it easy for your patrons to distinguish between various food items. ModeMagic is a Shopify app that lets you add labels to various food items in your menu without having to customize the listings or food images. These tags let you patrons distinguish between different food items in terms of veg, non-veg, gluten-free, etc.
Mobile App
In addition to developing a restaurant website, Shopify lets you create a custom mobile app for iOS and Android platforms. Since a majority of customers use their smartphones for food ordering, developing a mobile app has become increasingly crucial. Having a mobile presence enables restaurants to attract patrons, increase brand awareness, and boost the customer retention rate.  
Easy Checkout
Customers these days like to have a multitude of payment options to choose from. Therefore, Shopify provides easy integration with a wide range of payment modes including Stripe, PayPal, Apple Pay, WePay, and more. Providing multiple payment options facilitates a seamless checkout procedure with minimal platform-specific constraints. 
You may also be interested in reading Contactless POS System Development For Retail and eCommerce
Shopify Add-ons For Restaurant and Food Businesses
Given below are some useful Shopify add-ons that can help you improve your food delivery services and enhance customer experiences. 
Store Pickup + Delivery
It is an extremely useful in-store pickup and local delivery solution for Shopify that is developed by Zapiet. The app lets you optimize your online restaurant in a way that makes it easy for your customers to choose the delivery options.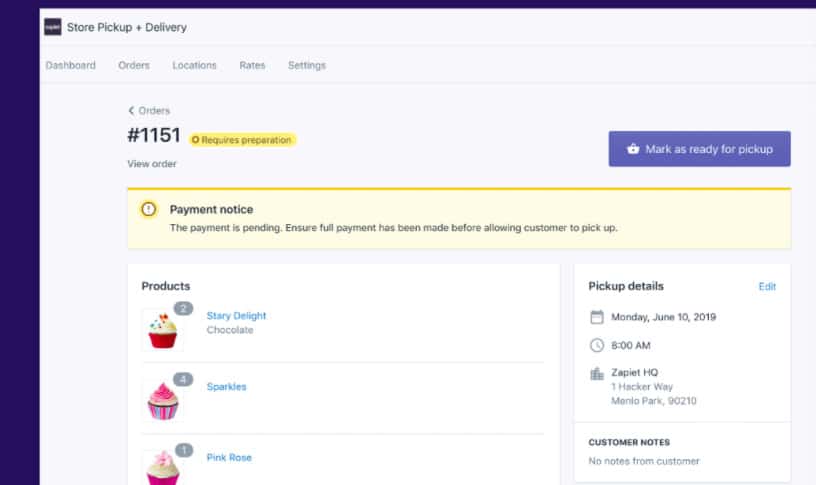 In addition to providing home delivery, the app lets you offer the takeaway feature as well. It means customers can place an order remotely and then come to your restaurant to pick it up.   
Tidio Live Chat
There has to be a reliable communication medium for your patrons to interact with the restaurant staff. Tidio Live Chat provides easy one-on-one interactions between customers and the restaurant's customer support executives. In doing so, customers can check their order status, modify the previous order, report delays, or provide specific instructions for a hassle-free delivery. 
Flits
A crucial step to delivering personalized customer experiences is to provide your existing customers their order history with an option to repeat the order. Flits is one such app that lets you add the 'reorder' button for your customers to repeat their orders right-off-the-bat.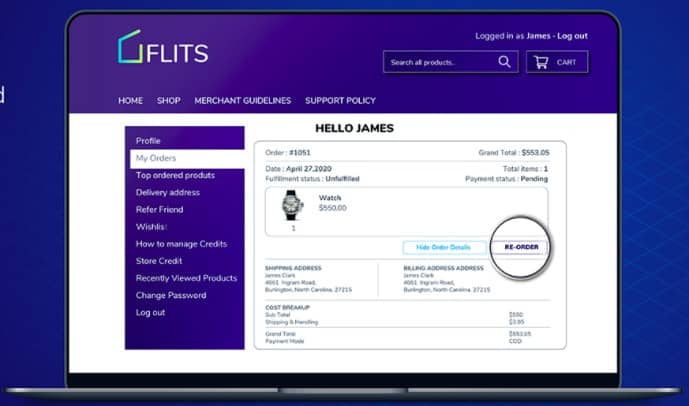 Instead of browning the entire menu, customers can see what they had previously ordered and reorder the items with minimal hassle. It also provides a quick and easy checkout process and improves customer satisfaction. 
Shopify POS
Shopify POS provides a unified software interface that enables restaurant owners to simultaneously manage their online orders as well as dine-in services.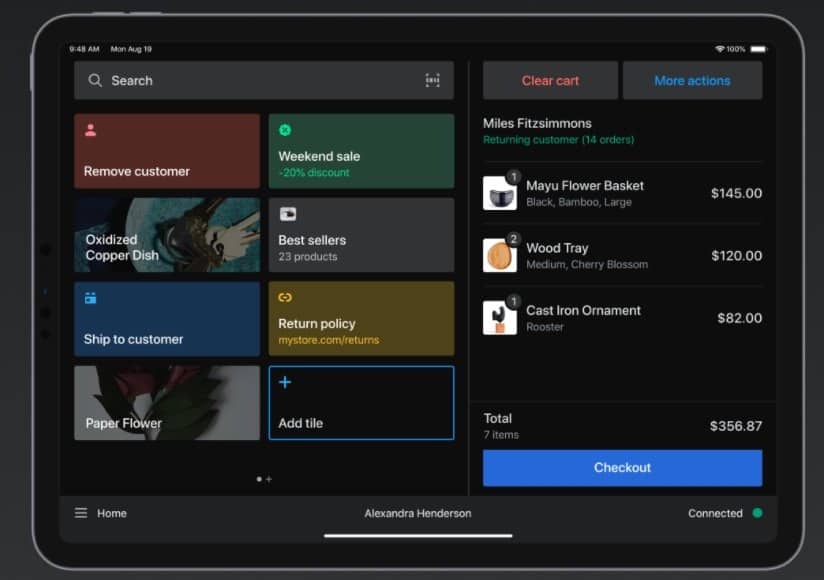 You get a centralized dashboard with a smart grid view to track order status, manage order history, and maintain financial records with easy accessibility. Above all, it facilitates smooth checkout and aids in faster order processing. 
How We Help You Develop an Online Food Delivery App Using Shopify?
We are a seasoned ERP software development company having a proven track record in eCommerce app development and online store creation. Our team specializes in using Shopify tools to develop an online food delivery app to address diverse restaurant needs. Our Shopify-based online ordering solutions enable restaurant owners to amplify their profits by generating new revenue streams. We have successfully built several online stores for businesses from different industries. For more information, please visit erpsolutions.oodles.io or drop us a line at [email protected].