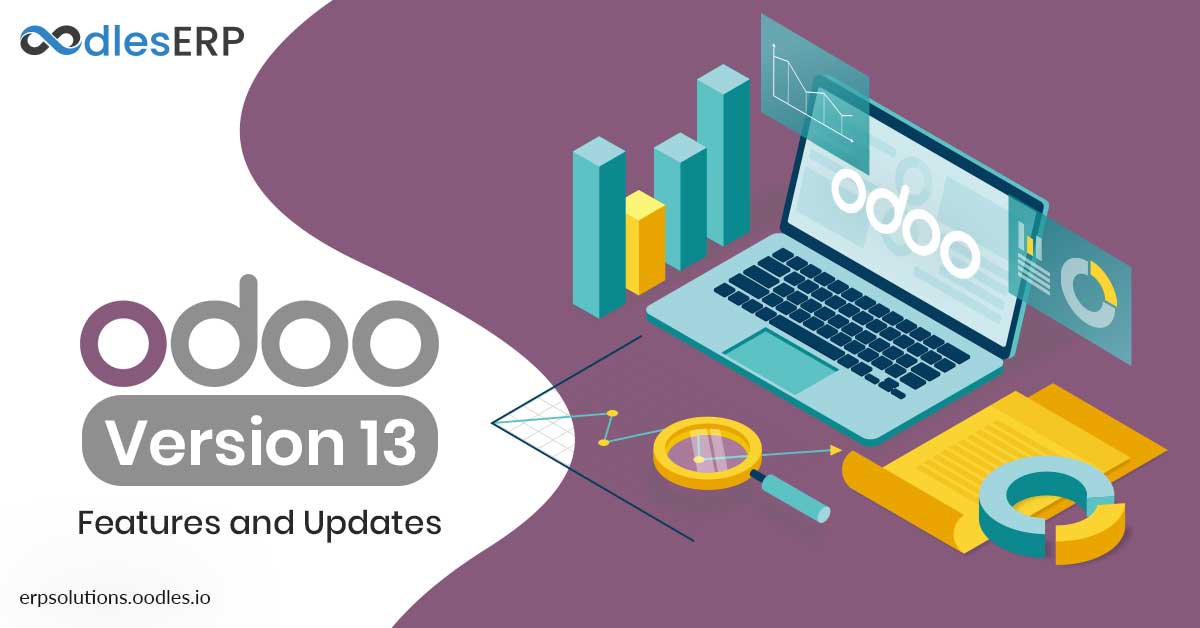 Odoo Version 13: A Sneak Peek
The success of a business depends on how effectively the departments are able to coordinate for accomplishing a specific goal. With Odoo ERP, businesses can improve their processes for better management, productivity, and efficiency. The fully integrated ERP software closes the gap between personnel spread across different teams to make applications and data movable. 
Odoo is a fully integrated and customizable open-source suite of business applications that includes Customer Relationship Management (CRM), Human Resource Management (HRM), manufacturing, project management, inventory, and accounting.  The open-source platform covers 30 main modules and supports more than 3000 applications to fulfill business requirements. Odoo provides an integrated experience from app to app and enables users to automate business processes without any manual intervention.
Odoo brings a wide range of ERP functionalities for small and medium-sized businesses. While it gets better with every version release, it's upcoming version is no exception. Read this blog post to know more about Odoo version 13 and its updated features. 
To meet the demands of growing businesses, Odoo is releasing its version 13 in October 2019.  Odoo v13 comes with upgraded modules and features with an aim to improve business efficiency and productivity. Let's have an overview of its future expectations and updated features.
Features of Odoo Version 13: An Overview
Stock Management:
The upcoming version of Odoo will use the potential of the Internet of things (IoT) in stock management. Odoo version 13 will enable decision-makers to track inventory quantities so that they never run out of stock. For instance, businesses can track their inventory quantities by linking a scale to their stocks. It will enable businesses to calculate the stock in real-time and provide necessary details about in-hand stock to prevent product shortages. Odoo version 13 enables businesses to control the reordering process automatically. 
Improved OCR:
Optical Character Recognition (OCR) refers to a technology that enables businesses to convert different types of documents including PDF files, scanned paper documents or images captured by a digital camera into editable and searchable data. Odoo v13 will enable the end-users to scan a record and fetch the required data automatically. With OCR, the data is recorded in the system easily. For instance, if end-users have the PDF report of the vendor bill, then they can upload the report. The system will scan the PDF report making the whole process easier. 
Odoo Bank:
The process of going to a bank and taking a loan can be time-consuming. Odoo version 13 will overcome this weary process and simplify the loan procedure. With its Odoo bank feature, it will provide loans directly to businesses. Odoo bank feature will make it easy for businesses to get cash on an immediate note.
Track Position:
Odoo version 13 supports the possibility of tracking stock, fleet, and other materials. It will enable the stock department to track the location of goods in real-time and organize items at warehouses and other stock locations. 
Other Impressive Aspects to Witness in Odoo Version 13
1) Promotion module and sales coupon will be shifted to the community edition
2) In Odoo version 13 'leave' will be renamed as 'Time off'
3) Odoo 13 is running on jQuery 3.x
4) Odoo 13 will introduce new search panel in the Kanban view
5) The website builder is shifted to the community edition
6) Odoo 13 will add a new signature widget for binary fields
7) In Odoo 13, there will be new forecasted inventory report to display forecasted inventory for all products
8) HR payroll is shifted from community edition to enterprise edition
9) Odoo e-commerce will support product videos
10) Odoo 13 provides more flexibility with the consumption of components that can be defined in the Bill of Materials (BOM) 
Concluding Thoughts
Odoo is a complete suite of ERP applications that updates its features regularly to keep up with the dynamic ERP requirements and trends. In October 2019, the next version of Odoo will be released. Now, it is time for businesses to upgrade their Odoo version and avail the benefits of its new features and functionalities. 
At Oodles ERP, we provide extensive Odoo application development services for all business types and sizes. Our Odoo development team is skilled in Odoo versions 11 and 12. Our EPR development team uses Odoo to customize applications like CRM, financial management, accounting, e-commerce, and payroll. We also have experience in Odoo development and implementation services including third-party integrations.
Also, Read: Odoo 12: Explore what it stores for Mobile ERP Application Development