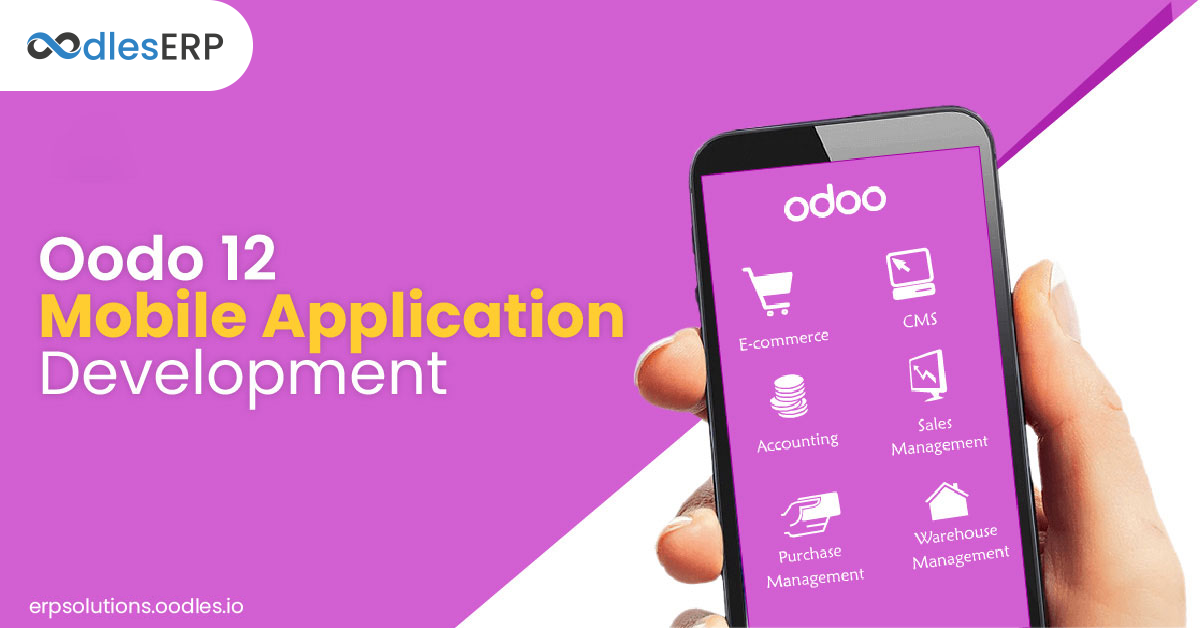 Odoo Version 12 | Mobile Application Development
Odoo (On Demand Open Object) is a complete suite of ERP (Enterprise Resource Planning) applications targeting every type of business sizes. It has more than 30 main applications and supports more than 3000 applications for various other businesses. Also, it has more than 3.7 million users around the world.
Odoo regularly updates its features to keep up with dynamic ERP requirements and the latest trends. In October 2018 Odoo released its 12th version in accordance with its continuous improvement efforts.
The new features of Oodo 12 include accounting, drag & drop option, leave management, updated Odoo studio, and improved email marketing. Mobile application development is another distinctive feature of Oodo 12, which has given greater control to decision makers over business operations.
Read on to discover how mobile ERP application development enhances mobility and business productivity.
Odoo 12 Mobile ERP Application Development
The latest line of Odoo mobile ERP applications enables you to manage business opportunities on the go. Users can now directly access all Odoo applications through their mobile devices. It has optimized interfaces for all android devices. Odoo 12 mobile app development provides a high level of flexibility that is essential for business management.
Every application that is accessible in Odoo database is available from one native application. It enhances the maintenance of sales, records, reports, content management, and other things on the go. There are push notifications that inform users about every single task and action. The adaptive content delivery system on the other side ensures every screen is optimally viewable from any device size.
Highlighted Features of Mobile ERP Applications using Odoo 12 Mobile ERP Application Development Framework
Engage and Nurture Customers:
Odoo 12 powered mobile applications contain multiple features including an interactive homepage and push notifications to increase customer interaction.
Push Notification for Smart App:
Odoo 12 mobile applications enable businesses to share information and instant updates with customers using push notifications.
Easy Checkout Process:
Mobile app developers can now implement simple mobile checkout processes that maximize conversion. It ensures that customers can checkout easily with just a few simple steps. It automatically populates available customer information like address details for a speedy checking out experience
Easy Searches:
Smart search process feature accelerates the customer checkout by enabling customers to find products easily
Our Core Services in Application Development Using Odoo Mobile Framework
Mobile App Development:
Our experts create Odoo mobile apps from scratch for both Android and IOS platforms using python. We develop a wide range of Android apps for restaurants, educational institutions, sports clubs, and a variety of businesses. We build engaging iOS applications to give customers a user-friendly experience. Oodles has good experience in mobile ERP application development.
Integrations:
Our ERP experts are skilled at using Odoo to provide various integrations and fix bugs to improve application adoption
User Experience:
Users prefer easy to navigate mobile applications that fulfill their needs with fewer interactions. We provide end-users a wonderful experience with a user interface that is engaging and keeps them updated
Real-time Engagement and Flexibility:
Oodles ERP develops mobile applications that enable businesses to engage users in real-time. Our mobile app development offers the flexibility to work offline and sync once the network is available.
Streamline Process and Data Secrecy:
We formulate scalable strategies and provide mobile app development services that are in tune with current market trends. In addition, we provide relentless migration and end-to-end solutions to our clients
User Interface:
Our team follows smart strategies to design engaging UIs (User Interfaces) that provide an intuitive mobile experience
Oodles' Expertise in Developing Applications Using Odoo Mobile Development Framework
Native mobile applications

Entertainment and multimedia applications

Mobile gaming applications

Web-based mobile applications

Mobile e-commerce solutions

Hybrid mobile applications

Mobile advertising applications

Cross-platform mobile applications

Mobile apps porting solutions

Mobile data synchronization solutions
Other Oodles ERP Services Using the Oodo Framework
We, at Oodles, offer extensive Odoo application development services for all business types and sizes. Our ERP developers are skilled in Odoo version 11 and 12. They use Odoo to customize applications such as CRM (Customer Relationship Management), financial management, payroll Management, accounting, e-commerce, etc.
Here is a brief of services that Oodles ERP offers using Odoo framework:
Odoo Integration and Customization:
We, at Oodles, integrate third-party applications like accounting, CRM, e-commerce, and HRM. with Odoo applications in a seamless way. We also offer Odoo customization services for your application as per your business requirements
Custom Odoo Development:
Whether its theme development, module development or custom application development, our developers can help with everything using the Odoo framework.
Concluding Thoughts
It is time for businesses to upgrade to Odoo version 12 for new and improved features and functionalities. It provides a user-friendly experience and boosts customer engagement on the mobile platform.
Make your business operations flexible with Odoo 12 ERP mobile application development. It is available for Android and iOS platform.
Read More: Reasons Why Odoo Open Source Is Best For Custom ERP Development