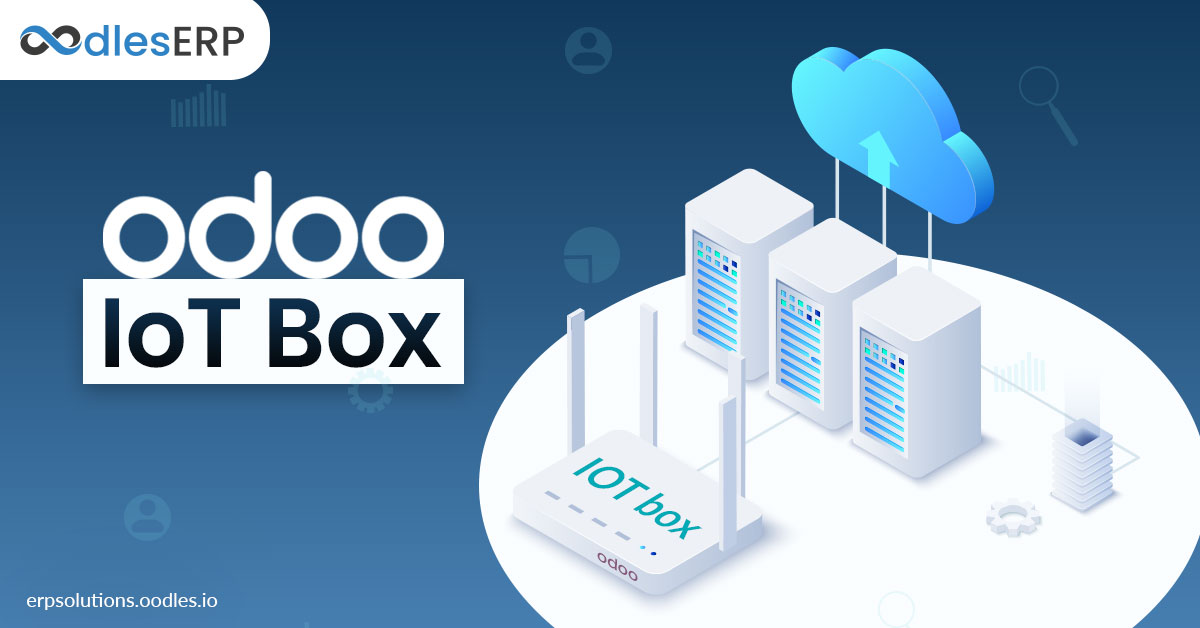 Odoo is an all in one suite of business applications that streamlines and automates business processes. Odoo version 12 has released a new IoT module. Odoo IoT box is a prominent choice for efficient conduction of business operations across all industry verticals. It enables enterprises to make functional use of IoT devices to enhance business operations. It extends the reach of ERP software to a wider audience with increasing capabilities. Let's explore how Odoo IoT box is increasing the Return on Investment (ROI) of businesses. 
At Oodles ERP, we provide Odoo customization services for faster, simpler and secure management of business operations. We have a stack of more than 10,000 Odoo supported applications that can be customized as per business requirements. 
Odoo IoT Box
Odoo IoT is a small raspberry pi based device that connects IoT sensors/devices with Odoo. It connects Odoo to different types of external devices like scanners, printers, cameras, and calipers. It resolves the issues occurring during the integration of ERP software and IoT devices. Odoo IoT box acts as a mediator between IoT and ERP through Wifi or ethernet cable. Additionally, the IoT box supports multiple device connections at the same time. Odoo IoT enables businesses to connect all types of tools and machines with ERP.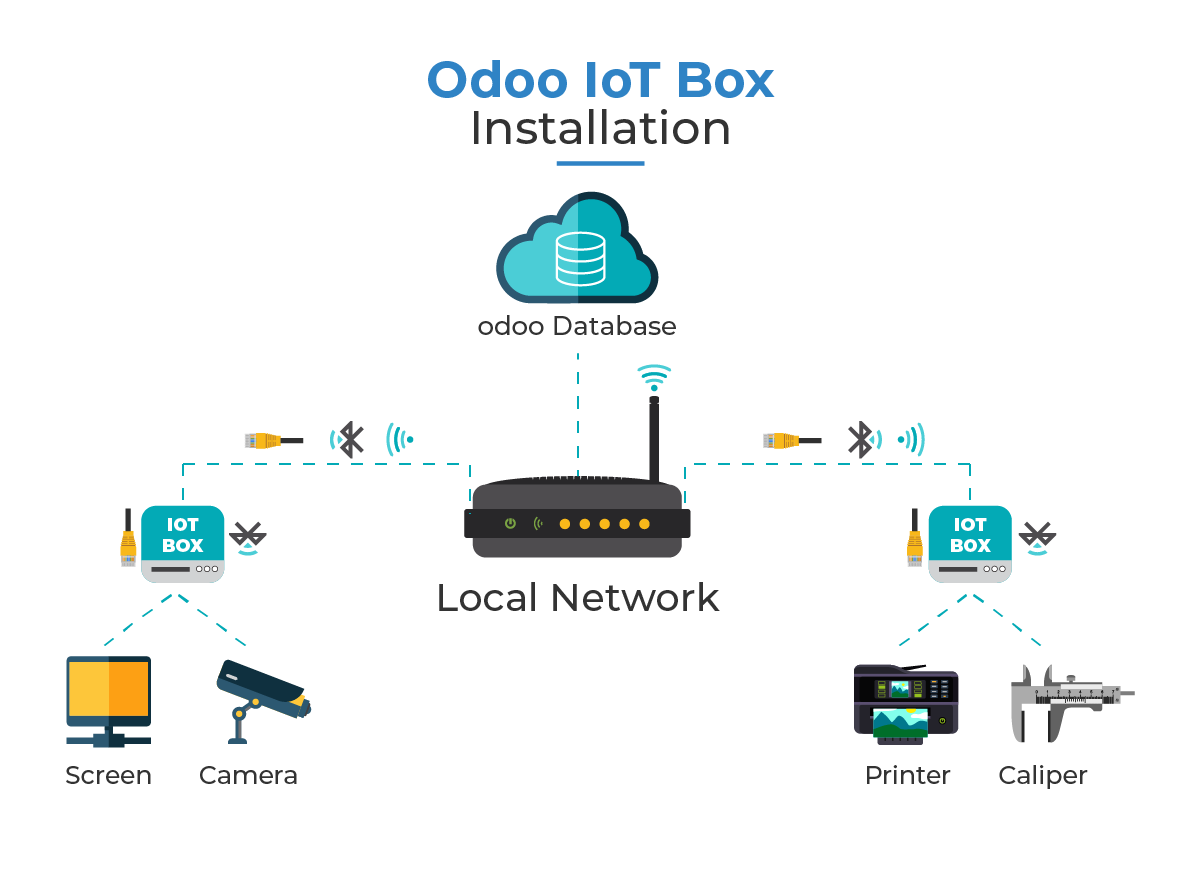 Connectivity Features of Odoo IoT Box: 
* Bluetooth ( Wireless Bluetooth Connectivity)
* USB (Universal Serial Bus Support) 
* HDMI (High Definition Multimedia Interface)
* WiFi ( Wireless Fidelity Network)
Configuration:
Step 1: 
* Connect the specific devices to IoT box
* Insert HDMI or USB cables
* Turn or Bluetooth or WiFi on devices
Step 2:
* Connect IoT box to Odoo
* Switch on IoT box
* Install the app of Odoo IoT box
Step 3:
Click to connect with the IoT box menu. Here, there are two options:
For WiFi:
* Copy the token
* Connect to the IoT box WiFi
* Enter the copied token on the redirected page
For Wired Network:
Click Scan
Step 4:
The IoT boxes and the devices are displayed as shown in Fig (1.0) and Fig (1.1)

Fig (1.0)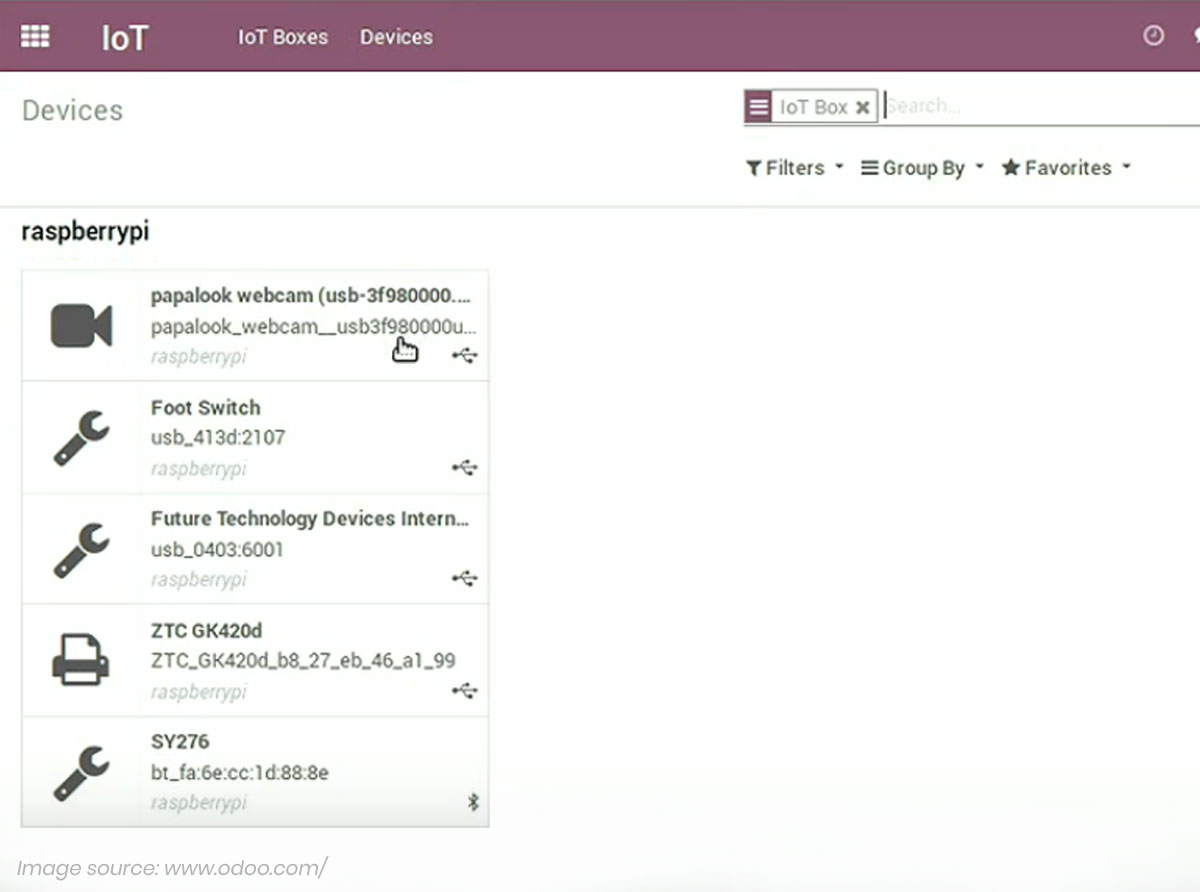 Fig (1.1)
How Odoo IoT is Increasing ROI of Businesses
Enhancing Data Intelligence
The efficiency of ERP systems improves when they are connected to IoT sensors. Odoo ERP platform can extract data from IoT sensors and provide actionable insights to end-users. It enables senior management and line managers to make data-driven decisions. Additionally, IoT devices provide insight into user behaviors. Predictive analysis of such behaviors enables businesses to provide faster service to their customers. 
Replacing Assumptions with Real Data
An ERP system streamlines the workflow of businesses based on a set of predefined parameters and rules. Odoo backed with IoT enables business executives to get real-time insights into ongoing activities. The visibility in business processes enables senior associates to analyze operating performance and efficiency. 
Increasing Top-line Revenue
Apart from cost reduction or uptime gains, Odoo IoT box has the potential to increase the top-line revenue of businesses. For instance, businesses that are involved in Field Service Management (FMS) can use IoT devices to determine whether they are meeting or exceeding the service level agreements with end-users. Businesses can change their pricing policies accordingly to increase their top-line revenue. 
Odoo IoT Customization with Oodles
The integration of Odoo and IoT will bring a positive change in businesses. IoT sensors when connected with Odoo system generates real-time insights for better decision-making. Connecting IoT sensors with Odoo will enable businesses to perform various tasks like keeping a record of stock levels in the warehouse and generate notifications on objects for reminders or renewal. 
We are an experienced ERP development company that develops high octane ERP systems to streamline and automate business processes. Our developers are skilled at creating and customizing Odoo modules to meet diverse business requirements. 
Get in touch with our ERP development team and upgrade your business with new technological innovations.
To Read Next: How to write a controller in Odoo 12