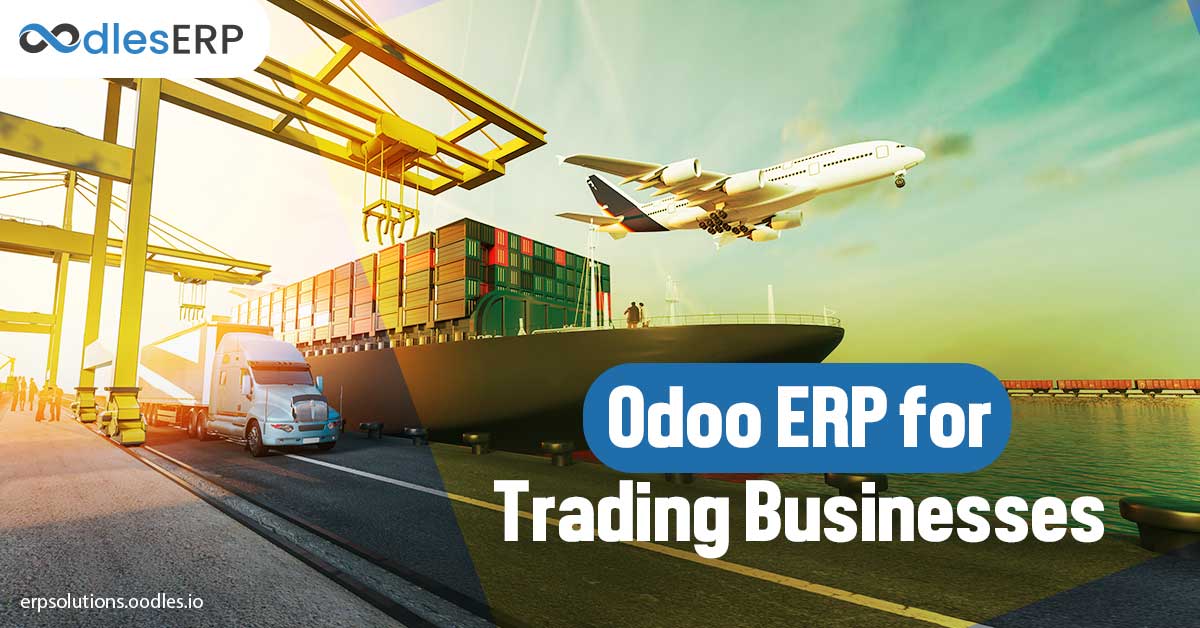 The trading industry works in a complex way. There are many micro and macroeconomic challenges like fluctuations in demand, unpredictable behavior of customers and changes in regulations that are faced by the trading industry. Implementing an Odoo ERP system can cater to the present and future challenges of the trading business. It can increase the productivity and efficiency of businesses as it comes integrated with robust business modules like accounting, warehouse management, customer relationship management, inventory management, manufacturing, trading, and point of sale. Let's explore the benefits of Odoo ERP implementation in trading businesses. 
We are an ERP development company that provides Odoo customization services to streamline and accelerate business processes. Our Odoo implementation services cater to the requirements of most industries including trading, eCommerce, manufacturing, accounts, and finance. 
Advantages of Implementing Odoo ERP in Trading Businesses
Enhances Overall Efficiency
A fully integrated ERP system can increase the productivity and efficiency of trading businesses. It reduces the time spent by individual departments on daily business operations. In addition, it improves employee efficiency by minimizing the manual monitoring of tasks. 
Increases Transparency in Workflows
The integrated ERP system has centralized data so the tasks and workflows are highly visualized. For instance, if the ERP system is integrated with the project management tool, employees can easily view the tasks of their colleagues. Transparency in the workflow of an enterprise leads to better productivity and relationship management.
Centralized Data
Using Odoo ERP system businesses can create a centralized database to improve the internal workflows. The centralized database enables businesses to reduce time spent on individual processes. Employees from all departments can view the information easily without depending on other teams. For instance, an employee from the accounting department does not have to interact with the sales team every month in order to get an updated record of revenue processed by the company. 
Initiating Better Workflow in Trading Industry with Odoo ERP Implementation
Enhances Customer Relationship Management
Odoo ERP implementation and integration with customer relationship management triggers effectiveness in customer relation operations within the trading business. Odoo ERP enables business managers to prioritize the follow up of sales activities in the pipeline.
Odoo ERP implementation enables business managers to track the sales stages and effectively schedule the meetings directly from the opportunity of a customer. Odoo gathers essential inputs and insights into ongoing business activities to ensure there is transparency between trading operations and customer relationship management. In addition, it routes every business activity with the goal of more sales and income generation.
Enhances Purchase Management
Odoo's purchase management module automates the purchasing workflow of the trading business. It enables business managers to automatically send Request for Quotations (RFQ) to the suppliers based on the stock levels. Odoo ERP implementation in trading business will improve the purchase and inventory performance along with procurement riles depending on logistic rules, stock levels, forecast manufacturing orders and sales orders.  
Business managers can make efficient purchase decisions by using the best prices. Using Odoo ERP, managers can easily import suppliers' price lists and references for making quick and accurate purchase decisions based on different vendor policies, contract conditions, and product quantities. In addition, business managers can easily track product availability in suppliers' inventory and enable end-user to check the order status.
Odoo ERP implementation enables business managers to analyze, forecasts and efficiently plan orders in simple steps. Businesses can get accurate statistics on suppliers' performance via quantities purchased, negotiated discounts on prices and flexible reporting delivery delays. In addition, integrating purchases with analytic accounting will enable business managers to analyze contracts' profitability. 
Enhances Human Resource Management
Odoo ERP implementation will streamline and automate the human resource management process. It will enable business managers to maintain a robust database for storing essential employee information like contact details, attendance, salary details, and performance evaluation. Odoo's human resource management module provides features like timesheet management, employee dictionary, expense management, payroll and recruitment management.
Robust Warehouse Management
Odoo's warehouse management module is packed with end-number of features that ensure productivity, consistency, efficiency and quality control. A trading ERP system can manage internal and external locations, customers, suppliers and manufacturing inventories efficiently to provide real-time data and precise business information to decision-makers. Odoo ERP implementation will enable business associates to manage incoming shipments and prepare the inventory controls. 
If your warehouse is in multiple locations, the trading ERP system can effectively manage multiple locations making inventory operations smooth and transparent. In addition, proper warehouse management decreases processing time and enables employees to generate more quantity of work in less time. 
Efficient Product Management
With Odoo ERP implementation, businesses can efficiently manage product types, kits, multiple variants and multiple units of measurement. Using Odoo ERP, businesses can easily manage product variants like size, packaging, and color. It enables businesses to manage the product at both template level (all variations) and at the variant level (specific attributes).
Avail the Benefits of Odoo ERP Implementation in Trading Business with Oodles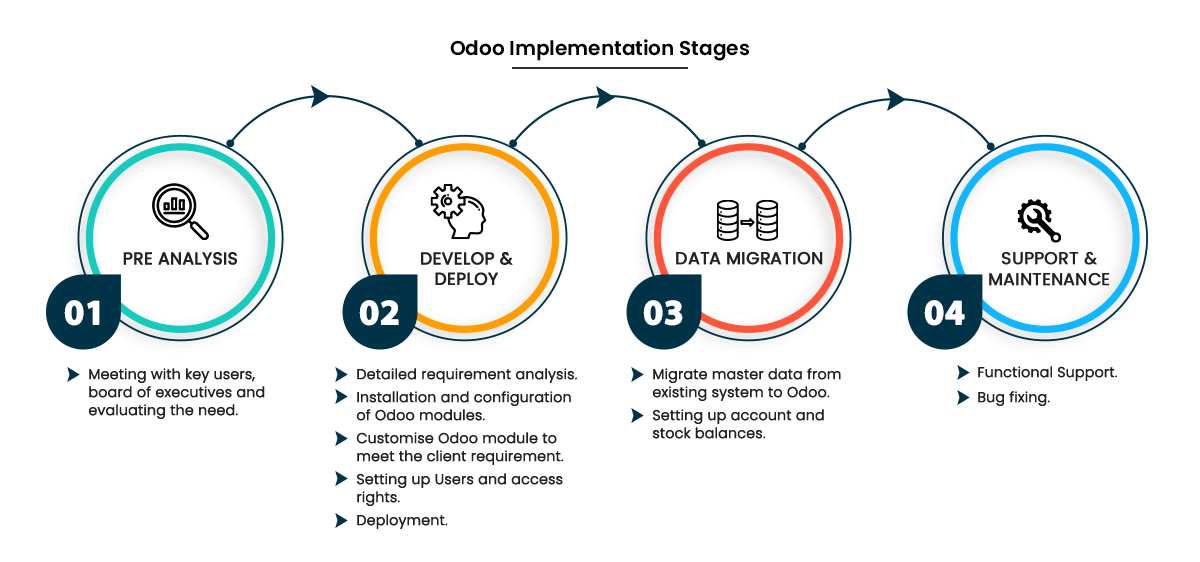 We provide Odoo implementation services to meet diverse business requirements. Our developers use the best technologies for Odoo ERP implementation in trading business. We develop rich, user-friendly and effective applications using PostgreSQL and Python. At Oodles, we have more than 10,000 Odoo supported applications to automate business processes. 
Connect with our ERP development team to avail the benefits of Odoo ERP implementation!