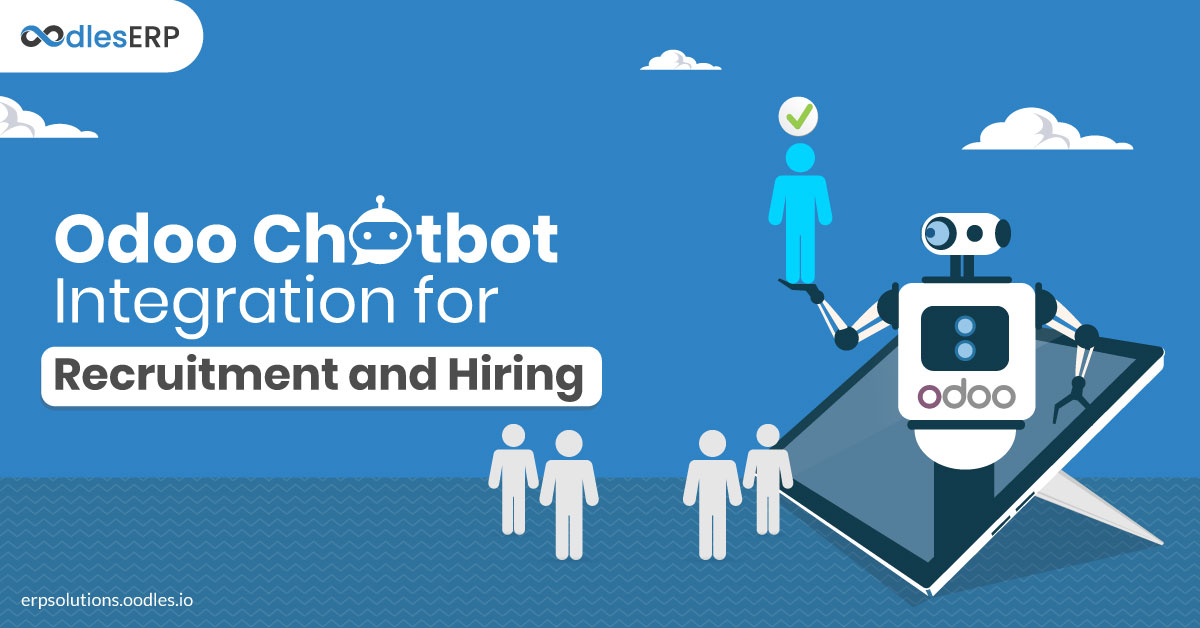 The recruitment process is a critical and significant aspect of human resource management. There is stiff competition among job seekers and its quite tedious to select the right prospect among thousands of applications. Implementation of an ERP system is essential to efficiently manage the recruitment process. Odoo is an open-source ERP platform that enables businesses to automate and streamline their ongoing activities. Integrating Odoo with chatbot enables businesses to screen out low-quality job profile submissions. Let's explore how Odoo chatbot integration enables businesses to automatically eliminate unsuitable candidates and let the pre-qualified personnel move forward in the recruitment process.
Oodles ERP has a skill set to develop recruitment software that integrates recruitment channels including applicant databases. We provide custom HR software development services to manage employee data and improve overall business productivity. 
Features of Odoo AI Chatbot
* Odoo AI Chatbot is capable of managing customer related queries and custom Odoo analytics-based queries. 
* It enables administrators to easily get custom responses related to any Odoo module that is installed. Be it a sales module or a project module, custom queries can be asked to the bot to get the best answers based on data available in the database.
* Odoo AI chatbot ensures the customer gets instant responses to their queries. From the latest deals to payment modes and shipping methods to order status, customers' can ask for any information.
* Odoo AI chatbot enables administrators to set up custom commands and responses to serve their customers. Administrators can add the intent name and a few other commands to interpret customer text and provide relevant responses.
Benefits of Odoo ERP for Recruitment and Chatbot for Hiring
A recruiting solution that integrates chatbot and ERP reduces the times and money required for staffing. Here is a use case showing how facebook chatbots or messenger bots enable businesses to achieve the following:
* Odoo chatbot integration significantly minimizes the cost of hiring. The reason is that a simple advertisement hooked up to the facebook messenger is cheaper than a job posting 
* Odoo recruitment module reduces the workload of recruiters. It automatically filters out the candidates who fail to submit the resume, thus reducing the work of the HR department.
* With social media job recruitment advertisements, companies obtain less than 1% of qualified candidates. Chatbot screening can significantly increase this number to around 40%.
Lead Generation through Odoo Chatbot Integration
Odoo chatbot uses a series of questions and an AI-based algorithm to select applicants that are a suitable fit for a particular job profile. 
Here is an example of the chatbot qualification process:
* Chatbot asks qualification, years of experience, and skills for a particular job profile
* It inquires if the candidate has experience in that particular field. 
* It shows the job requirements to the candidate and ensures if the KPIs are achievable by them or not.
If the replies of the above questions are satisfactory, the chatbot suggests submitting the applicants' phone number and email address. 
The chatbot is integrated with Odoo's ERP recruitment module that organizes and stores all the entries. As soon as Odoo's recruitment module receives a candidate's email address, it dispatches a confirmation letter inviting to move forward with the resume. The chatbot algorithm working in combination with the recruitment module reduces spammers, slackers, and unskilled candidates. It enables the hiring team to filter the resumes efficiently.
Integrating Third-party Applications with Odoo HR Recruitment Module
Integrating third-party applications with Odoo HR recruitment module enables HR professionals to find the right candidate. Third-party applications like LinkedIn, Twitter and Facebook enable personnel to connect with industry professionals. The main advantage of Odoo chatbot integration with third-party apps is that it reduces the overheads of HR employees and enable them to analyze multiple candidates profile. 
Avail Benefits of Odoo Chatbot Integration with Oodles
Improve your business efficiency with our Odoo customization services. Our ERP team has an experience of more than 6 years in customizing and implementing Odoo solutions for specific business domains. We have a powerful stack of more than 10,000+ Odoo supported applications to manage business processes. Odoo has various modules to carry out business activities like inventory management, HR management, sales, and accounting management efficiently. 
Our ERP team has experience in developing HRM systems that automate core HR operations like onboarding activities and employee recruitment. Our HRM solutions enable businesses to gain greater visibility to enhance HR processes and employee experience. We develop customized human resource solutions using Odoo, Ofbiz, Opentaps, Sentrifugo, and ERPnext. 
Get in touch with our seasoned ERP development team to schedule a discussion!