Accounting in Odoo 12: An Overview
Accounting involves maintaining ledgers, recording assets, and counting liabilities to determine the economic position of a company. To enable businesses in keeping a record of their financial transactions Odoo launches its accounting software version 12. Odoo 12 accounting version enables businesses to record transactions; create, send, and reconcile invoices; process payments; and audit statements. 
Let's explore some of the core features of Odoo 12 Accounting software. 
Features of Odoo 12 Accounting
1.  Odoo 12 automatically creates an additional entry of every transaction including customer invoices, inventory movement expenses, the point of sales, etc.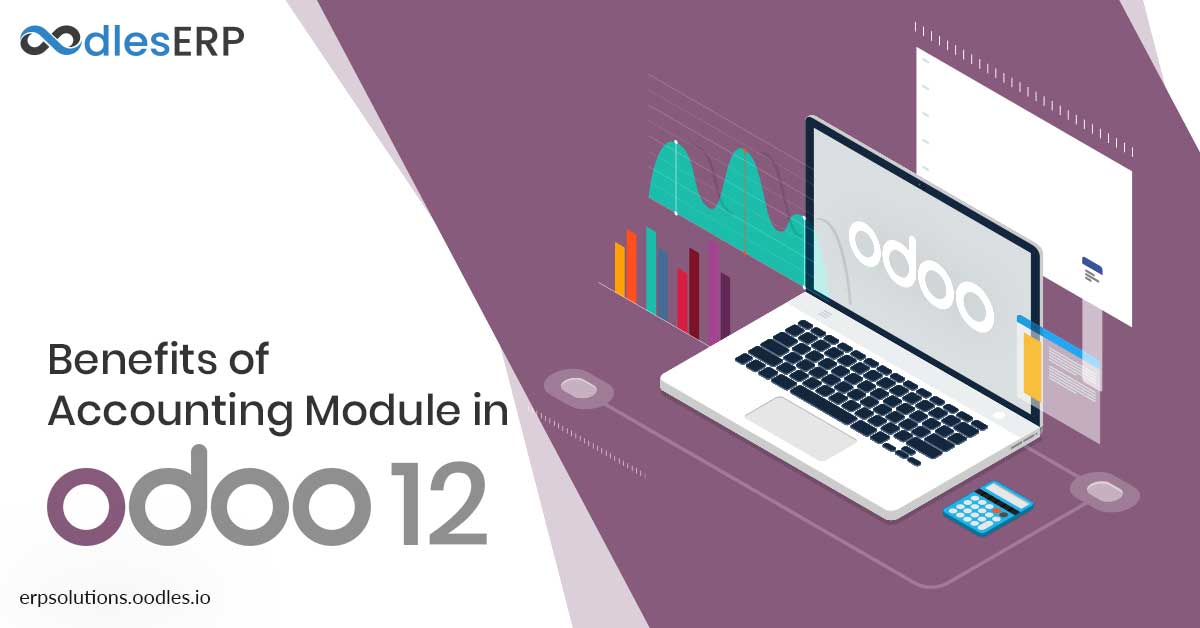 Odoo 12 accounting module enables businesses to keep a record of their financial transactions. It is used in sending invoices, processing payments, etc.
2.  Supports accrual and cash basis methods through which businesses can report any income/expense at the time of transaction.
3.  Robust software to support and manage multiple companies.
4.  The multi-currency support feature enables businesses to make transactions in other countries.
5.  Facilitates organizations to create real-time financial reports, management reports, performance reports, cash reports and more
6.  Speeds up the bank reconciliation process and makes the task of importing bank statements directly from your bank to the Odoo account easier. 
7.  Enables businesses to conduct both manual and automatic inventory valuations.
8.  Automatically calculates current year earnings to eliminate year-end journal and rollovers.
9.  Odoo 12 has simplified the process of matching credit and debits by linking journal entries.
Different Types of Payment Workflows and invoices 
Odoo 12 accounting software supports different types of payment workflows and invoicing. Let's explore some: 
Invoice Creation: Businesses can manually create sales orders, purchase orders, etc. with invoicing or sales app. It also facilitates businesses in splitting a payment into multiple invoices or an invoice into multiple payments. 
Open invoices: An invoice includes information like price, quantity, dates, parties involved, tax details, etc. Once an invoice is ready, it gets validated and the status changes to an open invoice. A detailed invoice can be sent to the customer via email for validation. 
Reconciliation: Odoo 12 makes it easier for businesses to reconcile their invoices with banks or other systems. Businesses just have to integrate their banks with Odoo 12  to automate reconciliation. 
Payment follow up: Tracking the payment and keeping a regular follow up is essential to avoid overdue. In the case of any overdue or other payment-related issues, businesses can take necessary actions using Odoo 12 accounting.
Customer aging report: The customer aging report is used to check whether there are issues in the plan or customer credit.
Profit and loss: The businesses can access revenue and expense reports from the profit and loss statements. It gives a clear idea about the present financial/accounting scenario.
Balance sheet: The companies can access all the information regarding liabilities, assets, and equity from the balance sheet.
Latest Additions and Changes in Odoo 12 Accounting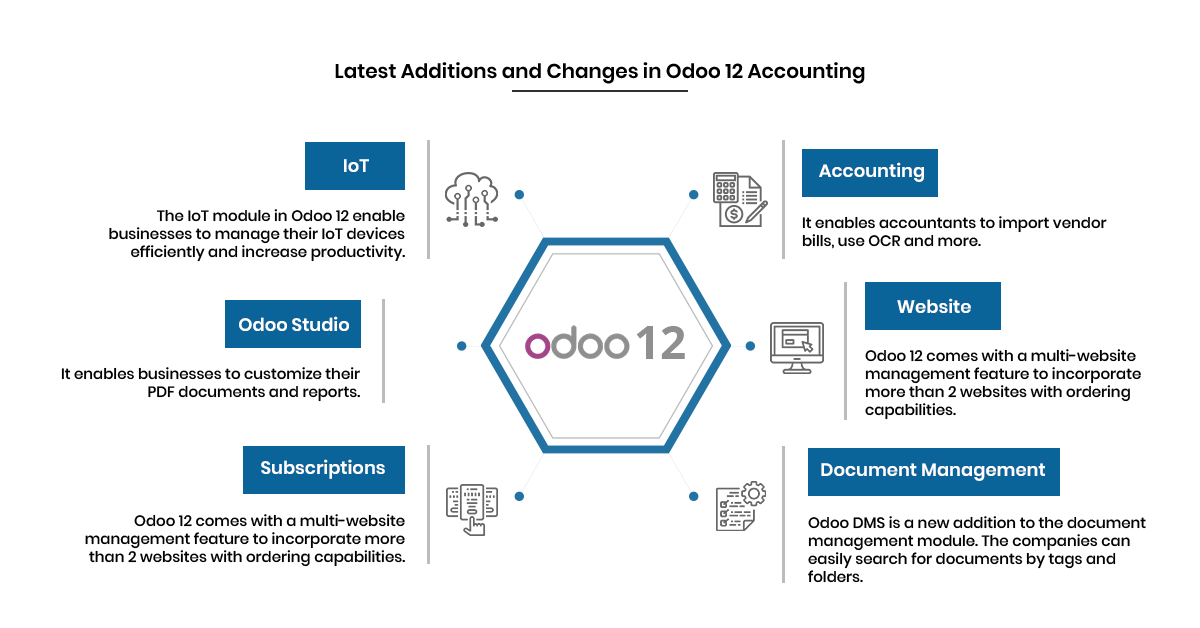 Accounting- Odoo 12 enables accountants to import vendor bills, use OCR and more.
Website- The software comes with a multi-website management feature to incorporate more than 2 websites with ordering capabilities.
Document Management- Odoo DMS is a new addition to the document management module. The companies can easily search for documents by tags and folders.
IoT- The IoT module enables businesses to manage IoT devices efficiently to increase productivity. 
Subscriptions- Simplified subscription management with new enhancements in the module.
Odoo Studio- It enables businesses to customize their PDF documents and reports.
Conclusion
The purpose of Odoo 12 accounting software is to micro-manage every financial activity including accounts receivable, accounts payable, bank balances, etc. It includes various modules to facilitate double-entry bookkeeping, multi-currency support, inventory valuations and more. Several new additions and changes have been made in Odoo 12 to ensure the smooth running of businesses to enhance customer experiences.
Transform your business operations with our Odoo development services. We offer custom Odoo ERP solutions to automate your reporting tasks and provide timely updates on finance reports, sales reports, etc. Our team develops a full-fledged ERP system from scratch with custom features of your choice. Contact us today to get in touch with our experts! 
To Read Next: Odoo Version 13 Roadmap and Updated Features: A Sneak Peek
Tags:
accounting module
,
odoo 12
,
odoo accounting
,
Odoo development company
,
odoo development services