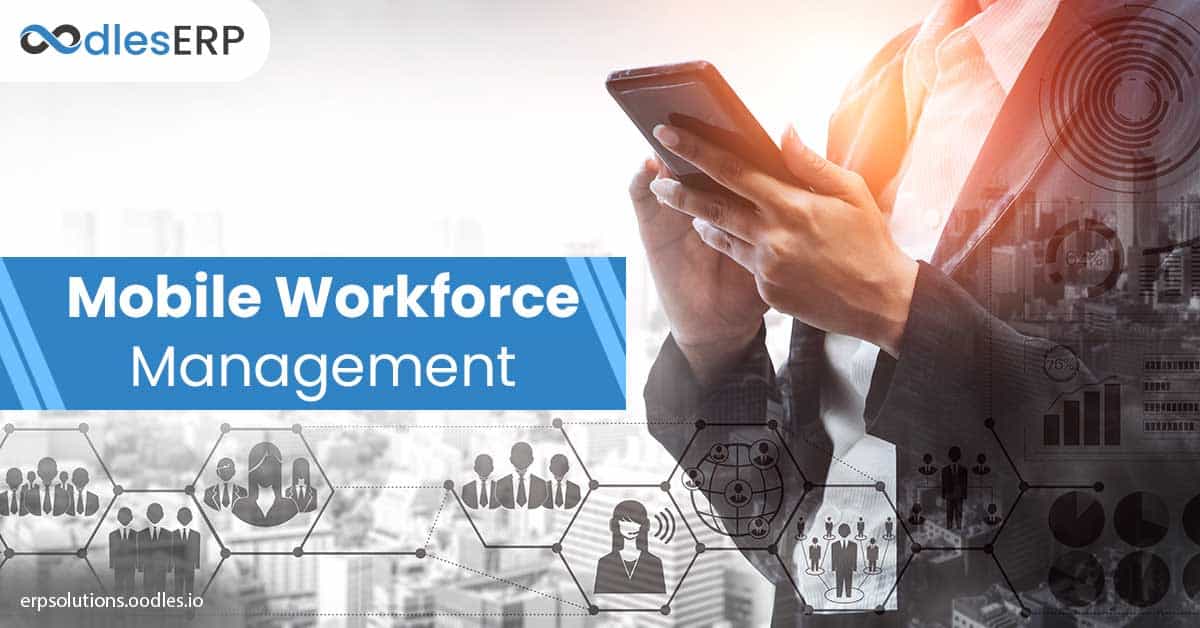 Mobile workforce management improves ROI for businesses with field workers. The right mobile workforce management software will enable businesses to reduce risks, create visibility and enhance operational performance and workflows. According to the strategy analytics report, the global mobile workforce is predicted to reach 1.87 billion by 2022, adding up to 42.5% of the total global workforce. Let's explore the key benefits and trends of mobile workforce management solutions. 
We program the workforce management system to manage employees easily by creating effective schedules, tracking time and attendance and administering payroll activities. Our mobile workforce management solutions enable businesses to optimize and manage the services undertaken by the field staff. 
Also Read: Workforce Management Software: Key Features and Requirements 
Key Benefits of Mobile Workforce Management
Reduces Operational Complexity
Back office complexity can create numerous operational challenges, especially for the finance and accounting departments. Businesses with multiple legacy systems and no centralized location for accounting and operational requirements are at a disadvantage when it comes to serving customers.
Mobile workforce management solutions enable back-office teams to streamline payroll and invoicing, thus lowering general and administrative costs. In addition, it reduces invoice turnaround time and can enable a business to get paid faster by sending accurate invoices. Here are some additional benefits of reducing operational complexity:
* Decreases Day Sales Outstanding (DSOs)
* Improves payroll accuracy
* Decreases overhead expenses 
* Decreases invoice turnaround time
Create Simple Schedules from Complex Requirements
Scheduling mobile workers efficiently is a difficult task to accomplish. There are competing priorities, personal obligations, absences, schedules and plenty of other variables that make scheduling challenging tasks. Mobile workforce management software reduces the logistical complexity of scheduling employees and contractors working out in the field. 
Here are some key benefits of intelligent scheduling:
* Reduces rescheduled or missed appointments
* Minimizes response time for status updates
* Increases employee utilization
* Decreases waiting period for urgent jobs
* Route and travel optimizations
Increases Business Efficiency
It is essential for field service employees to be productive and efficient. Mobile workforce management solution enables business managers to compare the actual time of employees spent on tasks and travels with the expected time. In addition, it enables business managers to check the efficiency of their employees and provide training or support where issues are identified. 
Enhances Customer Satisfaction
The success of a business depends on its customers. Every customer interaction is critical but can be difficult to manage. With mobile workforce management software, businesses can manage every interaction efficiently and it ensures each interaction is automatically updated. In addition, the data is integrated with the location of the mobile workforce to result in smart task allocation and satisfied customers. 
Mobile Workforce Management: Trends and Challenges
Mobile-first Management
Modern mobile workforce management solutions enable employees in an organization to be more agile and collaborative. Information and other essential details can be easily imported into the CRM system directly from the field in real-time. The employees can even access customer data anytime to ensure they are prepared for the tasks. 
Mobile workforce solutions are better equipped to handle the unpredictability of the tasks. Here are some of its additional benefits:
* Employees can stay connected throughout the day. They have real-time access to job locations, customer information, and schedule updates. 
* Schedulers and business managers can track team performance in real-time and communicate about schedule changes to analyze productivity.
Data-based Decision Making
From optimizing delivery routes to tracking employee performance, big data has the potential to improve internal efficiency and operations for most of the business verticals. 
Data-based decision making is a critical component of managing a mobile workforce. Business managers can analyze data points like travel time, appointment length and survey results around customers and employees to make critical decisions.
Avail Benefits of Mobile Workforce Management with Oodles
We are an ERP development company that provides mobile workforce management solutions to streamline the processes involved with managing field workers. Our skilled ERP team provides a real-time, end-to-end enterprise solution that enables businesses to achieve maximum visibility and control over the performance of field resources. 
The selection of the right framework along with an apt platform and development strategy is essential. Here are some key frameworks we use for building a mobile application:
Ionic: It is one of the leading mobile development platforms that enable businesses to build hybrid and progressive web applications. Ionic is an open-source framework that provides premium services for creating applications. It builds applications for Android, iOS, and web. In addition, businesses can constantly create applications while working in Ionic. 
Flutter: It is a UI toolkit launched by Google for building hybrid mobile applications. Flutter is an open-source mobile application development SDK that is popular for cross-platform app development and written in Dart language. It uses a 2D rendering engine called Skia to develop the visuals. In addition, its layered architecture ensures a faster rendering of components. 
React Native: It is an open-source framework that provides ample support to the IDEs and other mobile app development tools. React Native is used to develop rich applications for both android and iOS. 
Get in touch with our ERP development team to avail the benefits of mobile workforce solutions.