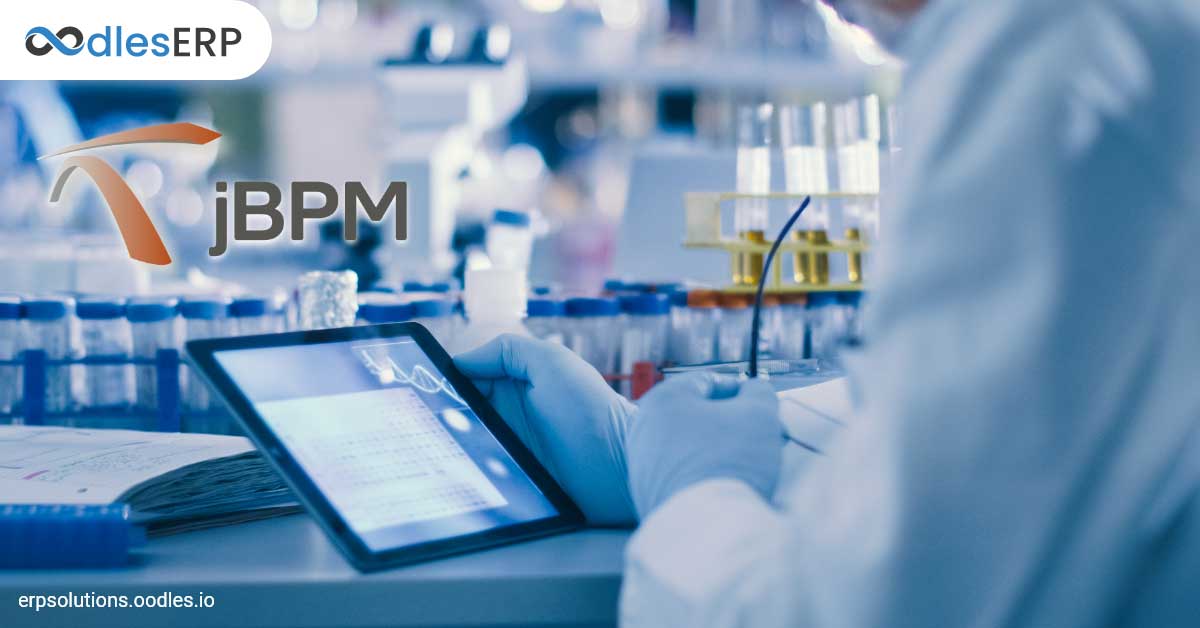 The pharmaceutical industry faces numerous challenges in the form of regulatory restrictions, quality control, data analysis, and complex legislation procedures. Besides, there are ever-growing market demands, increasing competition, and quality audits, not to mention the extensive manpower requirements all along. In such a convoluted operational ecosystem, it becomes difficult to fulfill the market demands in the absence of an automated business process management software. 
jBPM is a Java-based workflow engine that can help pharmaceutical companies to automate their business processes and reduce manual complexities. Besides, it provides a comprehensive business process management toolkit to seamlessly execute business processes described in BPMN 2.0 protocol. Pharmaceutical companies can use the jBPM suite to develop performance-driven business applications to automate complex business processes and streamline data management.
We, at Oodles ERP, specialize in developing business applications for automated workflow management using jBPM. Our jBPM software development services enable enterprises to centrally manage their business workflows and boost operational efficiency with intelligent decision making. Based on our own experience in business process management, we highlight the significance of jBPM software development for pharmaceutical companies.  
Also read Solving Vehicle Routing Problem Using OptaPlanner
Why Use jBPM?
jBPM is an exceedingly lightweight and extensible workflow engine that renders more flexibility and better control over diverse business processes. From the developers' perspective, it is extremely useful and easy to implement as it's a purely Java-based engine. Developers can run it in any JVM environment, embed in the existing application, or use it as a service. 
Besides, the open-source Apache license significantly reduces project costs, enabling businesses to develop full-fledged BPM solutions without any platform-specific constraints. 
Given below are the benefits of jBPM software development services in the pharmaceutical industry. 
Clinical Trials
jBPM software development would enable pharma companies to automate their critical operations, which in turn, accelerates protocol creation and modification. It strengthens and streamlines clinical trials by rendering a centrally-managed work platform. At the same time, it enables data management and optimization, providing a centralized repository for information storage and retrieval. 
Compliance and Regulations
A pharmaceutical company faces numerous challenges while aligning its operations in compliance with data governance and regulation policies. According to BioProcess, lack of compliance with treatment procedures costs up to $100 billion every year in the US alone. Besides, in many countries, compliance and regulatory procedures can be quite expensive. It is observed that compliance and regulation procedures account for as much as 35 percent of the costs associated with a clinical trial. 
Taking these factors into account, jBPM can greatly simplify the process by identifying gaps and establishing effective compliance roadmaps. Besides, it provides increased flexibility and scalability to handle compliance operations with ease. 
Product Development
Implementing a business process management system like jBPM will enable pharmaceutical companies to significantly improve their production quality and accelerate time-to-market. jBPM software development lets you optimize various processes associated with the drug development value chain. In doing so, it gives you better control over the drug manufacturing and supply chain processes. At the same time, it enables pharma companies to achieve higher operational efficiency, boost productivity, and accelerate product development lifecycle.
You may also be interested in using Odoo ERP Development For Pharmaceutical Industry
Wrapping Up
Pharmaceutical companies must employ tech-driven methodologies to keep pace with the increasing market demands and meet their daily schedules. At the same time, the pharmaceutical supply chain must be scalable enough to address the increasing customer demands and dynamically changing market conditions. That being said, automated workflow management using jBPM will give them the flexibility and agility to handle their day-to-day operations. It also mitigates manual processes, boosts productivity, and drives intelligent decision making.
Avail Our jBPM Software Development Services To Enhance Your Business Productivity
We are an ERP development company having years of industry experience in jBPM implementation and customization for diverse business needs. Our development team is skilled at using the jBPM workflow management software to enable automation across all business verticals. Our end-to-end jBPM software development services enable businesses to solve their complex business problems and boost productivity. We have successfully completed several business process management projects for cross-industry enterprises from across the globe. For more information, reach us out at [email protected].