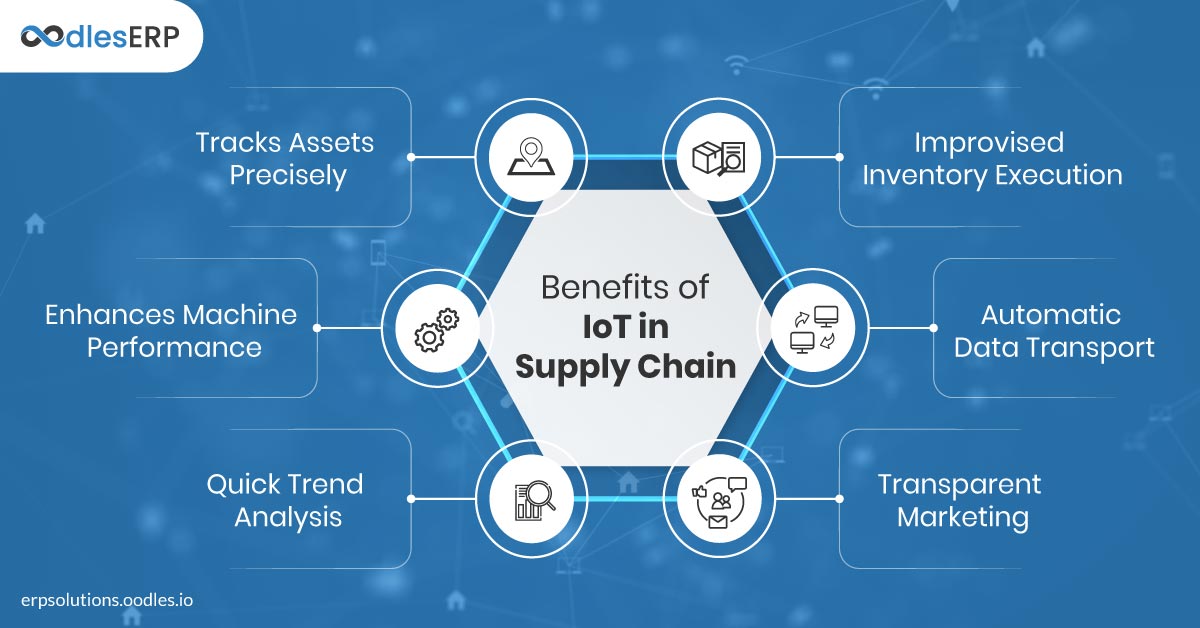 IoT in Supply Chain:  An Overview
IoT is a next-gen technology that businesses are exploring to gain efficiencies and transform processes. One critical business function where IoT has a big impact is supply chain management. Retail and manufacturing businesses can use smart sensors to track goods and raw materials to strengthen the integrity of their products. An IoT based supply chain management solution can provide real-time updates for effective planning and better coordination between all stakeholders. It can streamline processes with high accuracy and a significant reduction in manual efforts, errors, and costs. 
 According to a Gartner study, more than 50% of new businesses will undertake IoT initiatives by 2020. It underscores the importance of using an efficient supply chain to gain a competitive edge in a customer-centric economy. 
That being said, businesses that invest in IoT solutions need to consider the inherent security vulnerabilities of IoT. It is critical that the manner in which data transmitted by IoT devices are saved and accessed is highly secure. 
This blog post discusses the benefits of using IoT in supply chain management.
Benefits of IoT in Supply Chain
Accurate Tracking
Smart sensors are effective for tracking the movement of assets. Scanners placed at strategic locations can provide accurate updates about the movement of goods and their status including damage. It provides businesses better insights into the inefficiencies in their supply chain to take corrective actions.
Better Inventory Management
IoT solutions enable businesses to check inventory levels efficiency with the aid of smart sensors. They can monitor the movement of goods to ensure that benchmark inventory levels. It enables informed decision making with the provision to place reorders automatically. 
Proactive Maintenance
One of the biggest benefits of using IoT devices in supply chain management is that they can provide real-time updates. It includes wear and tears detection in the manufacturing unit since any disruption there has cascading effects throughout the supply chain. An IoT solution provides a predictive alternative to the preventive maintenance schedule typically followed by manufactures. It provides critical insights to stakeholders to plan for failures in advance to avoid disruptions.
Automatic Ordering
IoT solutions can automatically place orders for multiple products and make payments to suppliers too. For instance, a car manufacturer who relies on multiple raw material suppliers to manufacture cars requires carefully planned IoT in Supply Chaining. An IoT solution can accelerate inventory management using data from smart weight sensors to detect inventory levels. If it detects lower than necessary levels then it will automatically place orders to all vendors.
Quick Trend Analysis
The analysis of IoT data can provide valuable insights to accelerate supply chain processes. Businesses can gain critical insights for better route planning, financial planning, and regulation compliance.
Gain Benefits of IoT in Supply Chain with Oodles
We provide supply chain software development services that enable businesses to monitor and manage their inventory more accurately. Our supply chain software development services include asset tracking solutions, shipping, and logistic solutions, electronic data interchange and inventory management systems. Contact us to understand the impact an IoT solution can make on improving your business processes.
To Read More: Benefits of Using Machine Learning in Supply Chain