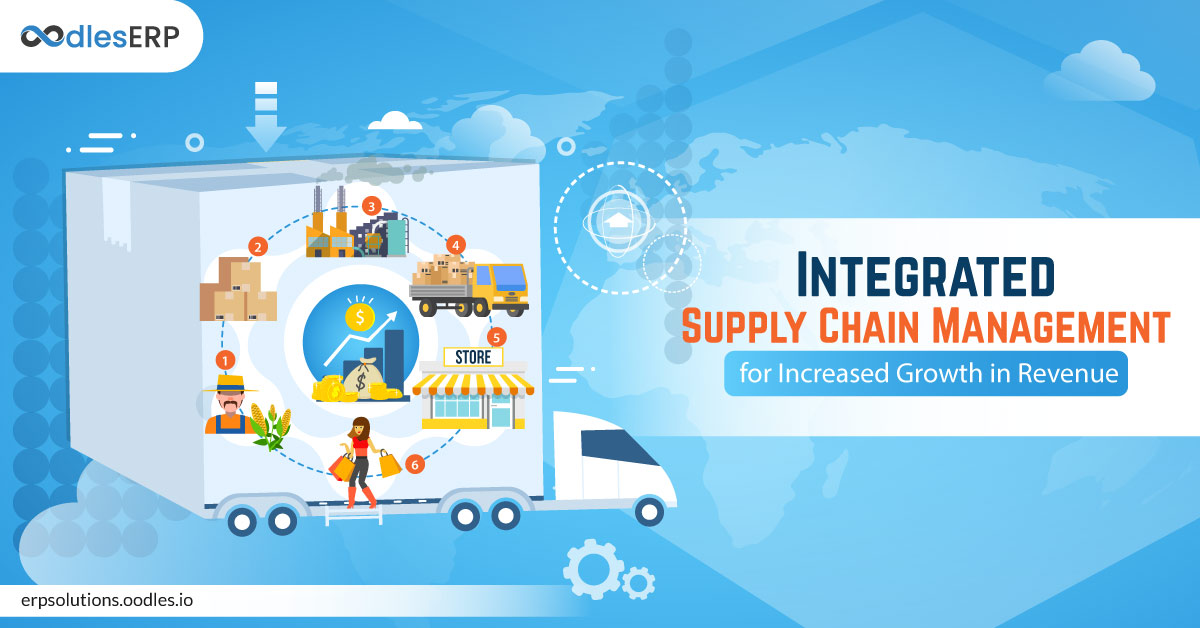 Integrated Supply Chain Management: An Overview
Successful supply chain management requires synchronization between demand and supply factors. To cope up with the tight profit margins, decreased differentiation between brands and increased competition, Businesses are adopting integrated supply chain management to improve profit margins as brand differentiation becomes difficult and competition intensifies. According to a 2014 survey by Deloitte, 79% of companies with high-performing supply chain achieve greater revenue growth than the average within the same industries. Supply chains must operate in an integrated manner to improve revenues.  
Integrated supply chain management solution refers to a process wherein every phase from procurement of raw materials to production, quality control to packaging and distribution to delivery is streamlined. Read this article to understand why an integrated supply chain is important for gaining a competitive edge in today's globalized marketplace. 
Horizontal Supply Chain Integration
Horizontal integration refers to business expansion through acquisition, internal expansion or merger to increase the production of services or goods at the same level part of the supply chain. In other words, it is the acquisition of a related business. For example, a Central Processing Unit (CPU) manufacturer can merge with similar companies in the same industry to appeal a wider and more diverse customer base.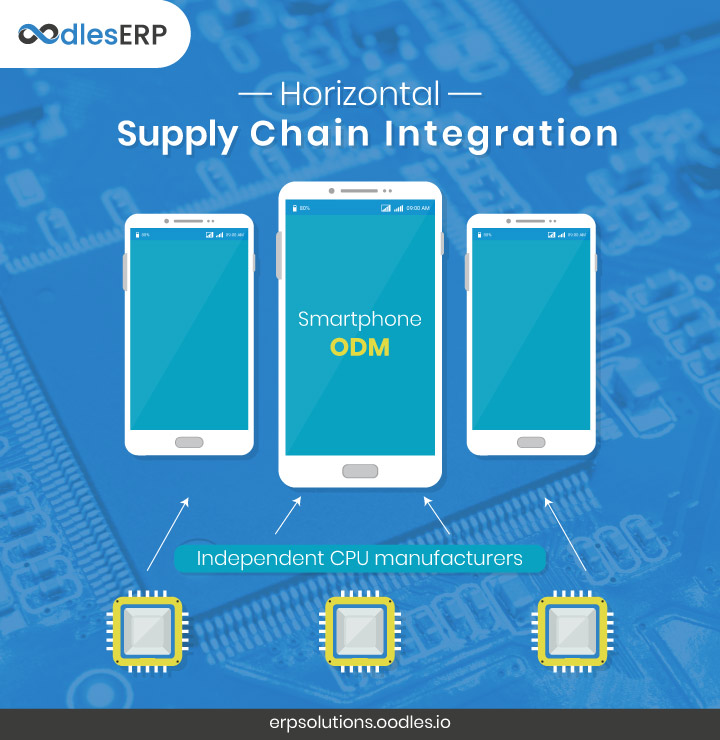 With horizontal supply chain integration, organizations can increase their size, diversify the product, reduce competition and achieve economies of sale. Horizontal integration increases the ability of a business to produce more revenue. Additionally, merged companies can cut down costs on marketing, sharing technology, distribution and research, and development production.
Vertical Supply Chain Integration
Vertical integration refers to a merger or acquisition of companies at different stages of production or distribution within the same industry. For example, if the CPU manufacturer also merges with the smartphone product development firm, they would be able to control a larger part of the supply chain. Through the acquisition, organizations would achieve greater control over their costs, reduce waste and time spent in production.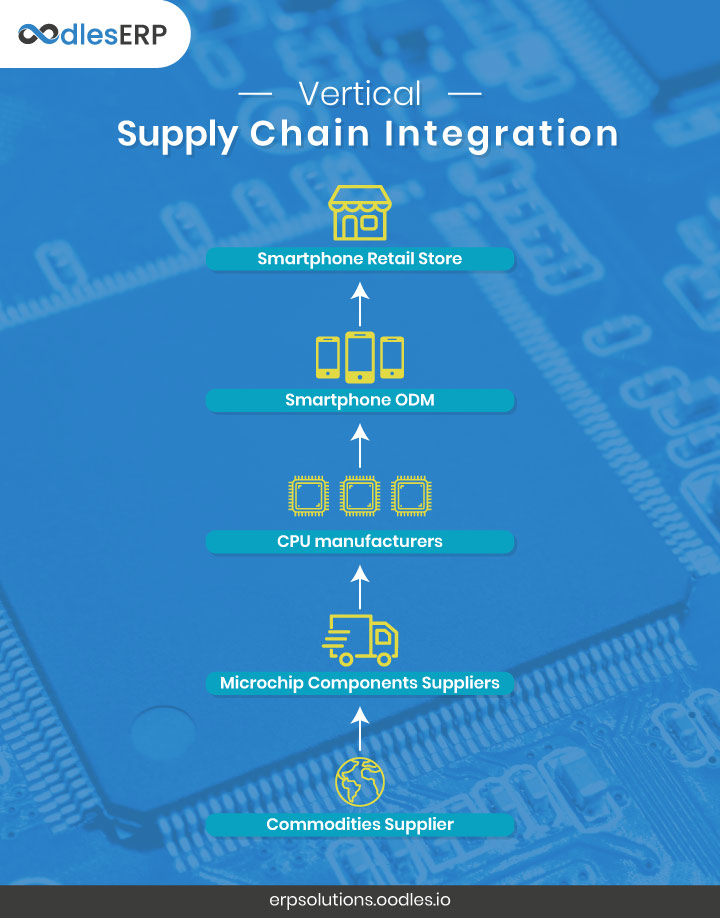 Businesses choose vertical integration to gain complete control over their supply chain. Vertical integration strengthens the supply chain, reduces production costs and eliminates delays in delivery and transportation. 
Vertical integration can be done in two ways: forward and backward. Forward integration occurs when a business decides to take control of the post-production processes. It is a process of acquiring a business ahead of its supply chain. It brings the manufacturer closer to the customer and generates more revenue for the business. Backward integration occurs when a business acquires another business that provides raw materials or sub-assemblies necessary for their business. For example, a car manufacturer acquires a tire manufacturer for the internal production of its supply chain.
Different Technologies to Enhance Integrated Supply Chain Management
Artificial Intelligence (AI):
AI can gather data across the entire supply chain through smart sensor technologies combined with Industrial Internet of Things (IIoT) and robotics. It monitors everything in the supply chain from weather patterns to shipments. It enhances traceability, agility and supplier communications.
Robotic Process Automation and ERP:
Robotic process automation enables organizations to manage routine back-office tasks such as monitoring inventory, data entry and order processing. It reduces the possibility of human error and monitors these tasks 24/7 in real-time. It enables stakeholders to focus on more important tasks to enhance overall productivity.
Blockchain:
Blockchain technology is gaining momentum in supply chain management as it provides greater transparency and visibility within supply chain transactions. It solves the problem of complicated record keeping and reduces the overall cost of moving items within the supply chain. Using blockchain technology in the supply chain makes it easier for manufacturers, suppliers, distributors to share information and prevent delays along the chain. 
Challenges of Integrated Supply Chain Management
Collaboration Across Supply and Partner Networks:
In today's manufacturing companies, the network of production platforms is difficult to manage. End-to-end (E2E) visibility in the supply chain is important to ensure that the right products are produced at the time. A fully integrated supply chain enabled managers/planners to make adjustments or modifications to planned production programs in real-time. It ensures efficiency, on-time delivery, and cost-effectiveness.
Real-time Communication and Data Analysis:
Before the concepts of intelligent planning solutions and integrated supply chain were introduced, order alteration was difficult. The modification in the order would mean significant disruption as more resources and time would be required to make the adjustment. But, with a fully integrated supply chain business owners can communicate product information in real-time. It also enables planners/managers to adopt the order fluctuation immediately and ensure the right quantities of product/parts to reach the customers. 
Agile Production Network:
In today's automotive supply stream, the ability to adapt to changing parameters of production, fluctuations in inventory levels and disruptions is essential. An integrated supply chain leads to a robust production platform that is capable of withstanding alterations and modifications. It improves data accuracy and creates a responsive production network. 
Transparency of Materials and Inventory Status:
A fully integrated supply chain with intelligent planning solutions and strategies like Plan for Every Part (PFEP) and container management strategies enable managers/planners to view, track, modify inventory levels and container pull strategies based on production levels or demand. Transparency and sharing of information between sales and planning stages of value chain enable manufacturing companies to create accurate forecasting. 
Gain Benefits of Integrated Supply Chain Management Solutions with Oodles
We have experience in developing integrated and comprehensive supply chain solutions.
At Oodles ERP, we build robust software solutions for warehouse inventory management that enable stock adjustments and provide status updates. We have developed smart SCM solutions that provide transactional records with data from sensors and IoT devices. 
The key benefits of developing integrated supply chain management with us are: 
Achieve greater collaboration among stakeholders. 

Avail solutions for inventory management, warehouse management, asset tracking, order processing, shipping, and logistics.

Establish and re-design efficient supply chain processes 

Effectively use various components of integrated planning like demand planning, scheduling, production planning, sales, and operations planning. 
From integration services to industrialization 4.0 and cloud-based services to personalized consulting, our ERP team provides efficient supply chain development services. We also provide end-to-end supply chain software development services for the retail and manufacturing industries.
Concluding Thoughts
With an integrated supply chain management, organizations can have reliable order quantities and increased profits.  Integrated supply chain enables organizations to shorten their product life cycles by decreasing the links in the supply chain from back to front. It ensures tighter coordination between delivery, warehousing, and transportation.
Also Read: ERP in Supply Chain Automation