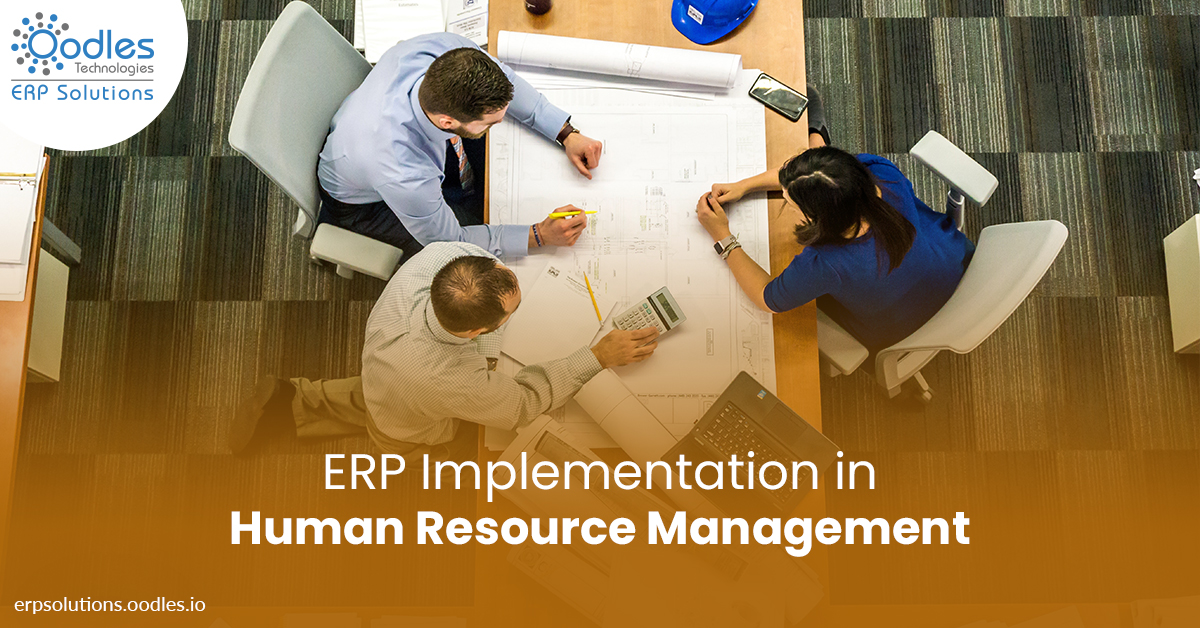 No matter how good and victorious you are, your business and its future lie in the hands of people you hire'. Human resource management (HRM) is an inevitable part of businesses.
ERP, a term coined by Gartner Group, is a process to unify all the departments of an organization into a single integrated software program. All the departments use a single database to share and communicate information.
In this blog, you will read about the functions of HRM module in ERP, problems faced while ERP implementation and recommendations to overcome them.
Functions of Human Resource Management Module in ERP
| | |
| --- | --- |
|          Traditional Functions of HRM |   Extended Functions of HRM |
| | |
| Personnel Management | Human resource planning |
| Compensation Calculating | Time management |
| | Performance management |
| | Training management |
| | Business trip management |
| | Compensation management |
1.) Recruitment Management:
Human resources department is one of the foundational assets of a company. That's why the recruitment process should be taken as an important investment.
It is important that the HR department has a reasonable recruitment system to hire talents for the company.
ERP implementation can support it in the following ways:
* Provides useful information for decision making
* Optimizes the recruitment process to minimize workload
* Provides scientific management to recruitment costs
2.) Time Management:
It is an important function of HRM which supports planning, controlling and management of processes.
How ERP implementation supports this function?
ERP system uses a Telematics Control Unit (TCU) to record the relevant information and attendance rate.
3.) Human Resource Planning:
Human resource planning is done conveniently with the HRM module of the ERP system.
ERP implementation helps in the following ways:
* Forecast or analyze human resource planning costs by integrating relevant information.
* Stimulate the performance of human resource planning and assists the decision making of managers.
4.) Training Management:
ERP implementation in human resource management helps employees to acquire technical and business skills that are necessary to become fully participating team members at an early stage. With ERP implementation, team members will accept improved management regulations.
5.) Business Trip Management:
Whether it is about application, ratification or reimbursement, functions of ERP modules control the flow of the business trips.
Problems Faced in ERP Implementation in Human Resource Management
Insufficient Training of Employees:
Most of the enterprises do not focus on investing much in the cultivation of employees. They do not invest much in the training and education of employees due to a lack of in-depth ERP understanding and knowledge.
Shortage of Professionals:
Since ERP is both, an advanced technique and an advanced management concept, it is necessary to have inter-disciplinary professionals for ERP success. Implementation of ERP in human resource management requires both IT and management experts.
Poor Compensation Mechanism
A competitive compensation mechanism does not only attract applicants but also prevents the job-hopping of employees. But the reality is compensation mechanisms of companies are not attractive enough.
Recommendations to Implement ERP Successfully in Enterprises
Redesign Functions of HRM:
For successful ERP implementation in HRM, it is necessary that ERP has the extended functions of HRM rather than traditional ones like personnel management and compensation calculating. Because it will be more favorable for inter-departmental cooperation.
Great Emphasis on Training and Personnel Education:
The enterprise should lay great emphasis on training and Personnel education of employees for successful implementation of ERP.
The human resource department can organize an ideological education session for common staff as well as senior managers to arouse their concerns related to ERP implementation.
Enterprises should also focus on the quality and frequency of Personnel training.
Encourage Exterior Consultation and Supervision Function for Adoption of ERP:
For practical guidance, it will be a good idea if enterprises invite exterior experts. Enterprises can even send their HR staff to visit other organization that has implemented ERP to gain experience.
The human resource department should also establish a supervision department, made up of exterior experts and interior managers.
Concluding Thoughts
With the continuous changes in information technology, enterprises are now adopting the updated ERP system.
ERP systems are now using the extended functions of HRM. ERP implementation in human resource management raises the success rate and improves the whole management level of enterprises.
So, now its time to put an end to tedious and time-consuming tasks in HR and Oodles ERP will you in that. We offer best-in-class Human resource management products with excellent support systems and well-defined implementation technology. Here are some of the services we help you with:
* Seamless integrations
* Better workforce
* High scalability
* Plug and play modules
* Streamlined processes and workflow
To Read More: ERP Human Resource Development Software