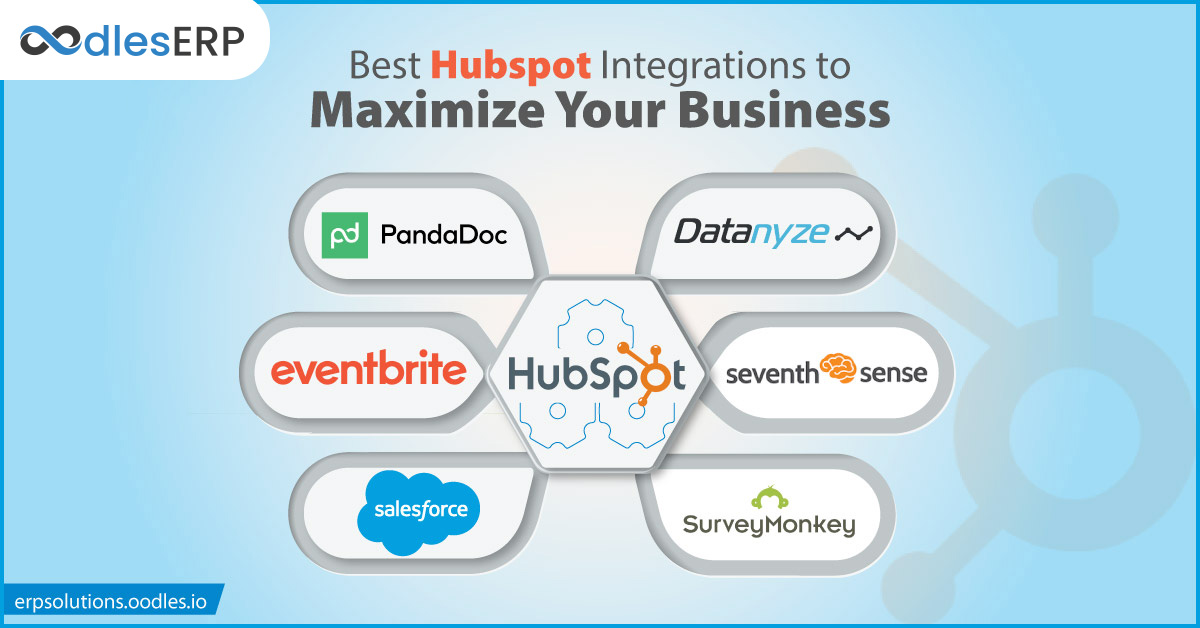 Best Hubspot Integrations: An Overview
'Growth in business is never by mere chance, in fact, it is the result of different and new strategies'. Whether it's a manufacturing industry or an e-commerce store, everyone just wants to be on the top. Hubspot integration is one of the most powerful solutions to keep you a level up in business. Hubspot offers the benefits of inbound marketing methodology and its amazing impact on the client's success. And, don't forget, the more you automate, the more time you will get to build relationships with prospective customers. Read further to discover the best HubSpot integrations to positively impact your business.
Hubspot is an inbound marketing software that helps businesses attract visitors, convert leads and close customers. It offers seamless integration with inbound marketing. Here are a few points that differentiate Hubspot from other platforms:
Utilizes inbound methodology: Attract, Convert, Close and Delight

It is an integrated marketing platform.

Offers a social media marketing platform equipped with scheduling, listening and participating in social engagement.

It has a system for tracking keywords and maintaining white glove SEO tactics.

Offers a sales integration to bridge the gap between marketing and sales

Provides a system for e-mail marketing and lead nurturing.
Benefits of Hubspot Integrations
Social media integration

Website integration

Real-time updates

Track communications

Workflow automation

Advanced content creating

Marketing

Sales
Top Hubspot Integrations to Maximize Your Business
1.) Datanyze
Datanyze automatically enriches contact records in your HubSpot portal by sourcing technographic and firmographic information. It fills the informational gaps in your contact database.
Benefits of Integration: It keeps you on the top with the most qualified leads. This integration configures to trigger an alert based on the contact properties that are sourced by Datanyze.
2.) Seventh Sense
Seventh sense analyzes the engagement data in your HubSpot account and then delivers each of the emails you send at the time when an individual is most likely to engage with emails.
Benefits of Integration:
Seventh Sense is a HubSpot connect partner

Analyzes engagement data in your HubSpot account

Allows to schedule HubSpot workflows that need to be delivered through seventh sense.

Increases click-throughs and email open rates
3.) SurveyMonkey
This software conducts quick surveys from quantitative research. It gathers real-time insights from companies database. These surveys are carried out to gauge interest from prospects, get market information, understand the thinking process of customers, gather NPS score and much more. It offers companies to get real-time feedback from customers. Hence it allows companies to make better business decisions and address customer issues fast.
Benefits of Integration:
Create custom contact properties

List down the number of people who have completed and who have not completed specific surveys.

Pass contact information of specific customers to salesforce

Sync details of survey responses to HubSpot
​4.) Salesforce
Salesforce is one of the most powerful CRM platforms and integrating it with HubSpot enriches the marketing database with essential sales data. Integration of these two offer organizations the ability to perform cross channel reporting and gain greater visibility overall.
Benefits of Integration:
It bridges the marketing database and sales database, allowing information to move seamlessly between them.

Sales team constantly has the up to date leads from the marketing team
5.) Eventbrite
One of the most important parts of marketing and sales strategy is connecting with customers in a meaningful way. Eventbrite is a platform that helps you optimize the registration, promotion, and analysis of your event. It organizes and manages the logistics that go into hosting an in-person event.
Benefits of Integration
It automatically syncs data collected from offline marketing sources to HubSpot. This enables marketers to track outbound efforts to revenue.

Gives the ability to monitor activities on your site

Track events that create the most customers

Sync information captured about customers for the event with their contact records.
6.) PandaDoc
PandaDoc generates professional online documents, an amazing replacement to the PDF. It offers transactional functionality within the docs. It has the ability to automate documents for salespeople like proposals, quotes, and agreement of contracts.
Benefits of Integration: Uses the rich data profiles stored in HubSpot to make documents custom and personalized.
Closing Thoughts
These HubSpot integrations would surely help you to maximize your inbound and digital marketing strategies. So, its time to determine which HubSpot integration will work best for you and take your business to the next level by generating more leads and customers.
Also Read- Hubspot And Salesforce Integration: A Successful Combination