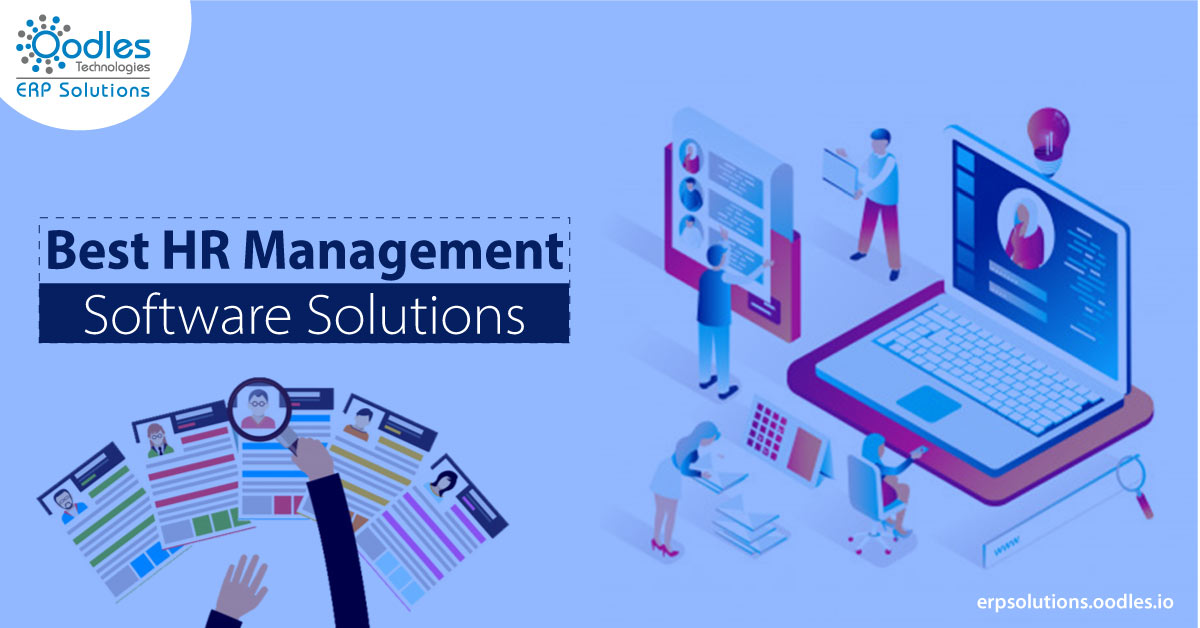 HR Management Software Solutions: An Overview
Human resource management coupled with an emphasis on technology is the quality structure of an organization. Whether it's about hiring, appraisal, performance assessment or leaves, a good HR management system software streamlines all the processes. Some of the software solutions have applications that offer a variety of features such as performance management, benefits management, payroll and many more. If you are looking for a flawless HR management software solution as per your business needs then you are on the right page. In this blog, we have chalked out some of the best HR management software solutions that are the right fit for your business requirements.
Benefits of Integrating HRMS with ERP
It eliminates the need for a patchwork of databases, spreadsheets, and other files. There is big unified data and thus staff only have to look in a single database for the information it requires.
Most of the ERP systems are trying to be the jack of all trades. Some have HR features but with only broader resource functions.
An HRMS integrated with ERP will specifically deal with all the HR related functionality.
Integration of HRMS with ERP eliminates the need for multiple data entry. This, in turn, saves time, money and reduces chances of errors.
Features of HR Software
Employee filters for abstraction views and features

Capabilities of generating customized reports

An insightful report into HR analytics

Fully equipped HR dashboard for overall productivity

On-demand access to employee self-service portal
Top HR Management Software Solutions
1.) Zoho People
It is a web-based HR and payroll management system for small to medium-sized businesses. This user-friendly software automates HR processes and maximizes the biggest asset of your organization i.e. people.
It is easily implemented without the need for customizing the entire program and thus it is a perfect choice for most of the businesses. Some of its features include:
Manages employee operations such as leave, attendance, records time, etc.

Has an employee service portal through which employee can easily access information

Simplifies time management operations

Keeps track of leaves, attendance, holidays and time rendered
2.) Planday; Employee Scheduling System
This software makes employees as well as managers more productive. It offers features through which HR managers can better manage their employees. Its payroll export feature makes it a wonderful choice. This software connects the employees and managers across all devices through an overview of work schedules. This software allows you to spend more time on your customers thus boosting customer satisfaction.
Here are some of its wonderful features:

Minimizes time spent on employee scheduling tasks

Encourages employee schedule management with automation, mobile connectivity, and modern templates

Allows you to focus on important tasks
3.) Bamboo HR
This cloud-based system is best suited for small to medium-sized businesses. This software offers features like an Applicant Tracking System (ATS) and the Human Resource Information System (HRIS) to manage all the aspects of an employee life cycle. It also offers HR managers deep visibility in factors such as turnover and employee retention. It offers a smooth switch from spreadsheets to HRIS to meet business requirements.
Following are the additional features of Bamboo HR:

Easy to use that adapts quickly the business needs

Easily exports data and generates insightful reports

Users can easily find data, evaluate and take instant action

Displays employee information in a single place

Offers mobile apps for employees
4.) Workday; Manages Global Companies
This is a popular SaaS enterprise-class system that offers financial, human capital management and payroll solutions for modern businesses. Currently, more than 280 companies are using this software for their processes. This software combines HR and finance to give you global visibility, real-time insights, and predictive analytics.
It also has some other features such as:

Easy to use without any need of IT expertise

Offer users its recent versions

Assures data security
5.) GreytHR; A Preferred Choice
It is one of the most popular HR management software solutions to manage employee records. Currently, it manages 3 lakh employee records on a daily basis and has more than 3800+ satisfied customers. It automates major aspects of HR such as leave, attendance tracking, and payroll management.
6.) Halogen Software
It is one of the most popular HR management software solutions used by recruitment companies and staffing agencies. Halogen software automates recruitment process including succession planning, job description, compensation management, feedback and performance appraisals. It has some outstanding features such as:
User-friendly functionality to manage your recruitment needs

24-hour support solves all issues
7.) ADP Workforce Now
This web-based HR management system is specifically designed for mid-sized companies. This software automates all the HR processes of a company into a single dashboard. It allows you to manage your staff members and generate insightful reports. It offers additional useful features such as:
Talent management

Time and attendance

Onboarding process

Payroll management
8.) PeopleWorks HCM
This cloud-based software specifically focuses on employee lifecycle management. It manages all aspects of employee tenure. From hiring to retiring, it takes care of all. Here are some of the aspects it focuses on:
Pre-joining details

Attendance

Payroll management

Onboarding process

Leave

Performance management
Let's Wrap it Up!!!!!!
Integrating HRM software can prove to be very beneficial for your company. It facilitates the productivity and efficiency of a business. It reduces the risk of potential errors and offers accuracy of data records.
Also Read: Avoid These Mistakes While Selecting An ERP Software System